Preview 2022/23 | A season already to forget for the Spurs?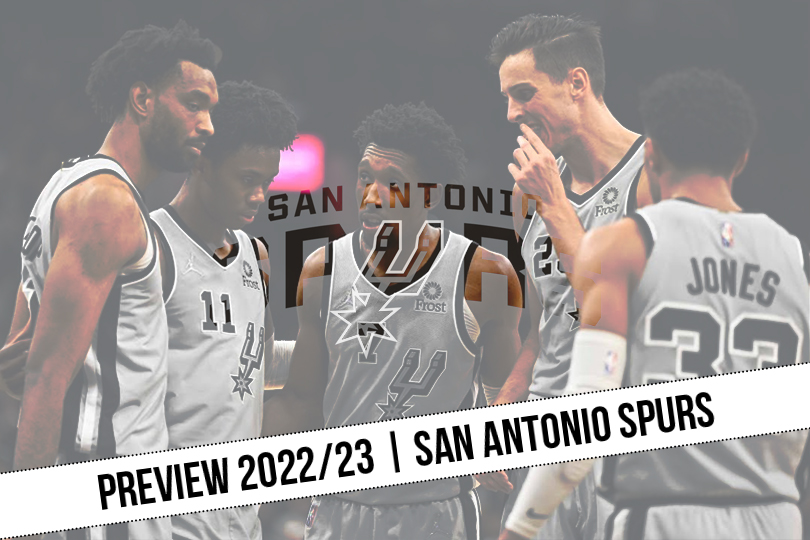 With its Draft system, the NBA was designed to operate in a cyclical manner. Which means that even the models of regularity and excellence like the Spurs eventually, sooner or later, fall back into the slums of their conference.
It is therefore no coincidence that, for three years, the franchise with five titles and 22 consecutive qualifications in the playoffs (a record) finds itself outside the Top 8 of its conference. Because, yes: despite the eternal Gregg Popovich and All-Star caliber players like DeMar DeRozan, LaMarcus Aldridge or Dejounte Murray, San Antonio has been vegetating since 2019 in the soft underbelly of the West.
For this new year, things should also get worse, because the Texans probably have one of the least talented groups in the league. On paper anyway, where none of their members has ever exceeded the bar of 17.0 average points over a season.
Clearly, Spurs will have to rely on significant progress from Keldon JohnsonDevin Vassell, Joshua Primo and even Tre Jones, coupled with the successful integration of Jeremy Sochan, Malaki Branham or even Blake Wesley, so as not to sink in the rankings. Hoping also that Jakob Poeltl, Josh Richardson or Doug McDermott are kept long enough to supervise the young guard of Fort Alamo…
Otherwise, it could be that a certain Victor Wembanyama does not invite himself to San Antonio in less than a year. That's good: like David Robinson (1987) or Tim Duncan (1997) in their day, he's typically the kind of guest you can't afford to refuse when he knocks on the door…
SUMMER MOVEMENTS
— Arrivals : Jeremy Sochan (Draft), Malaki Branham (Draft), Blake Wesley (Draft), Gorgui Dieng (Hawks), Isaiah Roby (Thunder), Alize Johnson, Dominick Barlow, Tommy Kuhse
— Departures Dejounte Murray (Hawks), Lonnie Walker (Lakers), Drew Eubanks (Blazers), Devontae Calvin Cacok (Blazers)
PLAYER TO WATCH: KELDON JOHNSON
Extended this summer at a gold price by its leaders ($ 80 million over four years), once Dejounte Murray transferred to Atlanta, Keldon Johnson is the new leader of the Spurs. At almost 23 years old, and as he prepares to attack his fourth season – only – in the league, he is almost a "veteran" in this particularly young and inexperienced workforce.
Consequently, the 2021 Olympic champion will have to assume the leadership of the team, in the continuity of the best campaign of his career: 17.0 points and 6.1 rebounds on average, 47% on shots, 40% at 3-pts and 76% in free throws. A growing campaign, which came after its already very interesting first two years.
It remains to be seen whether Keldon Johnson, drafted in 29th position in 2019, will manage to assume this unprecedented status, and to which he was not predestined, of go to guy. For the former student from Kentucky, a real diamond to polish, the opportunity is great and he has no interest in letting it pass, if he wants to be considered otherwise. That is, more than just a duty player (or role player).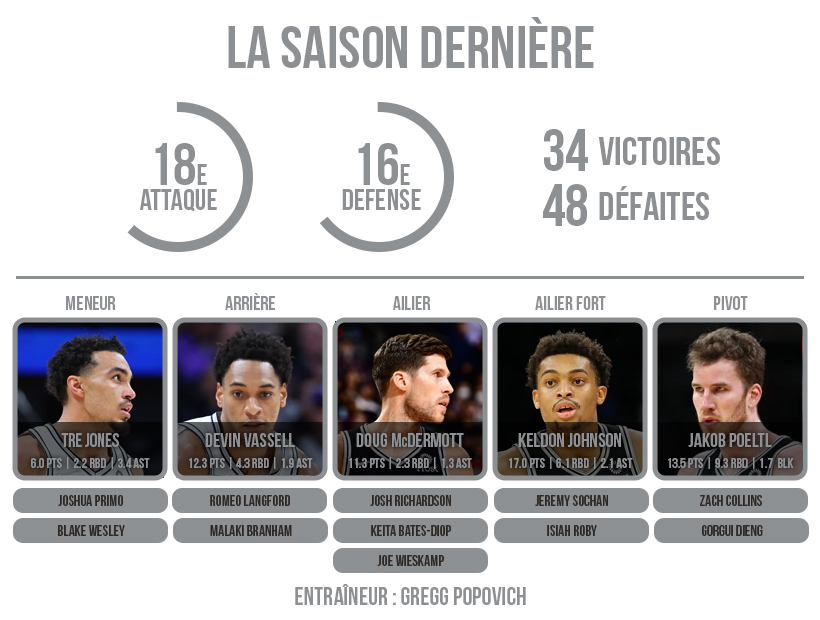 Average age: 24 years old
Payroll: $98.8 million (29th)
THE IDEAL SCENARIO
With a coaching genius like Gregg Popovich at their helm, able to elevate any team with his precepts, Spurs are surprising in the West. Above all eager to have fun for his end of career, « Coach Pop » would almost rejuvenate in contact with the uninhibited Jeremy Sochan, Joshua Primo, Devin Vassell, Tre Jones, Malaki Branham and other Blake Wesley, who manage to annoy a bunch of teams every evening (or almost).
Collectively, the victories are obviously not abundant, because the workforce has certain limits despite the extremely interesting rebound of Zach Collins and his few veterans, such as Jakob Poeltl, Josh Richardson, Doug McDermott and Gorgui Dieng. But San Antonio still picks up enough not to finish among the three worst records in its conference. And, if the playoffs are logically out of reach, the « play-in » remains, for a long time, possible. Indeed, the overall level of the West is leaning downwards and allows the less good students, like those of Fort Alamo, to believe in an exciting and suspenseful end to the season…
Above all, given that Keldon Johnson is flourishing in his new role as leader of the Texas franchise, flirting with the bar of 20 points on average, it can afford to consider the future more calmly. Especially since despite limited chances, the club still gets the first choice of the next vintage…
WORST SCENARIO
With the departure of Dejounte Murray, Spurs are unable to find a leader, as this suit is still too big for Keldon Johnson. This one certainly does its stats, but it does them in a vacuum and with a big drop in success percentages. Inevitably, victories are rare and that's good: in Texas, everyone dreams of seeing Victor Wembanyama take the reins of this terribly weak workforce. So much so that, very quickly, Gregg Popovich's men settled in last place in their conference…
A Gregg Popovich who, at almost 74 years old and despite being the most successful coach in the history of the regular season, obviously does not manage to work miracles with so many young, inexperienced and rough players under his command. What push him to seriously consider retiring, from the summer of 2023.
Especially since the results get worse after the trade deadline, when the few veterans present in the group, namely Jakob Poeltl, Josh Richardson, Doug McDermott and Gorgui Dieng, are willingly exchanged for expiring contracts and draft rounds. The only good news in this expected collective slump is that San Antonio is securing (as desired) a choice in the Top 4 of the next Draft.
WEST CONFERENCE
15-Thunder
14 – Spurs
13 – …
12 – …
11 – …
10 – …
9 – …
8 – …
7 – …
6 – …
5 – …
4 – …
3 – …
2 – …
1 – …
EAST CONFERENCE
15 – Magic
14 – …
13 – …
12 – …
11 – …
10 – …
9 – …
8 – …
7 – …
6 – …
5 – …
4 – …
3 – …
2 – …
1 – …