Porsche 718 Boxster Edition 25 years, « atmospheric » double collector
On the occasion of its 25th anniversary, Porsche is launching a very limited edition of its « small » sports Boxster, an exclusive model in more ways than one that will mark the history of the manufacturer.
Porsche is arguably the sports car manufacturer that makes the most of the energy transition. With a range of SUVs (Cayenne and Macan, its bestseller) now largely hybrid, just like the Panamera sedan, a 100% electric model, the Taycan, which is a real commercial success (41,200 models sold last year, figure doubled in 2 years, now more sold than the iconic 911!), 2 new 100% electric models in preparation, the proof is in, Porsche has gone green with profit. And that's not counting his research on synthetic fuels, which is also promising…
There remains the historic segment of « pure sports » to be electric. A delicate task for a manufacturer whose customers remain deeply attached to the heat engine, and to the charm of the 6-cylinder flat engines, emblematic of the brand. A difficult first step was taken a few years ago with turbocharging, a source of savings and efficiency for engines that are still difficult to make less fuel-consuming and CO2-emitting.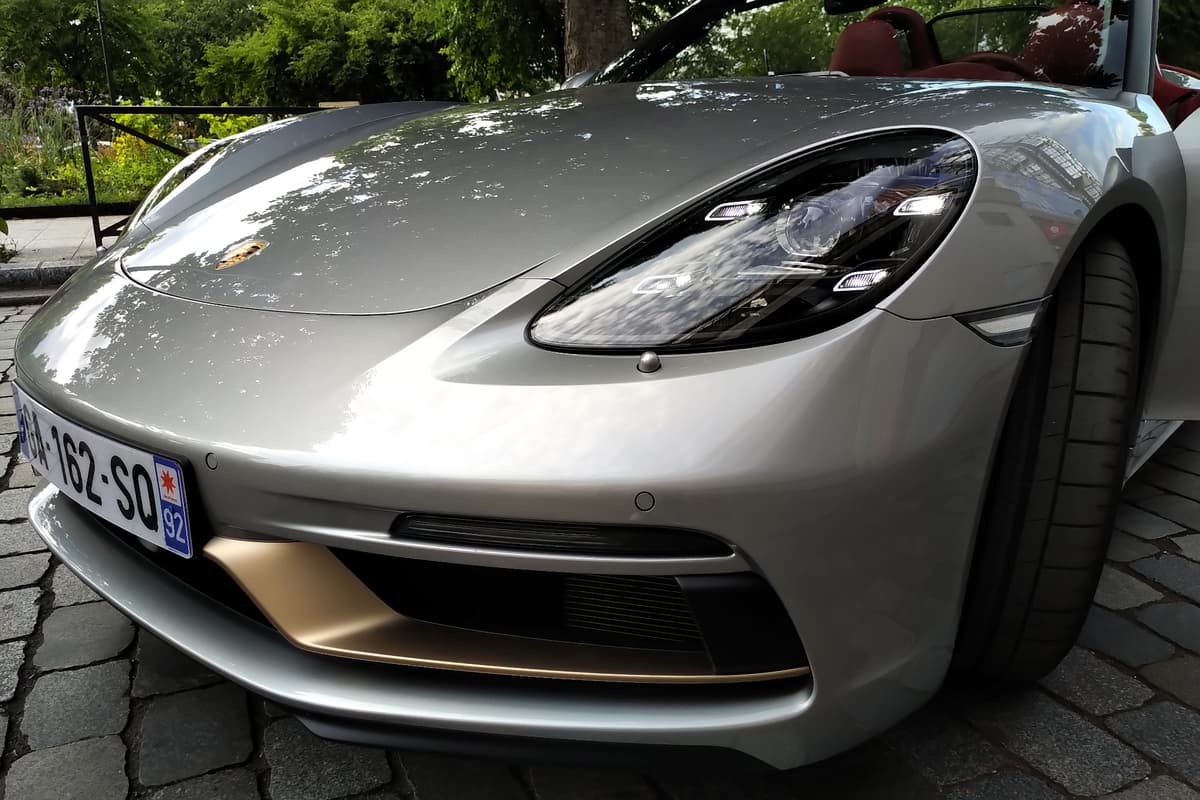 Porsche: the successes of the permanent revolution
But it is inevitable, the next generation of 911 will be hybrid and the small 718 Boxster/Cayman will have to get started too. After all, electrification is part of Porsche's DNA… which was the first manufacturer, in 2011, to develop a plug-in hybrid supercar, the incredible 918 Spyder.
We will therefore have to take advantage of this 100% thermal Boxster while there is still time! And for once, this special 25th anniversary edition is already a collector's item in more ways than one.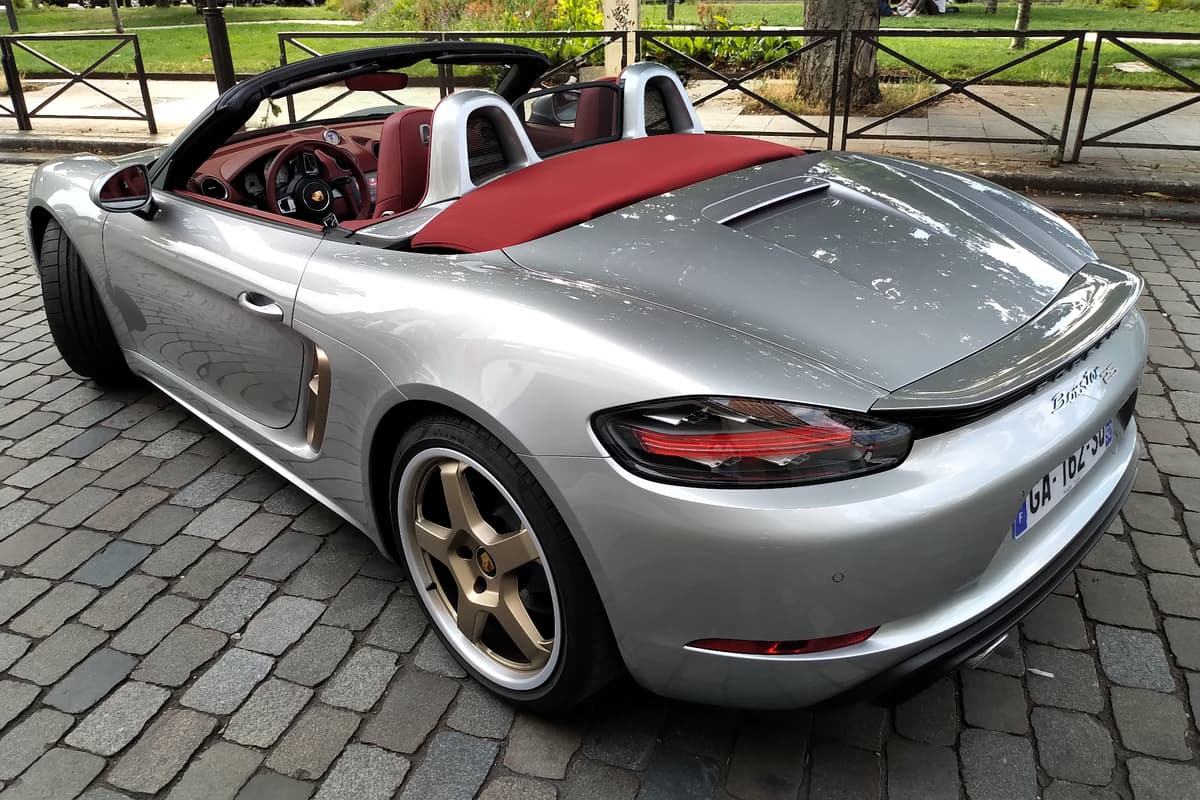 Already, it is celebrating Porsche's undeniable ability to gain market share by « shaking up » its own clientele. This manufacturer of sports and racing cars, originally centered mainly on the manufacture of the famous 911, has nevertheless succeeded, over several decades, in imposing real diversification within its own range, even if it means raising eyebrows eyebrows at its traditional clientele: 4-cylinder models, Grand Touring V8, sedans, SUVs, now electrification… and always with success and profit! A real marketing lesson.
The strong point: an exclusive and evocative model
The Boxster/Cayman followed this logic as well, and originally intended to further expand the sporty clientele on the side of lighter car enthusiasts. An initiative that at the time puzzled brand aficionados, confused by the adoption of a small chassis with a central rear engine. And yet…
Success there again. The mayonnaise takes hold, and the Boxster signs a brilliant career, sold around ten thousand copies a year… by taking up the basic recipe which had made the success of the 914 (built with Volkswagen), and further from us from the 550, infamous for taking out James Dean.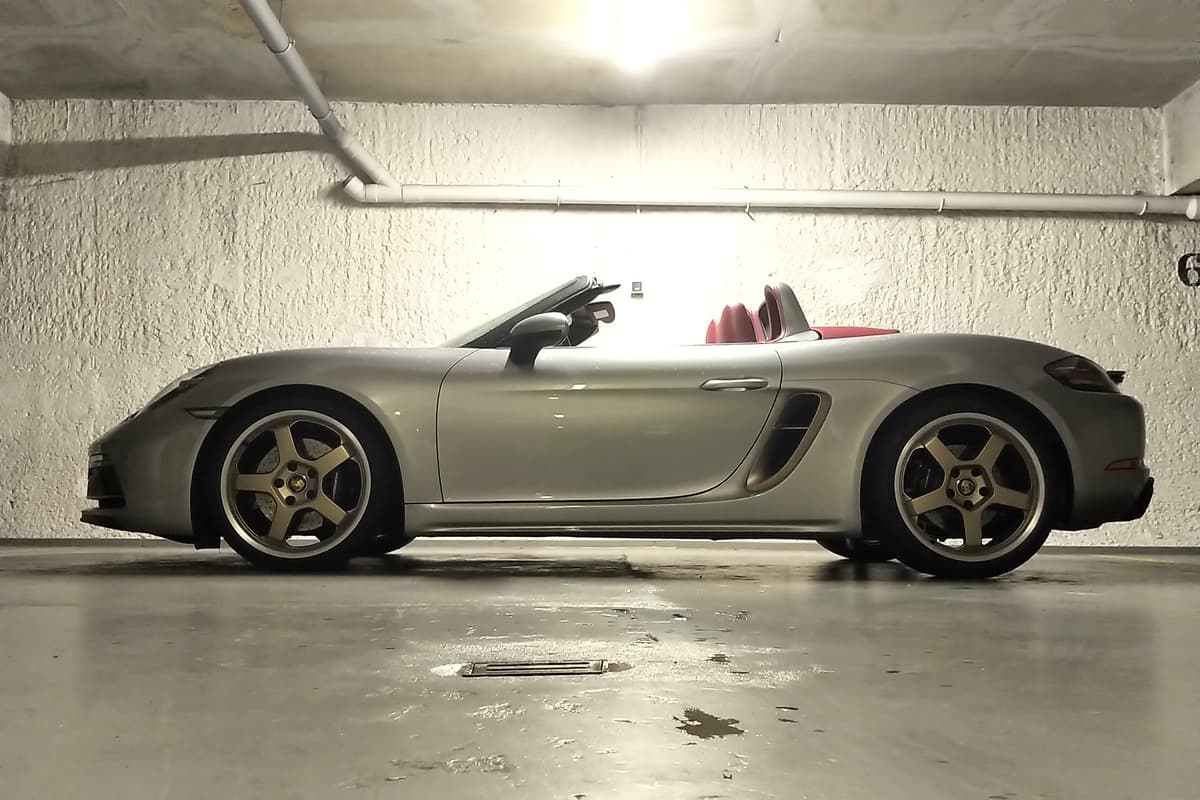 Porsche presented the original Boxster concept car in 1993, and the commemorative version on test reproduces exactly, and in every detail, the specifics of the prototype: unique metallic gray color, characteristic red upholstery, front air intakes side panels highlighted in gold color and special matching rims… This very limited edition (1,250 units, no more) is not lacking in style and is completely different from the production Boxsters.
A real « old-fashioned » machine
Getting on board requires some contortions, but once installed, we are really seduced by the comfort of the seats and the feeling of being « cocooned », with all the controls falling naturally to hand. The interior finish has always been first-rate at Porsche, but here it takes on an even greater dimension with this extraordinary red upholstery with very fine stitching, brushed aluminum veneers, and a few « old-fashioned » details that make this car really out of time, a needle clock-chronometer, a slightly retro-looking Bose audio-infotainment system (with CD player, it's becoming a rarity!) and even a real cigarette lighter (even more).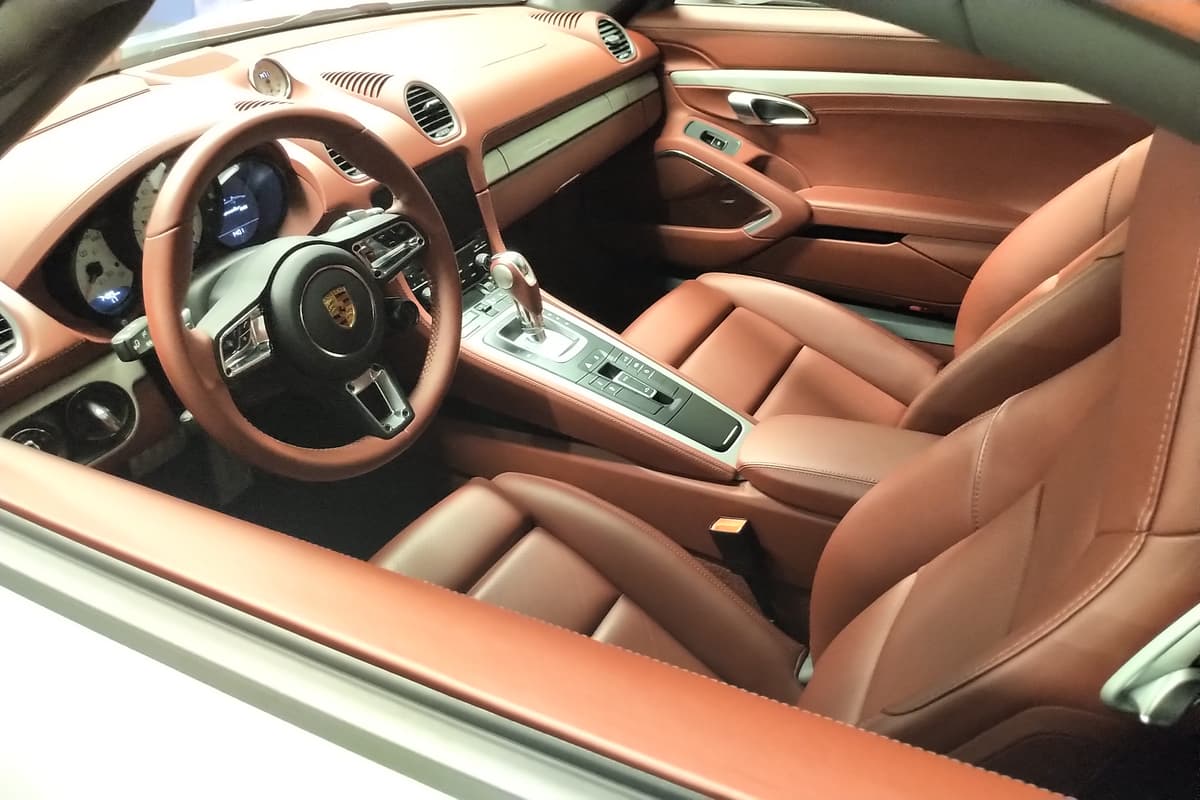 Of course, the pleasure of the senses begins with the ignition of the engine, by means of a fixed key to the left of the steering wheel. And we happily rediscover the distinctive melody of the 6-cylinder flat engine, typical of the brand. 4 liters, fully atmospheric, 400 horsepower… Placed behind the seats, it remains difficult to access but its presence there and its incredible sound really give the impression of being one with the car.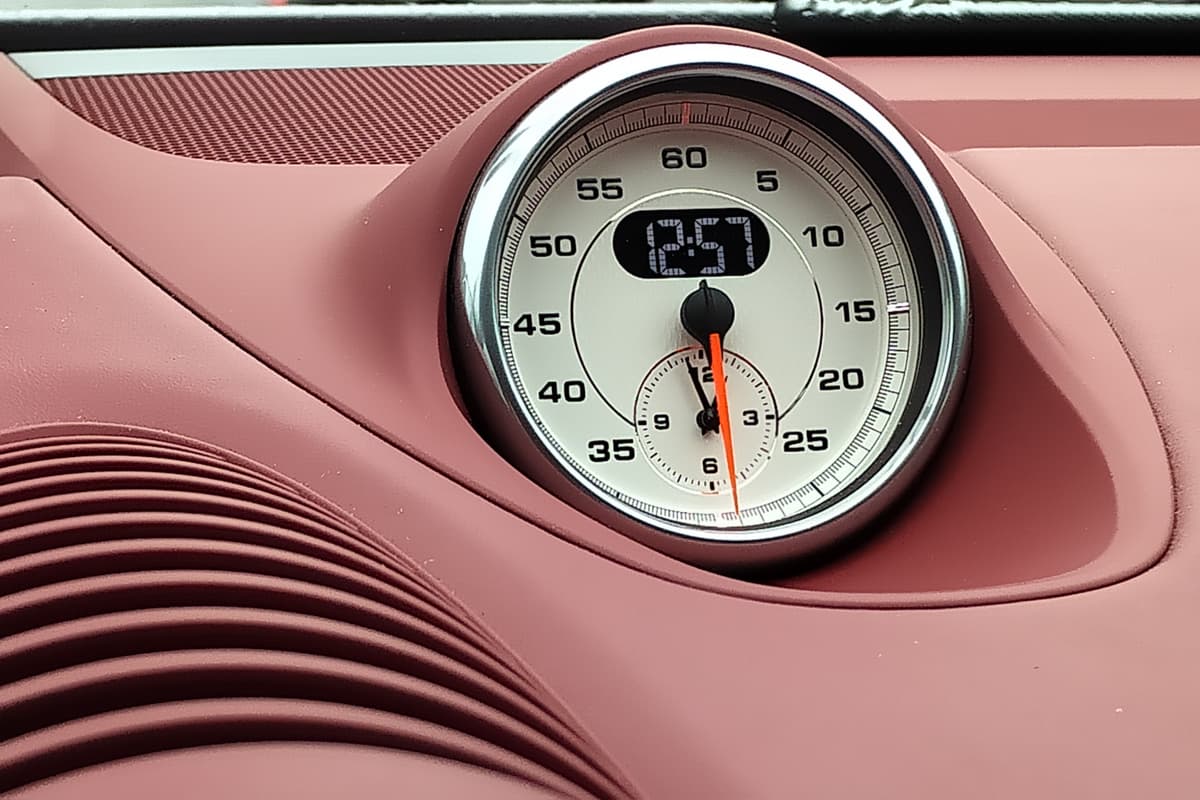 Moreover, it should be noted that thanks to this arrangement, the Boxster benefits from 2 trunks, one at the front (small but deep in height) and the other behind the engine, wider and longer, at the very end of Stern. With a combined capacity of 280 liters, these 2 accommodations are far from being ridiculous and will allow you to carry the equivalent of 2 large sports bags or even a little more, enough to consider very serenely a weekend for two, even a short week! The only constraint: if you go shopping, avoid fresh produce at the rear, far too close to the engine.
Extraordinary dynamism and lightness
It's hard to describe the totally exhilarating driving and piloting sensations aboard the Boxster. As comfortable cruising with the wind in your hair (the electric soft top takes 7 to 8 seconds to open and lock) as it is to attack hard, the machine delights with impressive and direct acceleration, thanks to the no turbo, but not necessarily wild (4 seconds from 0 to 100km/h). Besides, you don't need to go faster to take advantage of the dynamism, precision and rigor of this light chassis, which takes quite crazy cornering speeds.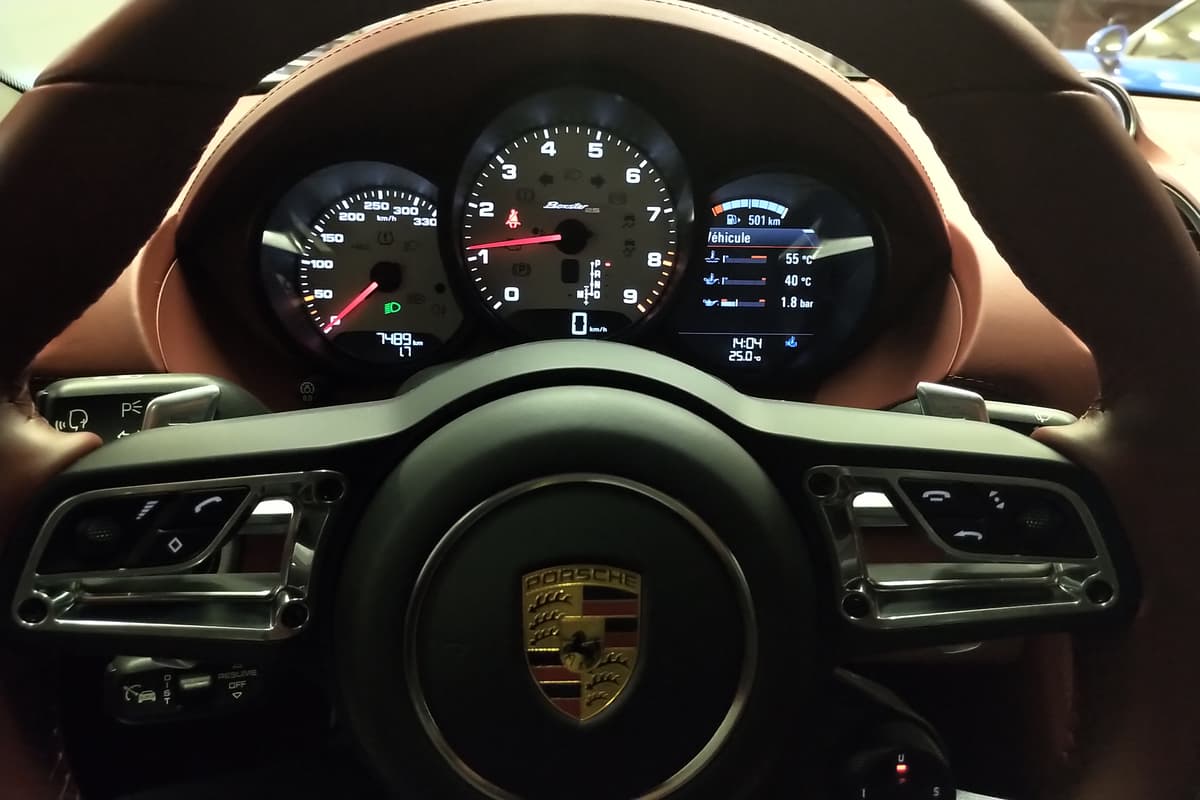 Moreover, if modern cars tend to get overweight from generation to generation because of soundproofing and safety, this is not the case with the Boxster, which will have taken only 200 kilos in 25 years. (the 911 has taken over half a ton since 1964!).
The pleasure at the wheel is immense, distilled by a truly impeccable engine, supported by an absolutely formidable PDK automatic gearbox (for purists, this 25-year-old edition is also available with an excellent manual gearbox!). Finally, road holding is proverbial and excellent braking. Each journey becomes a real pleasure for those who appreciate beautiful mechanics and good sensations.
The blackhead: malus horribilis
Are there any flaws to report? Admittedly, a fuel consumption that will struggle to go below 15l/100km in town, and CO2 emissions of 230g/km, making the machine eligible for an absolutely diabolical penalty of… 40,000 euros (and even 50 next year). But the customers of this type of model have already got used to the idea of ​​paying the price of a second very nice car to access it…
Otherwise, by forcing a little, one could evoke a certain heaviness of the direction at very low speed, unpleasant feeling accentuated by a very large turning circle (11 meters). It takes a bit of caution to maneuver, but the helping hand comes quickly and this Boxster is very surprisingly easy to live with on a day-to-day basis. Moreover, its damping, yet firm, manages to digest speed bumps and potholes with flexibility. A really successful balance.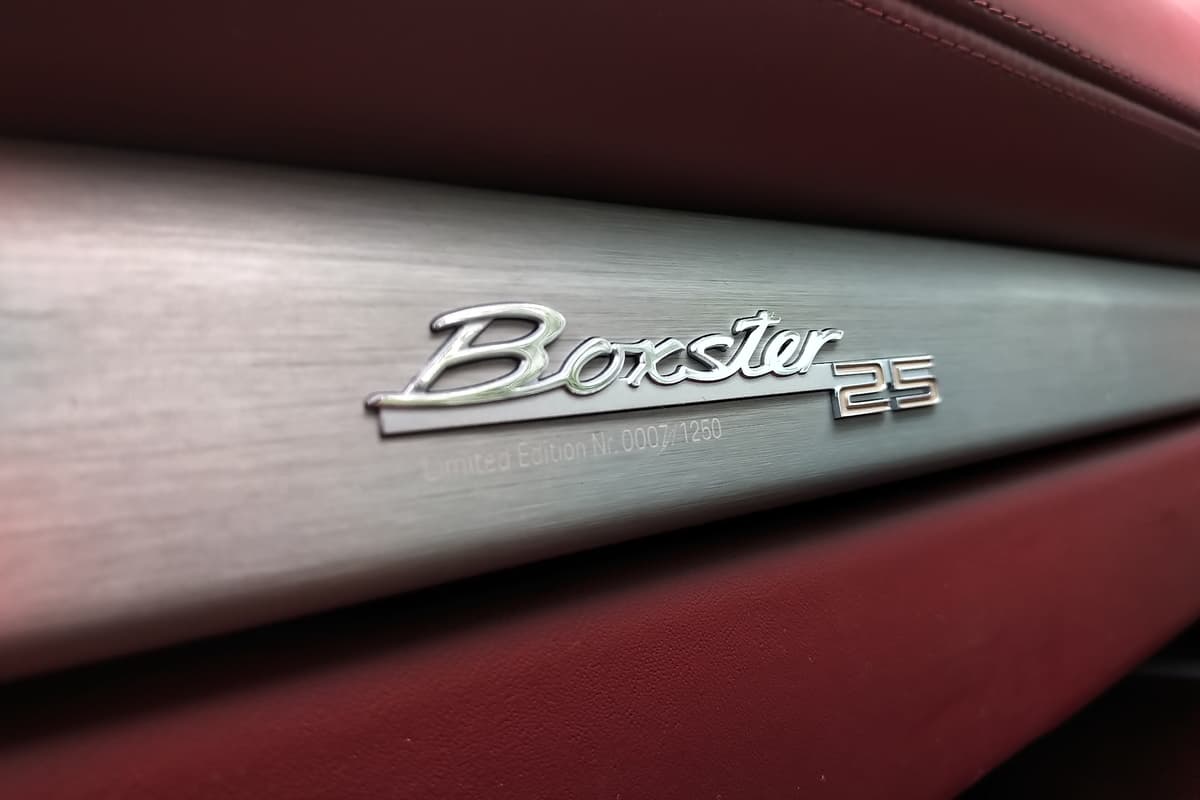 In the end, this 25-year-old Boxster compiles two collectors' items into a single model. It is undoubtedly one of the last 100% thermal and 100% atmospheric Porsches, a symbol of the historic page which is about to be turned, while celebrating all the qualities of a car which, despite its uncertain beginnings, is imposed as a model of rigor, lightness, sportiness and dynamism, while remaining a minimum of practicality. Addictive as hell.
Our test model: Porsche 718 Boxster Edition 25 years – price 110,970 euros.