Pirlo in Istanbul, the Maestro's dreams of rebirth
« I will try to bring [en Turquie] the football that I have in mind and Ihope it will be a successful season« said the ex-coach of Juventus Turin, blue jacket and immaculate white shirt, during his presentation to the press in mid-June in a chic hotel in Istanbul.
Propelled on the bench of the Old Lady his coaching diploma barely obtained, the Italian could not do better, for his first season as a coach, than fourth in Serie A, interrupting a historic string of nine consecutive titles of Italian champion of the Bianconeri.
Thanked in May 2021 by Juve, the « Maestro » will resume service on Sunday August 7: its players, 8th in the Süper Lig last season, will host Alanyaspor for the opening of the championship.
A first test against a team led by Francesco Farioli, another Italian also passed by the bench of Fatih Karagümrük last year.
In the popular district of Karagümrük, the club's stronghold on the historic peninsula of Istanbul, Tarik Odman welcomes this arrival – considered surprising by some– of the former world champion, whose ball-to-foot insurance earned him the nickname « Basbakan » (« Prime Minister ») in Turkey.
« Every good player does not necessarily become a good coach. But it's huge that he's here. If one of the Big Three [Galatasaray, Fenerbahçe et Besiktas, NDLR] had recruited him, the newspapers would only talk about that », assures AFP the sixty-year-old, red and black supporter since his childhood, in an exalted voice while sipping his tea at the club's cafe.
« Showcase team »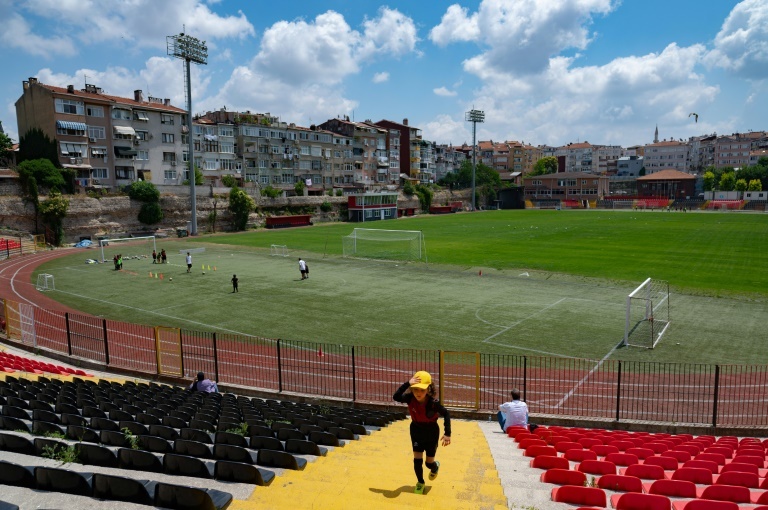 Promoted to the Turkish first division in 2020 after twenty-six years of absence, Fatih Karagümrük is a neighborhood club struggling to attract crowdsquite the opposite of the venerable Juventus Turin, where Pirlo began his transformation from player to coach.
Its historic stadium – a lawn surrounded by three meager stands and a row of multicolored buildings – is not approved for the Süper Lig, forcing the team to go into exile at the Atatürk Olympic Stadium on match days, 20 kilometers from its public.
Where, with AC Milan in 2005, Pirlo lost a legendary Champions League final to Liverpool after he and his teammates led 3-0 at the break.
« The fact that we don't have our own stadium, our own training center or even a bus in our name made negotiations difficult, » admitted the Istanbul club's vice-president, Serkan Hurma, during the conference. release of Andrea Pirlo.
Four days before the resumption of the championship, the president of Fatih Karagümrük, Suleyman Hurma, has also threatened to resign if the Turkish authorities do not allow his club to build a stadium and a training center worthy of the highest level.
« Finding each day with an uncertain training schedule is sad and humiliating for our club, » he lamented in a statement.
Tarik Odman, whose grandfather was club president, misses the days when fans only had to walk a few hundred yards to cheer on the players.
« If the team played its matches [de Süper Lig] at home, the streets should be blocked »he says.
Turkish sports journalist Alp Ulugay sees Turkey as « an opportunity for rebirth » for the ex-Juve and AC Milan leader, who has won a World Cup, two Champions Leagues and six Italian championships as a player.
However, he remains skeptical about the choice of Fatih Karagümrük, whom he describes as a « showcase club ».
« Fatih Karagümrük is an artificial club. The showcase, financed by the president of the club, is well stocked and they have just added Andrea Pirlo to it. But behind, there is nothing », he judges.