Now, on the way again towards $2,000 an ounce!
Gold pushes and pushes very hard and is now flying towards $2,000 an ounce after having pulverized the threshold of $1,800 and then $1,900 an ounce.
So how to explain this rise which may seem surprising in the midst of… rising rates?
The causes are multiple as always.
The first is fear. Gold is the barometer of fear and therefore of uncertainties or worries. They are here economic, monetary and of course geopolitical.
Gold goes up because the war in Ukraine is scary, and more and more scary. Because relations with China are very complex and Taiwan is a powder keg. Because we are dancing on a volcano.
Gold goes up because in the United States, there is a new episode of the series « we will have to raise the ceiling of the debt » and that the Republicans want to raise the ceiling of the debt only if the Democrats lower the spending… Gold's late afternoon rally came after US Treasury Secretary Janet Yellen sent a letter to Congress warning lawmakers that the government could hit its debt limit on the 19th January. January 19 is this week! It's here. Now right away. A default, even momentary, remains a default and an American shutdown never has the best effect.
And then it's Putin who will laugh! How to finance the war in Ukraine without a US budget deficit? Not so easy.
« We knew the debt issue was going to be a problem in 2023, but we didn't expect it to ramp up so soon, » said Edward Moya, senior North American market analyst at OANDA. "Gold's short-term reaction is justified given the current level of uncertainty. »
Gold will rise and then consolidate!
Gold rises steadily and breaks above $2,000 before consolidating. It will happen this time exactly the same as the previous times, finally in the short term.
Indeed in the short term the factors of uncertainty are favorable to gold, but it could also be at some point that the dollar serves as a safe haven and that this will lower gold. Similarly, if we realize in a few weeks that we risk experiencing a new peak in inflation, then the markets will be afraid of further rate hikes and gold will correct.
Then, it will rise again and will definitely pass the 2,000 dollars to fly away for the first time towards the symbolic threshold and the new record, that of 3,000 dollars.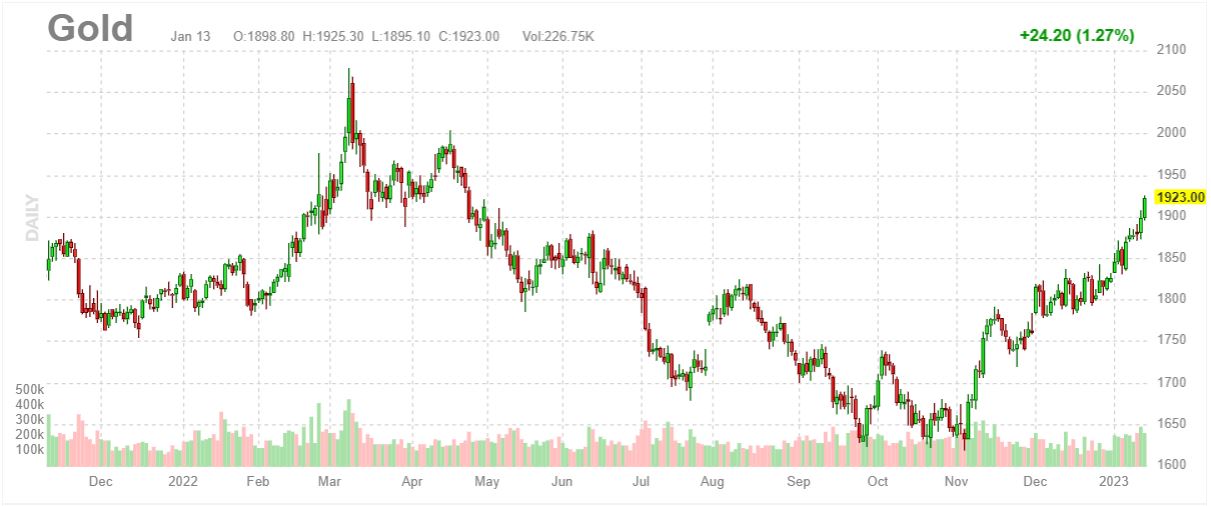 Charles SANNAT
"This is a 'presslib' article, that is to say free of reproduction in whole or in part provided that this paragraph is reproduced following it. Insolentiae.com is the site on which Charles Sannat expresses himself daily and delivers an impertinent and uncompromising analysis of economic news. Thank you for visiting my site. You can subscribe to the daily newsletter free of charge at www.insolentiae.com. »