No operation for Marcus Morris | NBA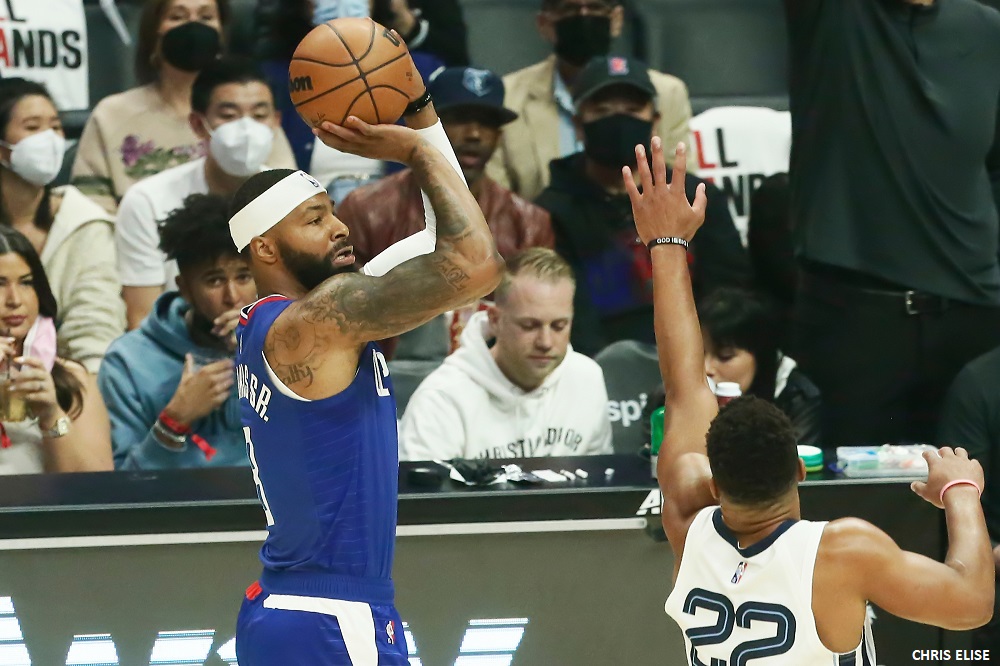 Where is Marcus Morris? We know that the interior has come out of the Clippers' major five since the third game of the season and that Nicolas Batum has taken his place. Except that we also know that he was hit in the left knee.
Almost a month after his last match, only his second of the season, we still have not seen Markieff's brother on the floors. How much longer will the Clippers have to wait before seeing him again?
According to The Athletic, he does not plan to have the operation and has to wait to relieve his joint. He can play five-on-five again and his return could come this week, or the next.
Indeed, after Sunday night and the victory against Dallas, the Californians remain in Los Angeles for five matches and ten more days, until December 1. The strong winger will have time to train with his teammates and gain momentum to play a third game and finally start his season.
Which would be good news for Tyronn Lue and his gang, as Nicolas Batum will be absent during this entire "homestand", because of the Covid-19.
Marcus Morris
Percentage
Rebounds
Season
Team
MJ
Min
Shots
3pts
LF
Off
Def
Early
Pd
Fte
Int
Bp
Ct
Pts
2011-12
HOU
17
7
29.6
11.8
75.0
0.3
0.7
0.9
0.2
0.7
0.1
0.2
0.1
2.4
2012-13 *
All Teams
77
20
42.2
36.9
56.4
1.0
2.6
3.6
0.8
2.1
0.6
1.0
0.3
7.7
2012-13 *
HOU
54
21
42.7
38.1
65.3
1.2
2.9
4.1
0.9
2.2
0.5
1.0
0.3
8.6
2012-13 *
PHX
23
16
40.5
30.8
40.5
0.7
1.8
2.5
0.7
1.7
0.8
1.0
0.2
5.7
2013-14
PHX
82
22
44.2
38.1
76.1
1.0
2.9
3.9
1.1
1.9
0.9
1.2
0.2
9.7
2014-15
PHX
81
25
43.4
35.8
62.8
0.9
3.9
4.8
1.6
2.3
0.8
0.9
0.2
10.4
2015-16
DET
80
36
43.4
36.2
74.9
1.1
3.9
5.1
2.5
2.1
0.8
1.8
0.3
14.1
2016-17
DET
79
33
41.8
33.1
78.4
1.0
3.7
4.7
2.0
2.1
0.7
1.1
0.3
14.0
2017-18
BOS
54
27
42.9
36.8
80.5
0.8
4.6
5.4
1.3
1.9
0.7
1.2
0.2
13.6
2018-19
BOS
75
28
44.7
37.5
84.4
1.0
5.1
6.1
1.5
2.4
0.6
1.2
0.3
14.0
2019-20 *
All Teams
62
31
43.8
40.8
82.3
1.0
4.1
5.0
1.4
2.9
0.8
1.6
0.5
16.7
2019-20 *
NYK
43
32
44.2
43.9
82.3
1.1
4.3
5.4
1.4
3.0
0.8
1.7
0.4
19.6
2019-20 *
LAKE
19
29
42.5
31.0
81.8
0.6
3.5
4.1
1.4
2.7
0.7
1.3
0.7
10.1
2020-21
LAKE
57
26
47.3
47.3
82.0
0.6
3.5
4.1
1.0
2.1
0.6
1.0
0.3
13.4
2021-22
LAKE
2
27
38.9
27.3
100.0
0.0
0.5
0.5
0.5
4.0
1.0
0.5
0.5
9.5
Total
666
27
43.5
37.8
76.3
0.9
3.7
4.6
1.5
2.2
0.7
1.2
0.3
12.2