No madness at the Clippers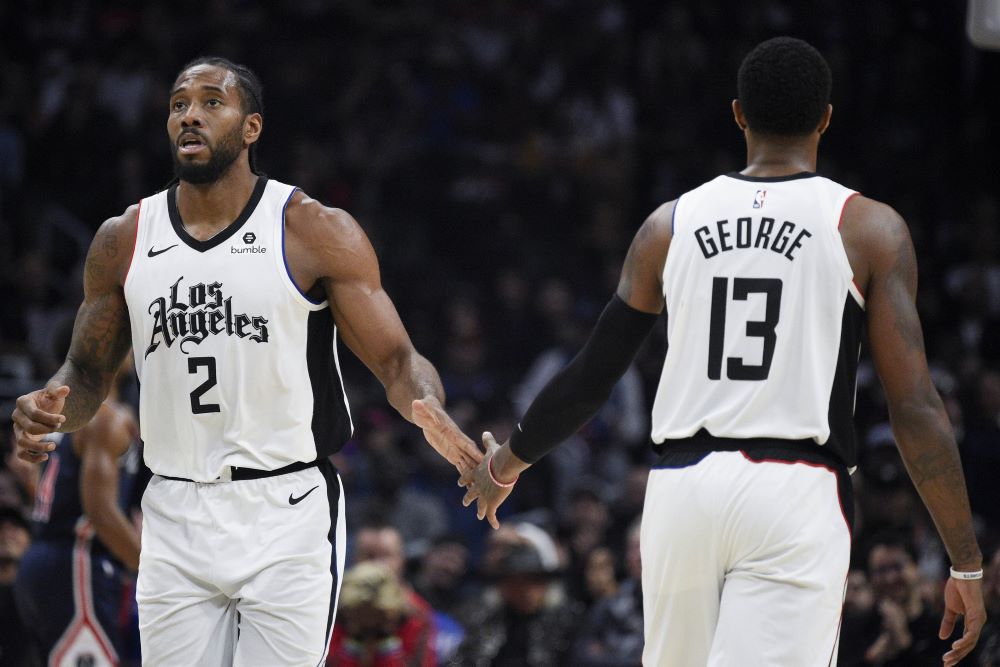 Lakers, Clippers, not the same fight at all. While a huge construction site awaits the first to rebuild a workforce worthy of the name, their neighbors are preparing to spend a much quieter summer. The majority of their major players are indeed under contract for several years. Only a few files, including that of Nicolas Batum, will be studied.
» Our #1 goal with free agency is to try to retain our free agentsstares Lawrence Frank. We have a pretty good idea of ​​how we're going to play. By that I mean, you just have to go back two years, and we've added some really significant pieces since then. »
You just have to project yourself a little
Two years ago, in the « bubble » of Orlando, the Californians had collapsed in the second round of the playoffs against the Nuggets and had spoiled a 3-1 lead. Since then, the squad has been slightly reworked. Exit a few important figures of the post "Lob city" era (Lou Williams, Patrick Beverley, Montrezl Harrell) to notably trust Reggie Jackson at the lead and sign versatile wingers (Nicolas Batum, Norman Powell…).
Unfortunately for them, Kawhi Leonard was unable to continue the adventure until the conference final in 2021. The same knee injury kept him sidelined last season while Paul George had to play intermittently in reason for physical glitches too. » Even if we haven't had the privilege of seeing what it looks like, I think we just have to project ourselves a littlecontinues the president of the Clippers. We're really, really lucky that Steve (Ballmer) gave us the resources to build the current team. We continue to evaluate it, to see how we can improve. »
The manager talks about the importance of finding the right balance between veterans and young players, all of whom are starving with this » internal fire » and that » really feel driven to do something that hasn't been done before « . In other words lead the Clippers to the first title in their history.
I hate transfers
Upcoming transfers? It doesn't seem to be on the agenda. » Like I said, I hate transfers. It's the worst part of the job because we only have good guys. […] So you're almost happy when you don't. And so I'm glad we didn't trade and I'm sure a lot of our guys are happy (too). »
The main feat of the Clippers in recent weeks has been to extend Robert Covington for two seasons. » I think it's a win/win for both sides. We talked a lot about RoCo and his impact, his defensive qualities off the ball, his ability to return open shots at a high level. He even showed other fixing qualities that benefit the group and become contagious. "Enthuses Lawrence Frank who thus managed one of the main files of his off-season with a measured investment ($24 million).
His salary will be a little lower than that of Luke Kennard, another of those exteriors whose workforce has plenty. In recent hours, he has found himself at the heart of transfer rumours. » I don't comment on rumors because there is nothing truesweeps its president. Luke had an incredible season. He was the league's top 3-point shooter. (45%). He's added more off-the-ball movement to his game. And I don't know if you've seen Luke lately, he's physically in great shape. […] It goes into its 'prime' so I think the best is yet to come. »
Shots
Bounces
Players
GM
Minimum
Shots
3 points
LF
Off
Def
Early
pd
bp
Int
CT
party
Points
Paul George
31
34.8
42.1
35.4
85.8
0.4
6.5
6.9
5.7
4.1
2.2
0.4
2.4
24.3
Norman Powell
5
25.1
50.8
54.2
85.7
0.6
2.2
2.8
2.8
1.4
0.4
0.8
2.8
21.4
Reggie Jackson
75
31.2
39.2
32.6
84.7
0.5
3.1
3.6
4.8
2.3
0.7
0.2
2.1
16.8
Marcus Morris
54
29.0
43.4
36.7
87.2
0.5
3.9
4.4
2.1
1.3
0.5
0.3
2.1
15.4
Luke Kennard
70
27.4
44.9
44.9
89.6
0.3
3.0
3.3
2.1
0.9
0.6
0.1
1.4
11.9
Terance Mann
81
28.6
48.4
36.5
78.0
1.3
4.0
5.2
2.6
1.0
0.7
0.3
2.2
10.8
Robert Covington
23
22.1
50.0
45.0
84.8
0.8
4.3
5.1
1.0
0.7
1.3
1.2
2.5
10.4
Ivica Zubac
76
24.4
62.6
0.0
72.7
2.9
5.6
8.5
1.6
1.5
0.5
1.0
2.7
10.3
James Ennis
2
14.0
63.6
50.0
100.0
1.0
1.5
2.5
0.0
0.5
0.5
0.5
2.0
10.0
Eric Bledsoe
54
25.2
42.1
31.3
76.1
0.5
2.9
3.4
4.2
2.1
1.3
0.4
1.6
9.9
Amir Coffey
69
22.7
45.3
37.8
86.3
0.4
2.5
2.9
1.8
0.7
0.6
0.2
1.3
9.0
Nicholas Batum
59
24.8
46.3
40.0
65.8
0.5
3.8
4.3
1.7
0.7
1.0
0.7
1.4
8.3
Isaiah Hartenstein
68
17.9
62.6
46.7
68.9
1.7
3.2
4.9
2.4
1.2
0.7
1.1
2.5
8.3
Bj Boston, Jr.
51
14.9
38.5
30.6
81.9
0.3
1.8
2.2
1.0
0.6
0.5
0.3
0.8
6.7
Serge Ibaka
35
15.4
49.0
38.7
69.0
1.1
3.1
4.3
1.0
0.9
0.2
0.7
1.6
6.6
Xavier Moon
10
13.7
49.0
35.7
60.0
0.2
1.2
1.4
2.4
0.6
0.7
0.3
0.9
5.8
Justise Winslow
37
13.0
44.7
17.2
61.0
0.8
2.8
3.6
1.4
1.0
0.6
0.5
1.2
4.2
Semi Ojeleye
10
9.8
41.4
44.4
81.3
0.2
1.4
1.6
0.4
0.4
0.2
0.1
0.4
4.1
Keon Johnson
15
9.0
33.3
27.3
76.2
0.4
1.0
1.4
0.9
0.5
0.5
0.1
1.4
3.5
Jayden Scrubb
18
6.7
39.1
28.6
70.0
0.1
0.8
0.9
0.4
0.4
0.2
0.2
0.5
2.7
Rodney Hood
13
9.9
46.2
54.5
80.0
0.2
0.6
0.8
0.6
0.3
0.2
0.2
0.3
2.6
Wenyen Gabriel
6
7.7
38.5
40.0
50.0
0.8
1.5
2.3
0.3
0.5
0.2
0.3
1.8
2.3
Moses Wright
1
1.5
0.0
0.0
0.0
0.0
0.0
0.0
1.0
0.0
0.0
0.0
0.0
0.0