Nicolas Batum relieved to have found the grounds | NBA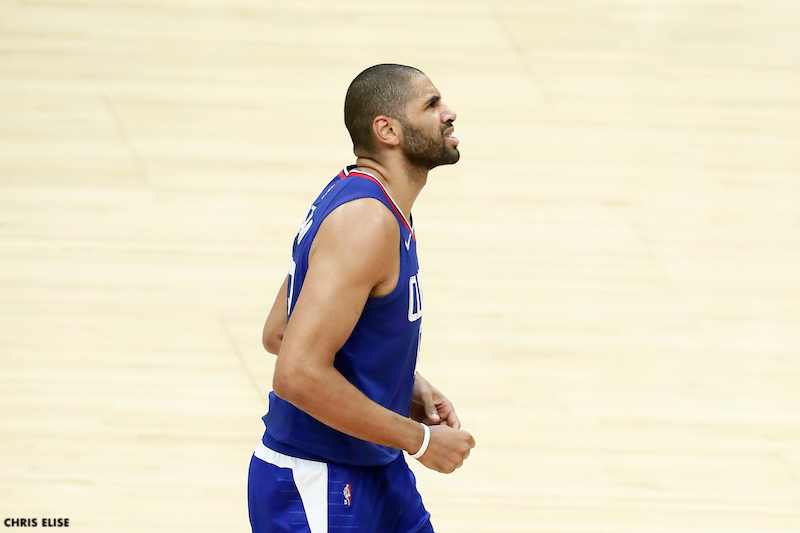 Paul George out, Nicolas Batum in. This night against the Celtics, the Clippers had to do without their superstar hit in the shoulder but recorded the return of the French. Placed in solitary confinement after several positive Covid tests, the Los Angeles handyman had missed his team's last nine games.
Two weeks of absence » interesting For him who obviously lived this period better than LeBron James for example. « I did not feel well during the match on Sunday (21 November) against the Mavs and not very well the day before either », he describes. "I did not think of the Covid before arriving. I was still sick. So I did a quick test, just to be sure, it was positive. «
He and the Clippers discovered it just 45 minutes before kick-off. « I did another one and then I went back to the training center to do another test, and they all three tested positive on the same day », continues the tricolor, whose test the next day was also positive.
Stuck in his room
Without elaborating on the symptoms he suffered in the days that followed, he says he stayed » stuck In the bedroom of his house. "I didn't move for 10 to 12 days. And then I was allowed to leave my house, after two negative tests. I think it was Friday when we played the Lakers (December 3). «
He was finally able to leave his home to go to the training center. » I just had two 35 minute workouts, Saturday and Sunday. I went to the gym on Monday and that's it. «
This Covid interlude now over, he will be able to resume basketball. For his return last night, he did not do a miracle with a rebound, a pass, an interception and a block but no point scored in 14 minutes. » I was supposed to play less than 15 minutes so we're good! », He laughs in conclusion.
Nicolas batum
Percentage
Rebounds
Season
Team
MJ
Min
Shots
3pts
LF
Off
Def
Early
Pd
Fte
Int
Bp
Ct
Pts
2008-09
POR
79
18
44.6
36.9
80.8
1.1
1.7
2.8
0.9
1.8
0.6
0.6
0.5
5.4
2009-10
POR
37
25
51.9
40.9
84.3
0.9
3.0
3.8
1.2
2.2
0.7
0.7
0.7
10.1
2010-11
POR
80
32
45.5
34.5
84.1
1.4
3.2
4.5
1.5
2.4
0.9
1.0
0.6
12.4
2011-12
POR
59
30
45.1
39.1
83.6
1.4
3.2
4.6
1.4
1.8
1.0
1.5
1.0
13.9
2012-13
POR
73
38
42.3
37.2
84.8
1.3
4.3
5.6
4.9
1.9
1.3
2.6
1.1
14.3
2013-14
POR
82
36
46.5
36.1
80.3
1.4
6.0
7.5
5.1
1.9
0.9
2.5
0.7
13.1
2014-15
POR
71
34
40.0
32.4
85.7
0.9
5.0
5.9
4.8
1.5
1.1
1.9
0.6
9.4
2015-16
CHA
70
35
42.6
34.8
84.9
0.8
5.3
6.1
5.8
1.6
0.9
2.9
0.6
14.9
2016-17
CHA
77
34
40.3
33.3
85.6
0.6
5.7
6.3
5.9
1.4
1.1
2.5
0.4
15.1
2017-18
CHA
64
31
41.5
33.6
83.1
0.9
3.9
4.8
5.5
1.1
1.0
2.1
0.4
11.6
2018-19
CHA
75
31
45.0
38.9
86.5
1.0
4.3
5.2
3.3
1.9
1.0
1.6
0.6
9.3
2019-20
CHA
22
23
34.6
28.6
90.0
1.1
3.4
4.6
3.0
1.9
0.8
1.0
0.4
3.6
2020-21
LAKE
67
27
46.4
40.4
82.8
0.8
4.0
4.7
2.2
1.5
1.0
0.8
0.6
8.1
2021-22
LAKE
14
28
52.1
43.8
50.0
0.5
5.0
5.5
1.5
1.2
1.1
0.8
0.8
9.8
Total
870
31
43.7
36.2
83.9
1.0
4.2
5.2
3.6
1.7
1.0
1.7
0.6
11.3