NHL play-offs: Montreal makes a crazy comeback and eliminates Toronto
Montreal, which was thought to be moribund last week, managed its crazy comeback against Toronto, yet dominant in the North Division during the regular season, to qualify Monday, May 31 at 2e North American Professional Ice Hockey Championship (NHL) play-off round.
>> French athletes are stepping up to the plate against police violence
>> NHL cancels All Star Game and Winter Classic
>> NHL: Vancouver punishes Saint Louis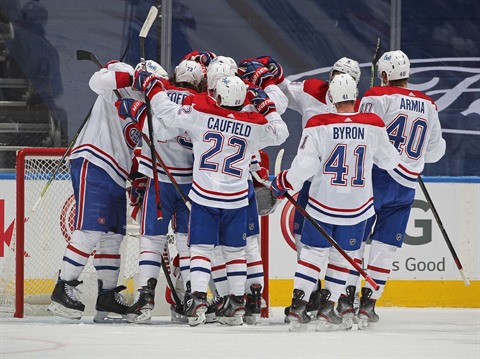 The Montreal Canadiens celebrate their victory over the Maple Leafs in Game 7 of the NHL Playoffs on May 31 in Toronto.
Photo: AFP / VNA / CVN
The Canadiens, whose goaltender Carey Price stopped no less than 30 shots, beat the Maple Leafs 3-1 in the deciding seventh game between the two Canadian franchises, while Toronto still led their streak last Tuesday by three wins to one.
« It's the best team game we've played this season« said Price. »I thought we had pretty good luck the whole series, and obviously when we won Game 5 to get our second win (Thursday, editor's note), we started to gain momentum, and we just kept going and tried to keep that momentum going tonight« .
In the next round, Montreal will meet the Winnipeg Jets, already qualified.
It was only the second seventh game between Montreal and Toronto, the previous one being in 1964.
This new failure in the playoffs risks turning to the examination of conscience in Toronto, which has not won a Stanley Cup since 1967, the longest period of famine of any NHL team.
In the other game of the evening, counting for the 2e turn of the play-offs, the Boston Bruins were manhandled by the New York Islanders, victorious 4 to 3 after extra time.
The two franchises are tied for one win throughout their series.
The game was disjointed: Boston leading 1-0 in the first period, before the Islanders put in three goals in the 2e, then that the Bruins did not equalize in the 3e to obtain the extension.