Newcastle: Howe explains the complicated beginnings of Guimares
Recruited this winter for 50 million euros (bonus included), Bruno Guimares is currently only playing for Newcastle matches. Manager Eddie Howe refuses to change his plans in good time. But the technician is not worried about the former Lyonnais.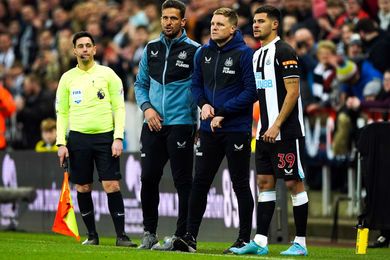 Bruno Guimares is not yet a Newcastle starter.
As the star rookie of the winter transfer window, Bruno Guimares had surely dreamed of a better start with Newcastle. The 24-year-old midfielder, who still hasn't started a game, had to settle for 4 appearances, for a total of 30 minutes on Premier League pitches.
The incumbents do the work
We know that newcomers to England often go through a period of adaptation. But the management of the Brazilian remains surprising on the part of manager Eddie Howe, who explained himself at a press conference.
I think Bruno understands, confided the technician. He arrived in a team that has very good results. Because of our season and the way it's been going, I've been reluctant to make too many changes when we're in a good period. Long in crisis, the Magpies remain on 7 consecutive games without defeat in the league. This series allows them to move away from the red zone. And encourages the English coach to keep the right formula.
Guimares will soon have his chance
Nevertheless, we do not keep a rookie 50 million euros (bonus included) on the bench forever. He won't want to sit and watch games for a long time. He's going to want to play, Howe guessed. Considering the number of matches that we will play in this short period, he will have his chance. It will be him to be so good that I do not want to remove him from the team. A sort of challenge launched by Guimares who will see his playing time increase with the four games played in 12 days.
The former Lyonnais has nothing to worry about yet, especially as his manager hopes to adopt a playing philosophy that will be more favorable to him. In the long term, we want to have more possession and play in a slightly different style compared to what we do now, explained the former Bournemouth manager. It will take time. I think Bruno will be important in this development.
A change favorable to the Brazilian
I can't wait to see more from him," Howe continued. He plays a little differently, with more control. He is a very creative passer. He played two or three excellent balls last week. I'm very happy with the little I saw of him on the pitch. In the shadow of Jonjo Shelvey, Joelinton and Joe Willock, Guimares will have to be patient and seize the opportunity that should soon present itself.
What do you think of Bruno Guimares Newcastle debut? Do not hesitate to react and discuss in the area add a comment …