NCAA men's hockey regional championship preview: Breaking down the NHL prospects

Think you know sports? PointsBet Canada is live in Ontario!
_____
And then there were 16.
The NCAA's Division I men's hockey championship teams have been selected, with 16 teams looking to become the national champions. This weekend, the teams will be split up into four groups, with the winner of each individual regional moving on to the Frozen Four in Tampa Bay next month.
Minnesota will kick things off as the No. 1 seed, with Quinnipiac, the University of Michigan and Denver finishing out the top four. The format is simple: single-elimination games, with the winners of each semifinal moving to the regional final. From there, the winner advances, with the Frozen Four also utilizing a single-game elimination format.
You lose, you go home. Simple as that.
There's a lot on the line this weekend in Pennsylvania, Connecticut, North Dakota and New Hampshire. Today, we're going to look at the NHL connections for all 16 teams, with many of the nation's top young stars about to do battle:
For a full bracket breakdown, click here.
University of Minnesota (No. 1)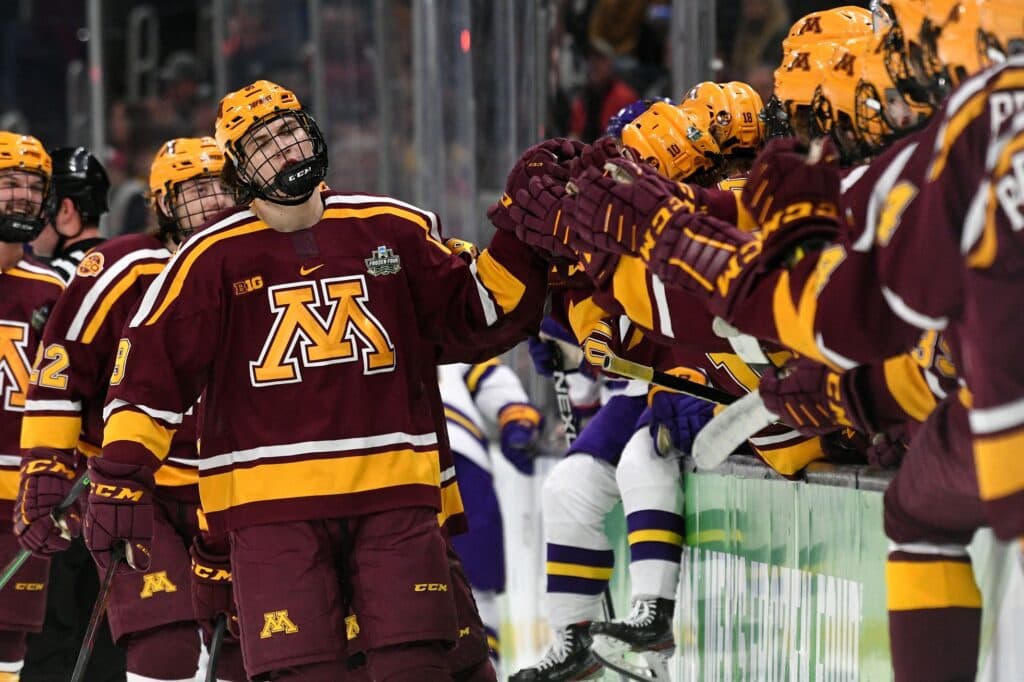 NHL Prospects: Logan Cooley (C, Arizona Coyotes), Matthew Knies (LW, Toronto Maple Leafs), Jimmy Snuggerud (RW, St. Louis Blues), Brody Lamb (RW, New York Rangers), Connor Kurth (C, Tampa Bay Lightning), Aaron Huglen (RW, Buffalo Sabres), Rhett Pitlick (LW, Montreal Canadiens), Bryce Brodzinski (RW, Philadelphia Flyers), Cal Thomas (D, Arizona Coyotes), Jackson LaCombe (D, Anaheim Ducks), Mike Koster (D, Toronto Maple Leafs), Ryan Johnson (D, Buffalo Sabres), Brock Faber (D, Minnesota Wild), Ryan Chesley (D, Washington Capitals)
They're the top team for a reason: that depth is incredible. The University of Minnesota has one of the best lines in the country in Logan Cooley, Matthew Knies and Jimmy Snuggerud, a line some scouts believe could easily hold their own against quality NHL talent right now. The trio combined for 60 of the team's 122 goals this year, which is quite something on its own. All three look capable of jumping into full-time NHL duty next season, but they have unfinished business.
Two other notable forwards are Philadelphia's Bryce Brodzinski and Montreal's Rhett Pitlick. Brozdinski finished with an impressive 15 goals, good for fourth on the team, while Pitlick's game was built more on being an all-around, defensively responsible winger. Aaron Huglen is a decent little buzzsaw forward, while Connor Kurth is one of the more physical options in the team's stable. Depth isn't an issue for this team, and while the big three will be the ones drawing most of the offense, everyone up front knows their role and what they need to do to snag victories.
And while the team's forward core has been downright dangerous, there's a reason why Minnesota has the fewest goals allowed in the Big Ten. Mike Koster and Brock Faber have made up a fantastic pairing, while Jackson LaCombe has been excellent at a near-point-per-game pace. Koster and Faber are a bit more own-zone focused but are solid puck movers and can shut things down. Faber might be one of the best blueliners in the tournament, period. Ryan Johnson, a Buffalo Sabres prospect, also gives the team some quality depth.
Minnesota is the team to beat, and they'll kick off action against Canisius on Thursday. They've got a handful of prospects that could turn pro, so it's somewhat of a last dance for the top-seeded team. Undrafted goaltender Justen Close has been excellent in net, and as long as he remains solid, Minnesota could end up going all the way.
Quinnipiac University (No. 2)
NHL Prospects: Samuel Lipkin (LW, Arizona Coyotes), Skyler Brind'Amour (C, Edmonton Oilers), Chase Clark (G, Washington Capitals)
Quinnipiac's strength comes from its veterans, and undrafted Collin Graf (55 points in 37 games) is one of the most dominant forwards in college hockey. From a prospect perspective, there's a lot to like about winger Samuel Lipkin. The Arizona Coyotes prospect made a name for himself in a depth role with USA's world junior team, but he's been a valuable offensive contributor with a point per game through 35 contests with the Bobcats. A stout, hard-working playmaker, Lipkin is a bit of an underrated commodity in the Coyotes' system, but they're quickly building one of the more depth-powered prospect pools in the league.
The son of Carolina Hurricanes coach Rod, Skyler Brind'Amour, a senior, is another big, hard-working forward. He never really produced at a high level, but scoring is mostly secondary for him. Brind'Amour is a strong defensive center, and if the Oilers end up signing the 2017 sixth-rounder this summer, he'll look to challenge for a bottom-line role one day.
Sorry, Caps fans. Don't expect Chase Clark to see any action after playing just 78 minutes over eight games this year. He never got a start, and rarely played more than just a period in lopsided games. He's a 20-year-old freshman, so the time will come for the 6-foot-6 monster. For now, it's all about the experience.
Quinnipiac has had a near flawless run as of late, but compared to teams like Minnesota or Michigan, they haven't had that tough of a road to this point. Still, Graf is excellent, Yaniv Perets is one of the best Division I goaltenders, and they're more than capable of hanging with the best teams in the tournament. But from an NHL prospect perspective, there isn't much to see here.
University of Michigan (No. 3)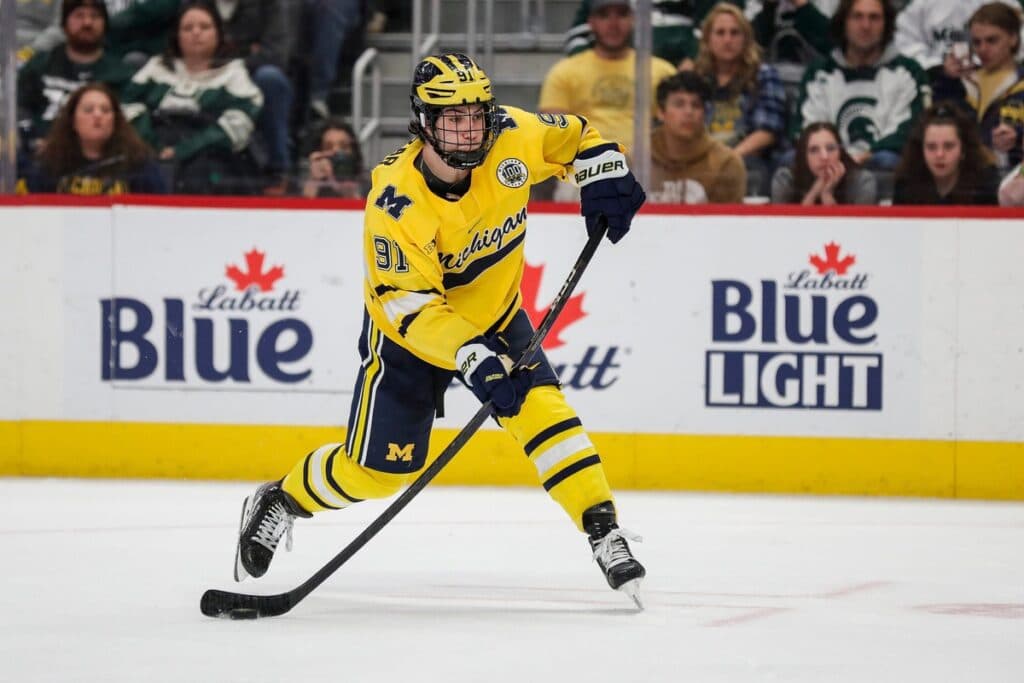 NHL Prospects: Rutger McGroarty (C/LW, Winnipeg Jets), Frank Nazar (C/RW, Chicago Blackhawks), Mackie Samoskevich (RW, Florida Panthers), Dylan Duke (C, Tampa Bay Lightning), Jackson Hallum (LW, Vegas Golden Knights), Eric Ciccolini (RW, New York Rangers), Luke Hughes, (D, New Jersey Devils), Seamus Casey (D, New Jersey Devils), Ethan Edwards (D, New Jersey Devils), Jacob Truscott (D, Vancouver Canucks), Erik Portillo (G, Los Angeles Kings)
Like Minnesota, the University of Michigan is loaded with quality talent. There's Luke Hughes, Rutger McGroarty, Frank Nazar, Mackie Samoskevich, Erik Portillo… and, perhaps the most impressive is freshman and 2023 NHL Draft star Adam Fantilli. From a pure high-impact future perspective, Michigan is as fun as it gets.
We already know Hughes will turn pro once Michigan's season comes to a close. He's one of the best players in college hockey, having been a freshman Hobey Baker finalist a year ago. The high-octane offensive defenseman leads a blueline that features fellow Devils prospect Seamus Casey and Ethan Edwards, so you know folks in Newark will be keeping a close eye. If Vancouver's Jacob Truscott returns from injury, that would be a huge boost, too.
Up front, Fantilli is the obvious eye candy given his projection as the second-best prospect for 2023. But Mackie Samoskevich, a Panthers prospect, has been an excellent linemate, while Rutger McGroarty, a Winnipeg Jets forward, is an all-around threat. If you're a Tampa Bay Lightning fan, watch Dylan Duke, who loves to create havoc around the crease. At times, it can feel like this team is built around Fantilli and everything he brings. But Frank Nazar has been good since joining for the final 10 games, while Eric Ciccolini has carved out a decent career as a bottom-six forward.
Michigan is flying high after beating Minnesota for the Big Ten championship last weekend and will hope to keep things moving along. If Los Angeles Kings goaltending prospect Erik Portillo can hold down the fort, they could easily make it out of Allentown and into April's semifinal series in Tampa Bay. Never, ever count this team out under any circumstances.
University of Denver (No. 4)
NHL Prospects: Carter Mazur (LW, Detroit Red Wings), Jack Devine (RW, Florida Panthers), Tristan Broz (C, Pittsburgh Penguins), Rieger Lorenz (LW, Minnesota Wild), Massimo Rizzo (C, Carolina Hurricanes), McKane Webster (LW, Tampa Bay Lightning), Jared Knight (RW, Los Angeles Kings), Michael Benning (D, Florida Panthers), Shai Buium (D, Detroit Red Wings), Sean Behrens (D, Colorado Avalanche), Magnus Chrona (G, San Jose Sharks)
Denver might lack a five-star prospect like Minnesota or Michigan, but they've got some quality prospects. It starts with 21-year-old sophomore Massimo Rizzo, a seventh-round pick by Carolina in 2019. At the time, he was a productive BCHLer, but nothing overly special. Now, armed with 82 points in 76 games after two years in Denver, Rizzo looks like yet another quality depth prospect that they managed to snag quite late. There's going to be significant pressure for Rizzo to lead Denver out of Manchester.
Another notable name is Carter Mazur, the team's top goal scorer this season. He kicked off the year with an excellent showing at the world juniors with USA and carried it over into an impressive sophomore campaign with Denver. He isn't likely going to be a top-six forward for the Detroit Red Wings, but he's one heck of a value pickup in the third round in 2021.
On the blueline, Michael Benning has been an absolute rock once again this year and will be counted on from a power-play and shutdown perspective. Benning is quick, smart, and has pro pedigree. A lot of the team's scoring chances start with Benning, and they'll need him to be sharp.
In net, Magnus Chrona, a San Jose Sharks prospect, has allowed just four goals over his past three games and was quite good down the stretch. At 6-foot-6, Chrona is one of the biggest goaltenders in the tournament, and he's proven before he's capable of stealing games. The senior is ready for one last kick at the can, so if he has anything else bottled up here, now's the time to unleash it.
Denver will be looking for revenge after falling in the NCHC semis earlier on. They're a good team and looking to defend their national title with a veteran-laden squad. Denver is rested and ready to go.
Boston University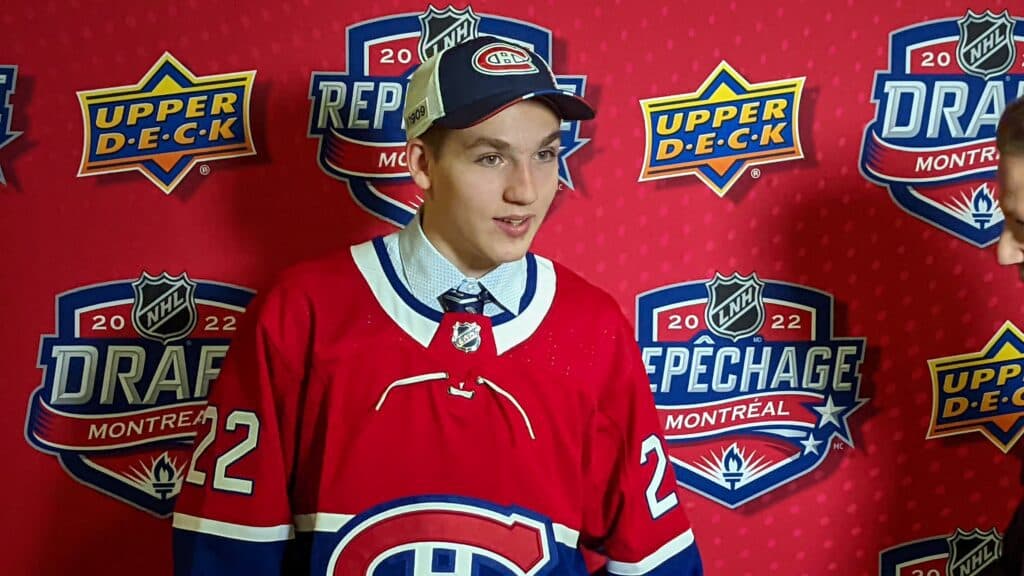 NHL Prospects: Lane Hutson (D, Montreal Canadiens), Drew Commesso (G, Chicago Blackhawks), Domenick Fensore (D, Carolina Hurricanes), Ty Gallagher (D, Boston Bruins), Case McCarthy (D, New Jersey Devils), Cade Webber (D, Carolina Hurricanes), Devin Kaplan (RW, Philadelphia Flyers), Jay O'Brien (C, Philadelphia Flyers), Ryan Greene (C, Chicago Blackhawks), Dylan Peterson (C, St. Louis Blues), Ethan Phillips (C/RW, Detroit Red Wings), Luke Tuch (LW, Montreal Canadiens)
Everyone wants to talk about Lane Hutson, and for a good reason. The small, but dominant offensive defenseman has taken the NCAA by storm this year, tying Brian Leetch with 47 points for the most by a U-19 defenseman in 30 years. He was the Hockey East tournament MVP after scoring the title-clinching goal, and he's even a finalist for the Hobey Baker Award. After a year to remember, even more fans are about to witness just how good Hutson can be.
Perhaps the guy with the most experience watching Hutson is Drew Commesso, a Chicago Blackhawks prospect. The third-year goaltender has had an outstanding college career and has one of the brightest futures of any crease king in the tournament. He'll have Domenick Fensore and Ty Gallagher to help out in front, but it's worth noting that Boston's 77 goals against were more than most other Hockey East contenders.
BU was the only Hockey East school to crack the 100-goal barrier this year, but will it be enough? Ryan Greene is a solid setup man, as is Jay O'Brien. Undrafted forward Matt Brown is the best goal-scorer on the team, with most of the NHL-drafted prospects helping out in other facets. In single-game situations, Boston can be devastating. We'll see how they fare against Western Michigan in the first game on Thursday.
St. Cloud State University
NHL Prospects: Jack Peart (D, Minnesota Wild), Dominic Basse (G, Chicago Blackhawks), Adam Ingram (C, Nashville Predators), Veeti Miettinen (RW, Toronto Maple Leafs)
Another team that was carried more by veterans, there are still a few noteworthy names. Minnesota's Jack Peart comes to mind, with the 2021 second-rounder taking big strides this year in developing a more well-rounded game. A strong, speedy defenseman, Peart is always moving and looking for the next passing opportunity. He doesn't score a lot, but he's an all-situations defender for St. Cloud.
Toronto's Veeti Miettinen – a quick, skilled winger – has been one of SCS's biggest scoring threats. He somehow managed to play 39 games without a single penalty, which is nearly unheard of at this level. But as a shooter and a passer, Miettinen can hang with the best of them. The 2020 sixth-rounder still has a long way to go if he's going to make the pros, but it's been a solid progression year for the Finnish forward.
Adam Ingram had some growing pains as a freshman, but 21 points isn't too shabby on a team carried more by juniors and seniors. He has decent size, is always looking to make a high-IQ play and he has some impressive hands, too.
In net, Dominic Basse didn't play in the semis or finals but could be utilized in a pinch. The Chicago Blackhawks prospect has been good this season, but senior Jaxon Castor has simply been better.
St. Cloud has had its ups and downs this year, but they played well enough to take the NCHC championship. Now, they'll hope to keep that momentum running, but it'll likely take beating the University of Minnesota if they're going to advance.
Harvard University
NHL Prospects: Sean Farrell (C/LW, Montreal Canadiens), Alex Laferriere (RW, Los Angeles Kings), Matt Coronato (RW, Calgary Flames), Henry Thrun (D, San Jose Sharks), Joe Miller (C, Toronto Maple Leafs), John Farinacci (C, Arizona Coyotes), Ian Moore (D, Anaheim Ducks), Zakary Karpa (C, New York Rangers), Ryan Healey (D, Minnesota Wild), Jack Bar (D, Dallas Stars), Kyle Aucoin (D, Detroit Red Wings), Austin Wong (C, Winnipeg Jets), Mason Langenbrunner (D, Boston Bruins), Mitchell Gibson (G, Washington Capitals), Aku Koskenvuo (G, Vancouver Canucks)
All eyes will be on Montreal Canadiens prospect Sean Farrell, one of the highest-scoring forwards with 52 points this year. The small, but skilled forward has been one of the best college players over the past two seasons after the Habs managed to steal him in the fourth round in 2020. His 5-foot-9 frame is a big reason why, but his success at the Olympics, men's World Championship and NCAA level has lifted him high up Montreal's depth chart.
It helps to have good teammates, and L.A.'s Alex Laferriere and Calgary's Matt Coronato have also produced at more than a point-per-game pace. Add in the defensive stylings of Henry Thrun and Ian Moore, and Harvard has some solid high-impact players to rely upon. Mitchell Gibson has been excellent in net – so Caps fans who are disappointed they can't watch Chase Clark can focus on Gibson instead.
Harvard is unique in that they score a lot, but also surrender a ton, too. So much like the Edmonton Oilers, Harvard will need to out skill their opponents in these one-off games if they're going to advance far. When everyone's moving and grooving, Harvard can be one difficult team to contain.
Penn State University
NHL Prospects: Kevin Wall (RW, Carolina Hurricanes), Chase McLane (C/RW, Nashville Predators)
Compared to the rest of the pack, Penn State doesn't have much in the way of quality prospects. Senior Kevin Wall tied his previous best with 16 goals and 29 points in 37 games to lead the team in scoring. Chase McLane, a depth defensive forward, has four points in 19 games, but he loves to hit opponents as hard as possible.
Despite a lack of NHL prospects, Penn State leads all teams with 1,462 shots and even started the year 9-0. If they can find that magic again, maybe they'll make some noise in Allentown. Of course, that means making it past the University of Michigan, so…
Ohio State University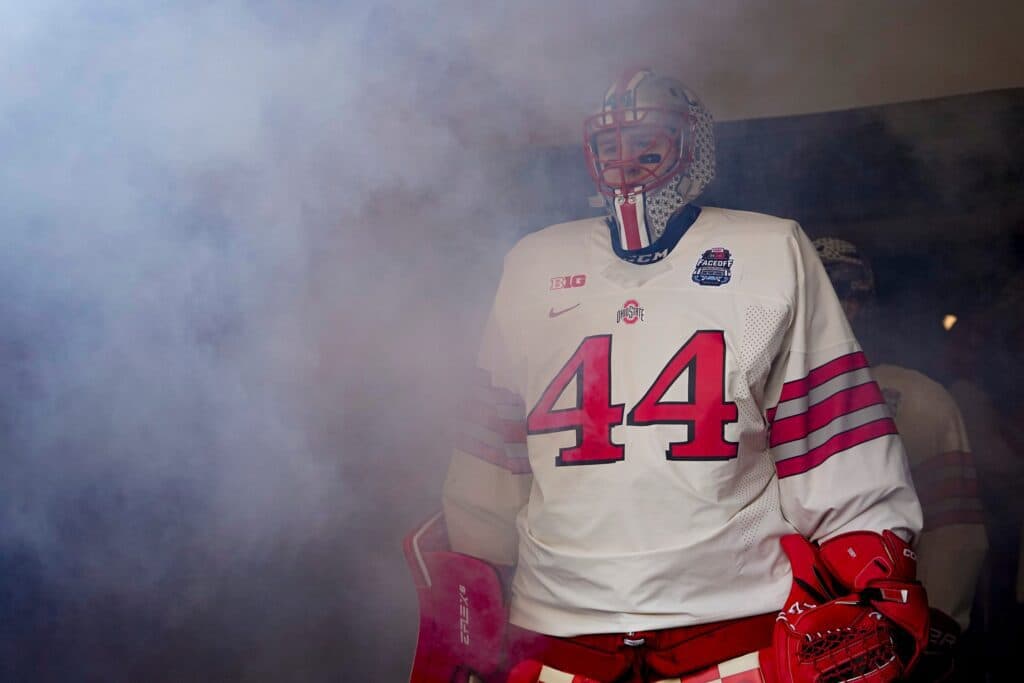 NHL Prospects: Jakub Dobes (G, Montreal Canadiens), Mason Lohrei (D, Boston Bruins), Stephen Halliday (C, Ottawa Senators), Jake Wise (C, Chicago Blackhawks)
What Ohio State lacks in quantity, they make up for in quality. Jakub Dobes was excellent this year with a 20-15-3 record and three shutouts to go along with a .918 save percentage. Last year, he was the Big Ten's top goaltender with a .934 save percentage as a freshman. So the 21-year-old can clearly get the job done, but he'll have to outduel some good goaltenders to get to Tampa Bay.
Mason Lohrei surprised some scouts when he went to Boston with the 58th pick in 2020. He led all USHL defenders with 29 assists that year but wasn't really ranked anywhere publicly. Clearly, the Bruins liked what they saw, and he won the USHL's top defenseman honors the following season. The big offensive defenseman has put up consecutive 29-point seasons while also displaying his physical roots. Bruins fans, keep a close eye on him.
Ohio's top scorer, Stephen Halliday, is also an interesting case. After going undrafted twice, Halliday was finally taken by Ottawa and kicked off his college career with 40 points in 38 games. Between him and Chicago's Jake Wise, they'll be relied upon to generate offense.
OSU will look to turn things around after a disappointing end. They've got some notable prospects at every position, but they'll need every line firing at all cylinders to make it out of Bridgeport.
Michigan Tech University
NHL Prospects: Ryan O'Connell (D, Toronto Maple Leafs), Kyle Kukkonen (C, Anaheim Ducks)
Another contender with a shortage of NHL-drafted talent, this is a group that gets support from just about everywhere. Anaheim Ducks prospect Kyle Kukkonen was the team's top goal-scorer with 18, helping to kick off his college career in style. The former Minnesota high school hockey star was taken in the sixth round in 2021 and has continued to raise his profile ever since.
More of a stay-at-home defender, Ryan O'Connell is looking to go out with a bang as a fifth-year college blueliner. He doesn't shoot a ton, but he can be physically punishing.
If MTU is going to advance, it'll likely require some huge performances from senior goaltender Blake Pietila. The fourth-year netminder has turned heads thanks to his 10 shutouts in 36 outings this year and could even earn an NHL contract once the season concludes. They'll have a tough first game against Penn State, but it's one MTU could definitely win. After that, though, will likely be a meeting with their friends, the Michigan Wolverines. Now that would be interesting.
Colgate University
NHL Prospects: Carter Gylander (G, Detroit Red Wings), Alex Young (C, San Jose Sharks)
Again, quality over quantity here. Carter Gylander is a name Red Wings fans are watching closely. The third-year puckstopper stands tall at 6-foot-5 and is currently riding a five-game win streak, including a pair of busy overtime affairs earlier this month. Given Gylander's opponent at the other end will be Erik Portillo, he'll have to be downright perfect in the first game.
Alex Young has impressed since getting drafted in the sixth round in 2020. He's still not that high on San Jose's prospect depth chart, but if he puts up another point-per-game season like he did this year, you never know.
Despite a lack of NHL prospects, it didn't slow Colgate down in the ECAC championships. The fifth seed managed to beat Harvard to win it all, largely due to the heroics of Gylander in net. If he can stand on his head, watch out.
Merrimack University
NHL Prospects: Alex Jefferies (LW, New York Islanders), Stanislav Demin (D, Chicago Blackhawks), Hugo Ollas (G, New York Rangers)
After losing out in the Hockey East championship game, Merrimack is looking for revenge. And they'll do so with one of the most dangerous forwards in the conference, Alex Jefferies. The Islanders product exploded for 41 points in 37 games, a big step from his 23 points a year ago. Still, he has proven at every level that he can produce, and he'll be the catalyst for the team moving forward if they manage to do so.
Merrimack has split the goaltending duties between third-year Zachary Borgiel and sophomore Hugo Ollas. The latter, a 6-foot-8 Rangers prospect, is the biggest goaltender in the tournament, and he commands the net in a way very few can. After recording an overtime shutout the week prior, he was excellent in the Hockey East final on Saturday. If he gets the call, he'll need to be perfect.
And then there's Demin, a fifth-year NCAA defender currently with his third team. His senior season has been his best, and he'll need to keep that momentum alive in these single-game eliminations.
Western Michigan University
NHL Prospects: Carter Berger (D, Florida Panthers), Jack Perbix (RW, Anaheim Ducks)
Western Michigan has never made it to the Frozen Four, and they're coming off a loss to Colorado College during the NCHC quarterfinals. History suggests that luck isn't on WMU's side, but don't count them out yet. They're rested, have two of the highest-scoring players in the country in Jason Polin and Ryan McAllister and are much better than the loss to Colorado College might suggest.
From a prospect perspective, keep an eye on Carter Berger. The former BCHLer is having the best season of his career, which happens to be his only year with WMU after transferring over from Connecticut. He's a heavy minute muncher, isn't afraid to lay the body and looks comfortable carrying the puck.
Up front, Jack Perbix – the younger brother of Tampa's Nick Perbix – is a decent secondary offensive threat. Like his brother, he's a hard worker, and the younger Perbix packs some solid speed into his game.
Cornell University
NHL Prospects: Jack Malone (RW, Vancouver Canucks), Matthew Stienburg (C, Colorado Avalanche), Hank Kempf (D, New York Rangers)
The Big Red haven't won a national title since 1970, and haven't done a whole lot past the regional stage in recent years. Still, Cornell is a high-scoring team that can cause headaches for some strong opponents – and they'll hope to do that this weekend.
From an NHL prospect perspective, there isn't too much to get excited about. Jack Malone, a sixth-rounder by Vancouver in 2019, played some good hockey down the stretch but is more of a secondary offensive option. Matthew Stienburg had a point-per-game last year, but has struggled with injuries and hasn't had much to show for on the score sheet. Still, you can't write him off. Defenseman Hank Kempf, a New York Rangers prospect, has little to no offensive value but can lay a guy out and shut things down when needed.
Cornell will face a motivated Denver team in the first game on Thursday. Cornell lost to Harvard in the ECAC semifinal, but saw them heating up at just the right time prior to that. They'll need that magic to come back.
Minnesota State University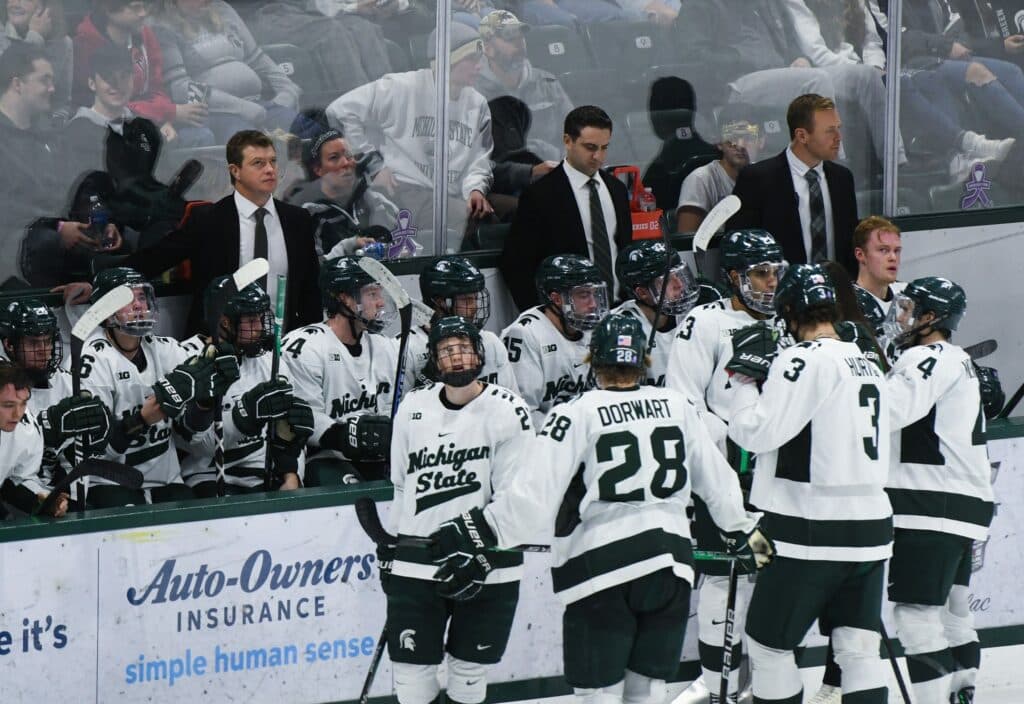 Surprise! Minnesota State has no NHL-affiliated players at all. They do, however, have two defensemen many NHL scouts have been keeping an eye on: Jake Livingstone and Akito Hirose.
Livingstone is considered by many to be the best undrafted NCAA UFA available. The junior is second in team scoring with 27 assists and 35 points in 38 games, and he loves to use every inch of his 6-foot-3 frame. Many expect him to challenge for an NHL roster spot in a few months, and a good showing to cap the year off could help spice up interest.
Hirose's name has been thrown around for at least three years as a potential free agent signing thanks to his hockey sense, high-end skating and puck-moving abilities. It's the way he thinks the game that makes him stand out, to me – he's deceptive and quick. We'll see if an NHL team picks him up after the season ends.
Despite a lack of NHL prospects, Minnesota State has become a forced to be reckoned with. They've been in back-to-back Frozen Fours, and now come riding a CCHA championship thanks to a comeback overtime win over Northern Michigan. Will the momentum continue when it matters most?
Canisius College
The Golden Griffins also don't have any NHL prospects and nobody that's drumming up serious interest. But the Atlantic Hockey champions managed to pull through with one of the oldest teams in the NCAA.
This is going to be a tough tournament for Canisius, who finished 41st in the PairWise rankings. They had a 20-18-3 record during the season, the worst of any team in the Frozen Four. Keaton Mastrodonato (36 points) and Ryan Miotto (35) have been the class of the team's offense, while Jacob Barczweski has had more than a few standout performances along the way.
Their prize for winning the Atlantic? A date with the top-ranked team in the country, the University of Minnesota. Ouch.
Recently by Steven Ellis