NBA | Basketball – NBA: Carmelo Anthony's big confidence on LeBron James!
Basketball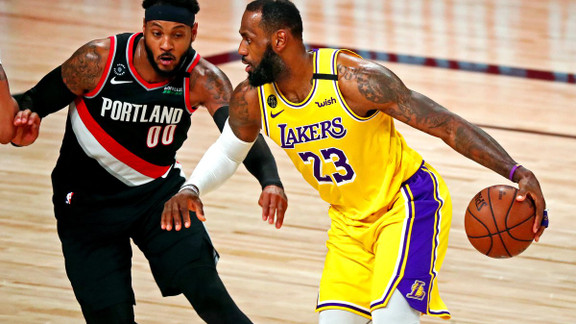 The Lakers hit hard from the opening of the free agency, including recruiting Russell Westbrook and Carmelo Anthony. The latter revealed the importance of LeBron James in his coming to Los Angeles.
The Lakers did not skimp on resources this summer. Los Angeles would expect to quickly regain control of the title NBA after the last success of 2020. From the first hours of the free agency, the historic West Side franchise announced the arrivals of Trevor Ariza, Dwight Howard and Wayne ellington. But it is especially with the recruitments of Russell westbrook and of Carmelo Anthony that Lakers have been talked about. 37 years old, Melo said LeBron James was very instrumental in his coming to Los Angeles.
« The time has come, I want you »
During his presentation press conference, Carmelo Anthony spoke about his relationship with Lebron james and his arrival among Lakers :  » Bron just came up to me, and said, « Hey, the time is right, I want you. We have to make it happen. » I told myself that in terms of timing, it was the best time. Throughout my career, I have always been connected to the Lakers in one way or another. Whether it's through my brother Kobe, or someone else. This time it wasn't really the case. I think it was more of an awareness. Like, « OK, now is the time for the two parties to merge, to agree to reunite. Most people will say that we should have gotten together years ago at the start of our careers, but we were on two different tracks I would say the circle is complete. «