NBA and Olympic champions the same year, Jrue Holiday and Khris Middleton join a prestigious club | NBA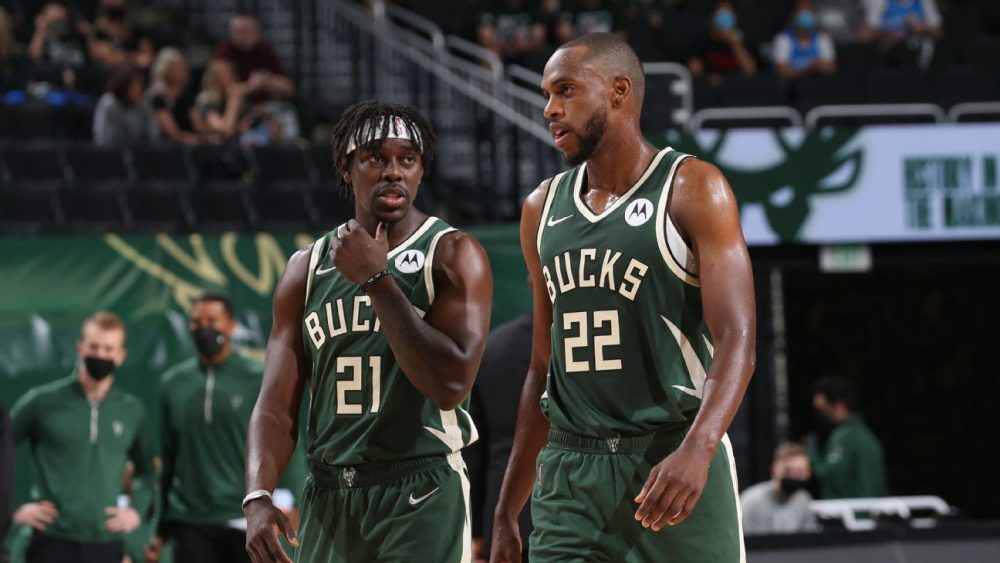 What a great summer for Jrue Holiday and Khris Middleton! Victorious of the Larry O'Brien trophy with the Bucks, only 18 days ago, the two Americans also became Olympic champions with Team USA, this Saturday, in Tokyo.
Only four players (all Americans too) had achieved this feat before them, during the same year: Michael Jordan, Scottie Pippen, LeBron James and Kyrie Irving.
Six Americans who scored such a double
In 1992, after winning the second of their six rings with the Bulls, Michael Jordan and Scottie Pippen joined forces again a few weeks later to defend the colors of this ruthless « Dream Team » at the Barcelona Olympics.
Four years later, in 1996, and in the wake of the first title of the second Chicago « Three-Peat », Pippen returned to Atlanta, this time without Jordan. At home, the United States and their "Dream Team III" have, again, held their place to achieve the pass of two.
It was then 16 years before seeing a player again achieve the double « NBA title + Olympic gold medal ». And this player is none other than LeBron James who, finally crowned champion with the Heat, followed up with his national team in London to triumph at the 2012 Games.
And just before Jrue Holiday and Khris Middleton joined this closed circle, Kyrie Irving had interfered among his glorious elders, in 2016. Alongside LeBron James, the one who was playing at the Cavaliers had just signed a resounding feat, in recovering from a 3-1 deficit against the Warriors in the Finals. What motivate the leader to crown his beautiful summer with an Olympic coronation, in Rio, in the company of his future teammate of the Nets, Kevin Durant.
Kevin Durant and Draymond Green also shine
Kevin Durant who, meanwhile, took the opportunity to equal Carmelo Anthony, in the number of gold medals gleaned with the United States, at the Olympic Games. The two wingers have now won three each, the only difference being their number of participations in the Olympics: four for "Melo" (he won bronze in 2004), three for "KD".
And still within the radius of these statistical achievements, let us also note that Draymond Green became, with this new American coronation, the seventh player to have several NBA titles and several Olympic titles to his credit, after Michael Jordan, Scottie Pippen, David Robinson, Kobe Bryant, LeBron James and Kevin Durant.