MVP odds come out, LeBron and Curry humiliated!
With the Summer League barely over, it's time to look ahead to the 2022/2023 season and make predictions. The Las Vegas bookmakers, for example, have just released the first odds for the MVP title race, and LeBron James and Stephen Curry have not been respected.
With the end of the Summer League, it's officially time to move on to the next chapter in the NBA and look into the 2022/2023 season. Teams are already starting to unveil preseason schedules, including a tantalizing Nets-Sixers on October 3, which should mark the reunion between Ben Simmons and the franchise he's been a scapegoat in for so long…
And then the fans will be able to project themselves with more or less enthusiasm on the ambitions of their heart team. For the most active franchises in the market, the excitement and the expectation must already be unbearable, as in Minnesota, where everyone must be thinking of Rudy Gobert's great debut in his new colors. With the French pivot, Karl-Anthony Towns and Anthony Edwards, the franchise has 3 potential All-Stars, which had never happened…
Luka Doncic favorite to be MVP, LeBron 9th!
On the side of the bookmakers, it is also time to get back to work and establish the odds for the title race, but also for that of the MVP title. The first predictions have just been released, and there are a few surprises in the rankings. If a relatively surprising name is at the top, it is above all the places of LeBron James and of Stephen Curry that catch the eye: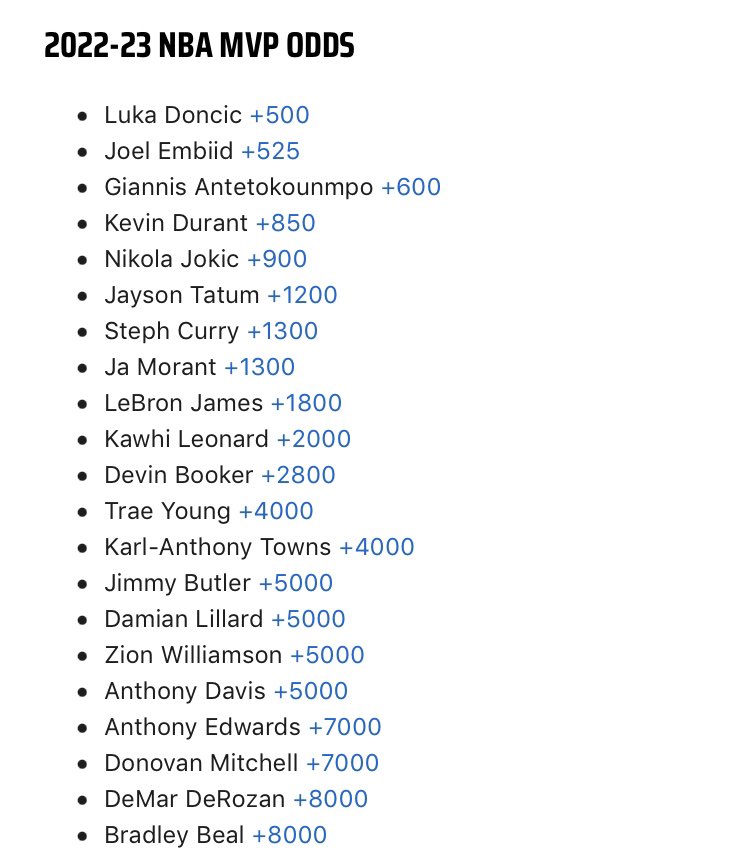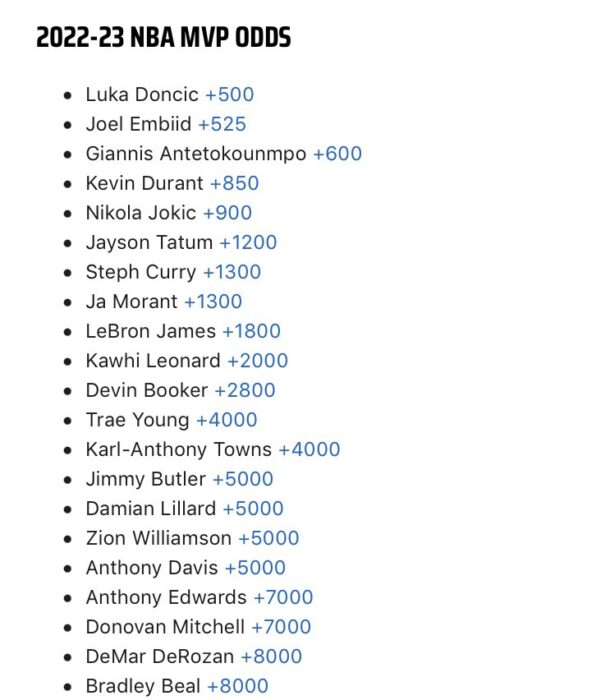 According to early estimates from Las Vegas, Luka Doncic would be the big favorite to clinch the MVP title next season, ahead of Joel Embiid and Giannis Antetokounmpo, already a double winner. Nikola Jokic, double defending champion, is only 5th, while his influence should not be less important on the game of the Nuggets. But this lack of consideration towards the Serb is much less shocking than that towards Steph Curry or towards LeBron James.
As he comes out of a wonderful playoff campaign, punctuated with a Finals MVP title, the Chef is only 7th in this race, while his Warriors should still excel in his wake… If they finish on the podium in the West, his name will be much higher. And what about the King, confined to 9th place? The Lakers' No. 6 has proved during the Drew League that he still had juiceand if the collective results follow, he could write history and become the oldest MVP of all time!
Admittedly, Stephen Curry and even more LeBron James are aging, but they are still well above average in terms of level. Seeing them so low in the forecasts for the title of MVP is therefore surprising, even if bettors will see this as a great opportunity to make a ticket.