MotoGP: Will Carmelo Ezpeleta add more new features to sprint racing? « Nothing is planned at the moment, but we are still thinking about it »
Carmelo Ezpeleta and his Dorna troops, responsible for promoting MotoGP in the broad sense, have shown their trump card for the 2023 season in the form of a new Grand Prix format driven by the arrival of this great novelty that is the sprint race. They hope it will be an asset to rekindle public interest in the meetings, a popularity that will be measured both in the stands and through TV audiences. An upheaval which will also have an impact on the physiognomy of the title race with more points to take, as well as to lose, at each meeting. Because the sprint race will be on the program for the 21 events on the calendar. Which deserves some explanation…
As we know, the drivers will not make 21 starts in 2023 but 42, even if the additional sprint race, which is scheduled for Saturday, will only take place over half the distance of the traditional Sunday game. , which is obviously maintained. There will be more risks, more effort for the protagonists who negotiate in fact with their employers so that this surplus is taken into account in their contract already signed through bonuses… But there will be more spectacle, and the latter generally leads to inflation of interest.
Still, if the concept of the sprint race already exists with the cousins ​​of the WSBK, also managed by Dorna, it is with the Formula 1 that it is compared when it is related to MotoGP. However, in single-seaters, we are far from having this test in all cases. Formula 1 takes a different approach when it comes to sprint racing. They have only taken place on a few select race weekends since the 2021 season. While there were three in 2021 and three in 2022, there will be six sprint races in the 2023 season from Formula 1.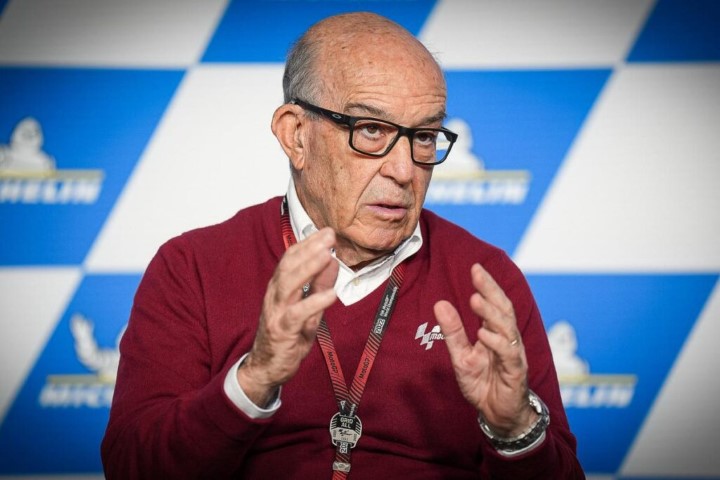 Carmelo Ezpeleta: a time window opens in which more promotional activities can be carried out with the pilots »
A reported difference, so the CEO of Dorna, Carmelo Ezpeletaexplains why such a model does not work for MotoGP: it was clear to us from the start that they had to be integrated into all races », says the Spaniard about sprint races on motorsport.total. » If you want to make Saturday more attractive, it needs to be standardized. This new format has an impact not only on Saturday, but also on Sunday he adds.
« With the elimination of the warm-up for Moto2 and Moto3 and the shortening of the warm-up for MotoGP, a window of time opens in which more promotional activities can be carried out with the riders. This applies both to circuits and also to TV. This initiative has been greeted with great enthusiasm by race organizers and track operators. It is not possible to offer this initiative for some Grands Prix and not for others ", develops the boss of the Dorna.
When asked if, apart from the introduction of sprint races, any other changes to the MotoGP weekend program could be imminent in the future, he replied: Nothing is planned at the moment, but we are still thinking about it « . We are therefore perhaps not yet at the end of our surprises.