MotoGP technique: This is what a hybrid MotoGP could look like according to Engineer Manganelli
Mario Uncini Manganelli presents the technical hypothesis of a hybrid engine for MotoGP, with figures and comparisons.
By Paolo Gozzi / Corsedimoto.com
F1 introduced hybrid powertrain in 2014, also paving the way for this type of technology in production car production. Two-wheelers are far behind: Endothermic propulsion still rules the roost, both in series and in competition. But we are also starting to talk more and more often about hybrids in our environment, and a question arises: could MotoGP become a bridgehead to the future like F1 has been for cars? Could the top class of motorcycling go hybrid? And if so, what would be the technological complexities, costs and performance benefits that could result? We have entrusted these questions to Mario Uncini Manganelli, former engine manufacturer at Oral, KTM, Aprilia (with six Superbike world championships for riders and constructors won with the RSV4). The Bolognese engineer also has experience with Mercedes F1 powertrains. Today he provides advice to various automotive companies, both in the field of motorcycles and cars, and also deals with popular science for Corsedimoto readers.
What are the basic components of the hybrid part?
» The first component is the PMG electric motor (Permanent Magnet Generator, permanent magnet motor/generator) which in our case would function not only as an electricity generator but also as a starter. In other words, it would make it possible to do without the external starters currently used, operated by a mechanic and connected to the transmission. A battery, called a booster battery, is needed to power the PMG when starting so as not to sacrifice the energy stored in the motorcycle's on-board battery. »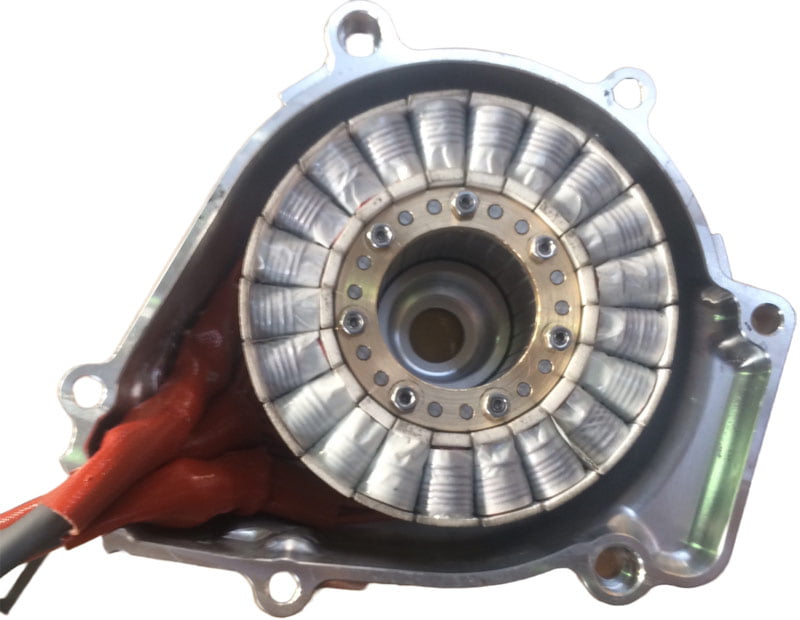 Example of a PMG produced by Pulse (Rovereto), a company specializing in prototype applications for motorsport.
What could be the ideal hybrid configuration?
« The endothermic engine could be reduced to 750cc, I would suggest a V4, with 230 hp and a maximum revs limited to 16,500 -17,000 rpm. This limit would avoid uncontrollable development costs. Average piston speed is about 25 -26 meters/second, bore 73 -74 mm, stroke 43 – 44 mm. With this type of configuration, it is possible to obtain a nominal crankshaft horsepower of 225 to 230 horsepower. The electric motor should be able to spin at 16 -17,500 rpm. Dimensions: Approximately 135mm in diameter by 35mm thick, and it would be liquid cooled to increase efficiency. Such a PMG would weigh 7 – 8 kilos and provide a power surplus of 25 -27 horsepower, or about 20 kW. »
And would such a MotoGP reach the current endothermic 300 horsepower?
» We could arrive at 250 -257 hp (230 hp endothermic, 27 hp electric), but with a much higher efficiency, since around 25-27 hp would be produced by the electric unit. Higher power means that the torque provided by the electric part would be distributed over the entire engine utilization curve, i.e. not only at high revs as is the case with endothermic engines, if they are available. The performance advantage, translated in lap time and distance, could be very significant compared to a motorcycle of the same displacement. »
How much could such a hybrid MotoGP weigh?
« Let's take as a reference the configuration described above. The endothermic engine could weigh 5 to 6 pounds less than a 1000 four-cylinder, inline or V engine, the complete gearbox would be smaller, as would the clutch and primary drive unit. There would be fuel savings, about 3-3.5 liters less and a smaller and lighter fuel tank. However, the increased weight of the components of the hybrid part must be taken into account. For the inverter we count around 4 – 5 kilos, while the battery would be around 28 kilos, estimating a capacity of 6 -7 kWh with a density of 230 Wh/kg. A hybrid MotoGP would weigh 28 kilos more than a current model, which has a weight limit of 157 kilos. With the most modern batteries, we could reach 250 Wh/kg with a saving of about 2 kg (7% of the weight). Some of the weights listed above would be offset, and the weight increase would be largely attributable to the battery, after a major initial optimization. The minimum regulatory weight of the hybrid could therefore be 185 kg. »
How much would consumption be reduced?
« Fuel savings can be estimated, we have already spoken of 3.5 liters offset by electrical production. Regarding the production of CO2, that is to say the environmental impact of a hybrid engine, it is difficult to answer, because at the moment there is not enough technical literature and known tests for evaluating such values ​​in high performance engines. »
Would a hybrid MotoGP have safety issues to solve?
« Absolutely. High voltage is a factor to consider. The reliability of the inverter and the electric motor should then be checked. But these are technologies that are now at an advanced stage of development in the automotive realm, and not just in racing. Nothing that cannot be optimized and managed. »
Could MotoGP introduce a mono-supplier for the hybrid part?
« Opportunities abound. Manufacturers such as Marelli, Bosch, Siemens or McLaren Electronics, to name but a few, would be perfectly capable of setting up hybrid units to be supplied to all teams under a single supplier regime, therefore at controlled and equal costs for all. On the contrary, the involvement of more specialized brands would increase the technological challenge. »
How long would development take?
» Three years from the time the formula is launched. So if the MSMA, FIM and other relevant bodies now decide to take a similar turn, hybrid MotoGP could be on course for the 2026 world championship. »
Would the driving be different?
« Absolutely. The electric part would provide 25 – 27 additional horsepower, which could be exploited over a wide range of engine use, especially if we talk about the torque of the electric motor, and not only at the maximum opening of the throttle valves as c This is the case with endothermic engines. With more torque, aerodynamics would play even more, that is to say the vertical load produced by the increasingly visible wing appendages, which generates additional grip. With more torque available at different speeds, this area would become even more strategic. However, the increased weight would reduce braking effectiveness. »
To manage the transition to hybrid, each team would need how many people?
« At least one electronics engineer responsible for system reliability and hybrid part mapping. The inverter would obviously be programmable and connected to the main control unit or ECU which already controls the endothermic engine and the functions of the entire vehicle. »
Among the current competitors of MotoGP, who could benefit?
» Honda was F1 world champion for years, and they have a huge experience in hybrids. Yamaha could rely on the resources of Toyota (with whom it has also had contact in the past), and therefore has the know-how in-house there too. Ducati, on the other hand, would rely on the resources of Audi, very committed to electric vehicles and which will land in F1 in 2026. At Aprilia, there is Massimo Rivola, a former Ferrari driver. Can you imagine the interest of a technical partnership agreement between Noale and Ferrari? Only KTM, today, has no connection with the automotive sector, but it could quite rely on the resources available on the market. »
How much would the costs increase?
« An increase over current technology makes sense. A hybrid MotoGP could cost 10-15% more. But it could be compensated by reducing the engine units available to four per season, against seven currently. »
Publicity
Is the hybrid plausible on road bikes?
» If fuel economy and especially emissions regulations were to become even stricter than they are today, hybrids could be the way to go. Of course, applying a PMG – inverter – battery system to a maxi road bike would be complicated and expensive, and the process is even longer than for racing. So, given the time required for development, testing and homologation, it will take at least six to eight years to see a hybrid Superbike on the road, from regulatory launch. »
Opening photo: Inverter designed by Pulse (Rovereto), a company specializing in prototype applications for motorsport.