MotoGP: Carmelo Ezpeleta never understood how we could imagine a Grand Prix in Finland but explains why we will go to Kazakhstan
Carmelo Ezpeleta, and his Dorna troops responsible for promoting the Grands Prix, will also have a lot to play for in this 2023 season which will definitely be that of all hopes and all dangers. Because it is a question of restarting interest, and therefore increasing popularity, at a time when offering the best show in motorsport on the track is no longer enough to fulfill its objectives and convince. A new meeting format has been put in place while on the calendar, this time we really want to stick to the crest of 21 races. This should have been the case already last year, but Finland failed. On this missed meeting but also on the one who will replace him, the Spaniard gives his feelings while specifying the imperatives of his charge…
And this responsibility is first of all to draw up the calendar for a season which must conflict as little as possible with a Formula 1 who wins this audiovisual duel each time, as in the stands. The case of Mugello in 2022, taking place at the same time as the famous Monaco Grand Prix, will have served as a lesson in this respect. A disappointment at the box office and in the ratings that was noticed and reported, since Carmelo Ezpeleta comments: » we have to be mindful of the many teams and riders in the Italian Grand Prix. With Ducati and Aprilia we have two Italian MotoGP factories on the ground which will equip twelve of the 22 riders in 2023 « .
A remark that indicates that drawing up an annual schedule for your paddock is clearly part of political and economic strategy: " Formula 1 and MotoGP events must not take place simultaneously in the same part of the world. it is not an easy task » says Carmelo Ezpeleta on Speedweek. » There will soon be 24 races in Formula 1. So the number of weekends available for Dorna is getting smaller and smaller. « .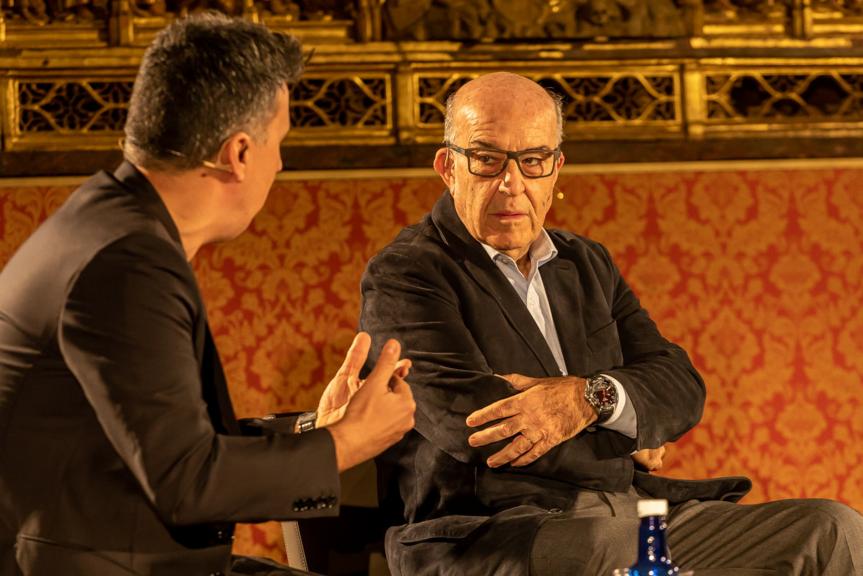 Carmelo Ezpeleta: we can't afford to be out of the world of motorsports for as long as five weeks »
A situation that explains what appears at first glance to be an unbalanced calendar, but which is in fact a set of dates that the Formula 1 left free, so to speak: there are three F1 races in a row in May. So we had to move the Mugello Grand Prix to the first weekend of June. And the Catalan Grand Prix in September « . A balancing act that will become more and more difficult to assume since the boss of Dorna reminds us: » in our agreements with the teams, a maximum of 22 Grand Prix are agreed. We need to extend and prolong the season. Because the interest in MotoGP has increased considerably. Saudi Arabia also wants a motorcycle GP « .
Certainly, but is it because the Kazakhstan marked his interest in MotoGP to such an extent that we see him appear for the first time in a motorcycle Grand Prix season? Not really… In this case, the imperative was elsewhere: " we were asked why we were going to Kazakhstan. The explanation is this: there are no other organizers who have agreed to a Grand Prix date in July. If we had done without the Sokol circuit, there would have been a five-week summer break like in 2022 when the Finnish Grand Prix was cancelled. We can't afford to be out of the motorsport world for so long. « .
And on this Finnish Grand Prix stillborn, Carmelo Ezpeleta revealed : » I never really understood why a Grand Prix was planned there « . The legal proceedings in progress to recover the money invested will perhaps make it possible to find out one day.