MotoGP: although retired, Valentino Rossi resumed training as before
Valentino Rossi no longer has to worry about intensive preparation for a new season in motorcycle Grand Prix, but we don't write off 26 years of routine like that… The one who said goodbye to a MotoGP to which he brought a lot announced his future goals in motorsport, but he did not change anything about his way of training. So he returned to his ranch in Tavullia to wake up his body and his reflexes on a motorbike rolling over soft ground. Because it would not be either that his students responsible for making his name last in the paddock imagine that they will be able to beat him easily during the meetings which are sure to take place during this year…
It is an unprecedented off-season that lives Valentino Rossi who, after 26 years in the motorcycle world championship, will not participate in the next MotoGP championship. However, the Doctor decided not to give up training and, after completing the short confinement period that a contact case status imposed on him, he returned to the Tavullia Ranch.
Despite the fact that the nine-time world champion will participate in the championship Fanatec GT World Challenge Europe at the wheel of an Audi from the WRT team, the love for two wheels is still strong. The proof with this resumption of the handlebars with a Yamaha as its dirt track.
» This type of training improves control of the motorcycle in poor grip conditions. To control the bike in and out of corners, to master wheelspin, throttle and much more he says on Moto.it. » The beauty is that we are always racing against each other and for a pilot it is very important to practice hand to hand duels « .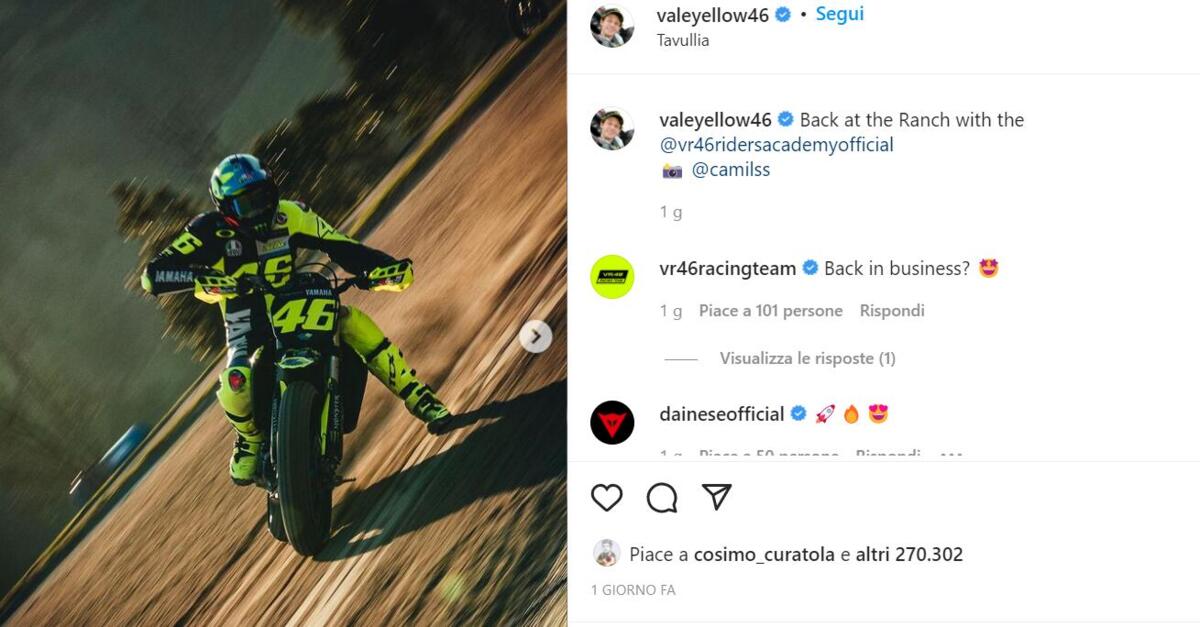 "There is no better team than WRT Also for Valentino Rossi"
Valentino Rossi will start a new career in 2022 and it will be that of a racing driver. On choosing an Audi in a WRT team, it's his compatriot Dindo Capello, a key player in the brand with the rings in competition, which delivers its expertise: "Valentino called me before the choice with Audi. We discussed the different possibilities. I was very happy to know that he then followed the path that I had kind of indicated to him. « .
» It is above all a team with great experience, very professional and linked to the Audi house. For Vale, there will be the opportunity to do tests or even, why not, to test the prototypes, given that WRT also races with LMP2s and won Le Mans in 2021. Valentino today is a driver who needs a team capable of offering him the best, and above all the possibility of being able to carry out numerous tests, which is really fundamental for those who approach the automotive world after a very long career on two wheels. Of course Rossi is not starting from scratch but he needs experience and there is no better team than WRT to do so.e" finishes the Italian on Mowmag.