Morocco challenge Brazil in quarter-finals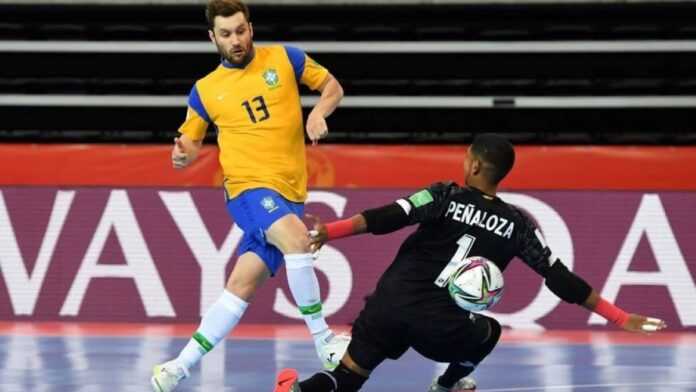 The Atlas Lions from Morocco now know their opponents for the quarter-finals of the Futsal World Cup Lithuania 2021. Hicham Dguig's proteges will meet the Brazilians who have hardly overcome the Japanese (4-2), this Wednesday evening, during the eighth final, at Zalgirio Arena (Kaunas). Title holder, Argentina pulverized Paraguay (6-1), in the South American derby.
Winner of this competition five times (a record), Brazil had great difficulty in getting rid of the bee-eater of the Japanese Samurai, who had not come to make up the figures. After only four minutes, the Japanese opened the scoring by Hoshi. But, the Brazilians will equalize very quickly, in the 5th minute of play, by their home scorer Ferrao, on a service from Guita. At halftime, the two teams were tied 1-1.
It was not until the 31th minute of the second period, or 9 minutes from the end of regulation time, to see Brazil take the advantage, thanks to an achievement by Leonardo. The Brazilians will even make the addition worse by Pito (38 '). But, the Japanese will reduce the mark, on a goal from Nishitani (3-2, 38 '), before Gadeia seals their fate in the last seconds of the game (4-2, 40'). With this victory, the Seleçao validates its ticket for the quarter-finals and will cross Morocco, which eliminated Venezuela (3-2).
Title holder, Argentina corrected Paraguay (6-1), in the South American derby. However, it is the Paraguayans who will open the scoring in this meeting by Mareco (33 '). It is in the second half that Argentina will completely turn the situation in their favor, thanks in particular to achievements by Claudino, Borruto, Bolo, Basile, Stazzone and Taborda.
Program: 8th final
Wednesday September 22, 2021
Russia / Vietnam 3-2
Venezuela / Morocco 2-3
Thursday 23 September 2021
Argentina / Paraguay 6-1
Kazakhstan / Thailand 7-0
Brazil / Japan 3-1
Friday, September 24, 2021
2:30 p.m. Uzbekistan / Iran
5:00 p.m. Spain / Czech R.
5:00 p.m. Portugal / Serbia
Best striker
7 goals : Ferrão (Brazil + 1)
5 goals : A. Brandi (Argentina)
4 goals : El Mesrar (Morocco + 3), A. Fernandez (Spain), M. Eid (Egypt), A. Oliveira (Japan)
3 goals : S. Thueanklang (Thailand), D. Gomez (Costa Rica), Abramov (Russia), Chishkala (Russia), Ropiev (Uzbekistan), Seidler (Czech Republic)
2 goals : Y. Jouad (Morocco), A. Coelho (Portugal), P. Ruiz (Guatemala), Guga (Angola), M. Rescia (Argentina), Sandoval (Guatemala), Aguilar (Guatemala), Dieguinho (Brazil)
1 goal : Saoud (Morocco), Raiss El Fenni (Morocco), Bakkali (Morocco), Boumezou (Morocco), Borite (Morocco),…