Michael Jordan's violent punchline to poor JR Smith!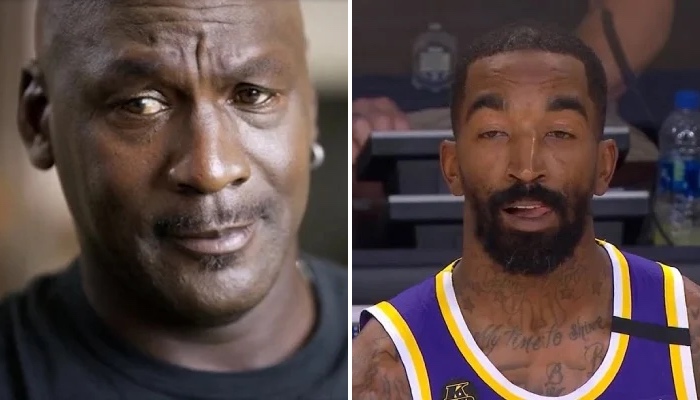 The Last Dance (DR) / NBA (DR)
JR Smith will remain an outstanding player in the minds of NBA fans in the 2010s′, he who is a double champion and the author of some memorable actions. But compared to some legends, the former Cavaliers is not necessarily the weight, and Michael Jordan did not fail to remind him with a monstrous punchline!
Since his experience with the Lakers in the bubble, a successful experience with a title at stake, JR Smith has not had a chance in an NBA franchise. Some will say that it makes sense, since he is getting older and was no longer necessarily at a decent level during this passage alongside LeBron James, but for the main interested party the reason is much darker: it would be boycotted by the franchises. In any case, this is what he explained in a recent interview:
Of course I was boycotted at the end, and everyone can tell you that. There are 30 teams in the league. Take out the top three in each franchise, and compare me to players between 4th and 15th in the hierarchy. Tell me one of these players who is better than me. I trained with some guys who still play, I know I'm better.
JR Smith badly tackles his career!
Failing to have been able to play in the NBA, the fault of this plot obviously, JR Smith had the opportunity to return to the benches of the university, in North Carolina, where he embarked on golf at the university level. . And who says golf and North Carolina necessarily says Michael Jordan, so obviously, the two backs have had some wild games this year. MJ is still very incisive in his trash-talking, the proof with this phenomenal punchline. JR Smith spoke for Complex :
We decided to bet during a game, and I thought I would spice up one of my bets a bit. I told him: "5 on the first 9 holes, 5 on the next 9, and 5 for the final result. He immediately agreed without question, and I had to add, « I'm talking about 500. Not 5,000 dollars. » He replied, « Yes, I understood what you meant. » You had a good career, not a great career. »
Michael Jordan understood that JR Smith did not want to bet too much money on this small friendly course, since he had not had a great career, and that he did not necessarily have the means to throw 5,000 dollars by the way. window. A hilarious but quite humiliating punchline for the former Cavaliers, who could have trusted his club talent in hand to strip the Hall of Famer.
What's mind-blowing is that the difference in career earnings isn't that huge between them, even though they don't have the same place in history. Michael Jordan would have won "only" 91 million dollars during his time in the NBA, when JR Smith is approaching 89 million. It is above all the post-career that made the difference, the legend of the Bulls being at the head of an empire of more than a billion dollars!
JR Smith will know for the next few times, you don't necessarily have to talk about money with Michael Jordan, at the risk of getting a nice punchline in your head. Hopefully for him he was able to restore his honor on the green with a convincing victory…