Miami to retire Udonis Haslem jersey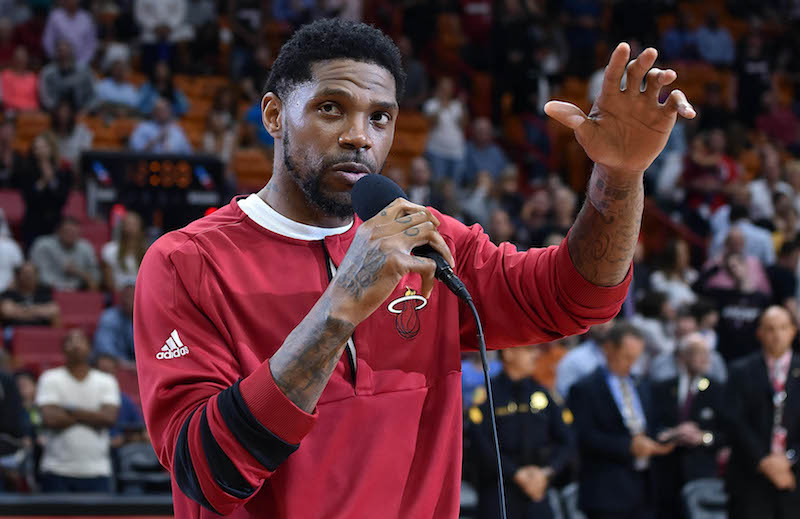 Udonis Haslem will take another step in NBA history by joining the very, very, very closed circle of players who have played twenty seasons on the same team, alongside Dirk Nowitzki and Kobe Bryant.
During the formalization of the extension of Udonis Haslem, published today on the networks of the franchise of Miami, Pat Riley took the opportunity to announce that the Heat were preparing to remove his jersey from the ceiling of the FTX Arena.
"From the first day I saw him on the pitch, until the last day when we retire his jersey at our home FTX Arena, UD will go down in our team history as one of the best to play for the Miami Heat"he said in the press release published on the franchise's website.
Udonis Haslem would then become the sixth Heat player to have his jersey retired, following Tim Hardaway, Alonzo Mourning, Shaquille O'Neal, Chris Bosh and Dwyane Wade.
Udonis Haslem
Percentage
Bounces
Season
Crew
GM
Minimum
Shots
3 points
LF
Off
Def
Early
pd
party
Int
bp
CT
Points
2003-04
MIA
75
24
45.9
0.0
76.5
2.5
3.8
6.3
0.7
2.6
0.4
1.0
0.3
7.3
2004-05
MIA
80
33
54.0
0.0
79.1
3.0
6.1
9.1
1.4
3.3
0.8
1.4
0.5
10.9
2005-06
MIA
81
31
50.8
0.0
78.9
2.1
5.8
7.8
1.2
2.7
0.6
1.0
0.2
9.4
2006-07
MIA
79
31
49.2
0.0
68.0
2.4
5.9
8.3
1.2
3.0
0.6
1.4
0.3
10.7
2007-08
MIA
49
37
46.7
0.0
81.0
2.2
6.9
9.0
1.4
3.0
0.8
1.4
0.4
12.0
2008-09
MIA
75
34
51.8
0.0
75.3
2.3
6.0
8.2
1.1
2.7
0.6
1.1
0.3
10.6
2009-10
MIA
78
28
49.4
0.0
76.2
2.1
5.9
8.1
0.7
2.2
0.4
1.0
0.3
9.9
2010-11
MIA
13
27
51.2
0.0
80.0
2.2
5.9
8.2
0.5
3.0
0.5
1.1
0.2
8.0
2011-12
MIA
64
25
42.3
0.0
81.4
1.8
5.5
7.3
0.7
2.2
0.6
0.9
0.4
6.0
2012-13
MIA
75
19
51.4
0.0
71.1
1.3
4.1
5.4
0.5
2.3
0.4
0.6
0.2
3.9
2013-14
MIA
46
14
50.7
0.0
56.8
0.9
2.9
3.8
0.3
1.7
0.2
0.5
0.3
3.8
2014-15
MIA
62
16
44.8
20.0
70.3
1.2
3.0
4.2
0.7
1.8
0.3
0.7
0.2
4.2
2015-16
MIA
37
7
37.7
11.1
75.0
0.3
1.8
2.0
0.4
0.7
0.1
0.1
0.1
1.6
2016-17
MIA
16
8
47.8
0.0
60.0
0.5
1.8
2.3
0.4
1.4
0.4
0.5
0.1
1.9
2017-18
MIA
14
5
20.0
12.5
50.0
0.2
0.5
0.7
0.4
0.2
0.0
0.1
0.1
0.6
2018-19
MIA
10
7
33.3
0.0
75.0
0.3
2.4
2.7
0.2
0.9
0.0
0.3
0.0
2.5
2019-20
MIA
4
11
36.4
33.3
75.0
0.3
3.8
4.0
0.3
1.5
0.0
0.3
0.0
3.0
2020-21
MIA
1
3
100.0
0.0
0.0
0.0
1.0
1.0
0.0
0.0
0.0
0.0
0.0
4.0
2021-22
MIA
13
6
45.2
25.0
100.0
0.3
1.6
1.9
0.3
1.2
0.1
0.4
0.1
2.5
Total
872
25
48.9
9.7
75.6
1.9
4.8
6.6
0.8
2.4
0.5
0.9
0.3
7.5