Miami teaches Brooklyn a lesson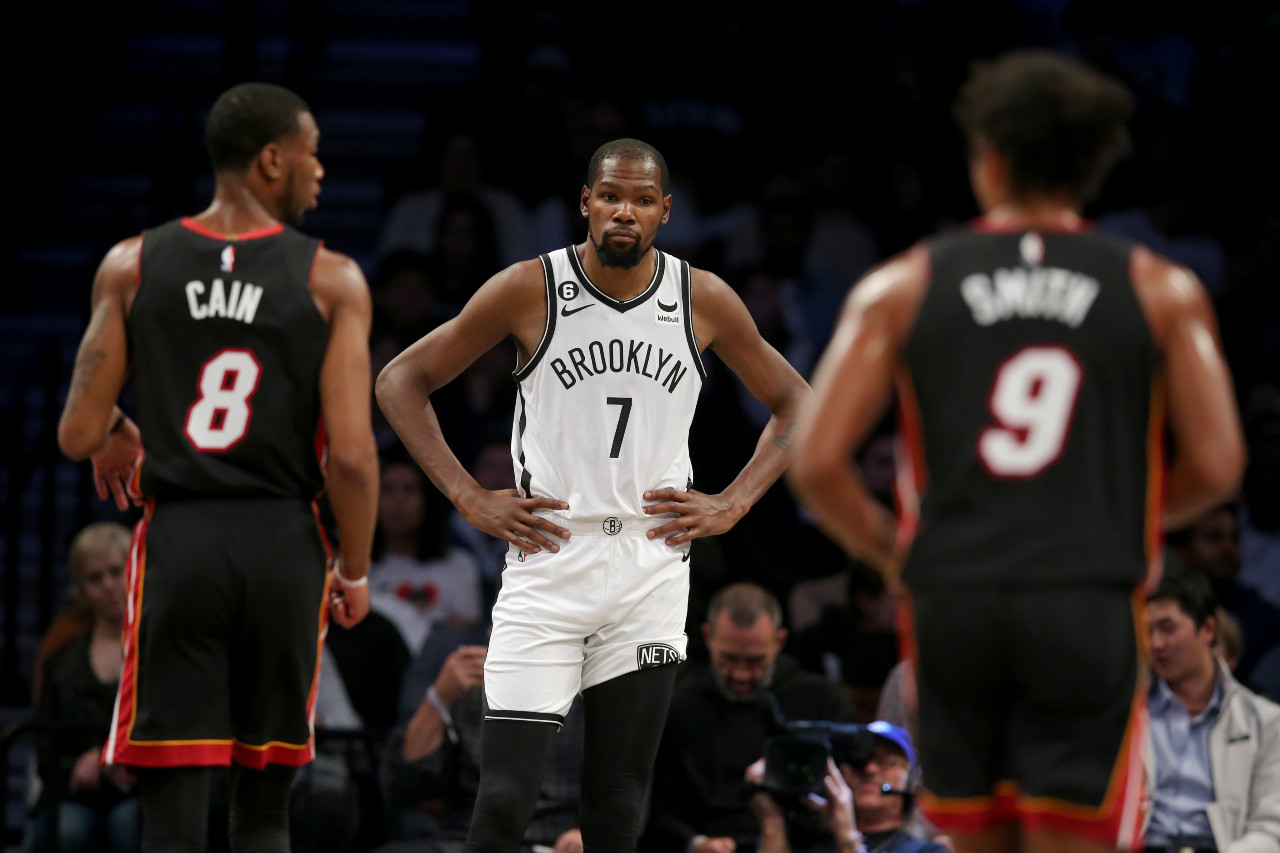 It is Haywood Highsmith who starts as a strong winger for Miami, alongside the expected starters (Kyle Lowry, Max Strus, Jimmy Butler and Bam Adebayo). Opposite, Kyrie Irving and Joe Harris are resting for Brooklyn.
The Nets, however, take the best start, taking advantage of the loss of opposing balls. Except that then, we can see very well the difference between a team already in place and a formation that has a lot to build. Under pressure from the Florida defense, Ben Simmons can't find his teammates, while Kevin Durant (22 points) seems to be the team's only offensive threat.
Above all, the movements and cuts of the troop of Erik Spoelstra expose the feverishness of the defense of the Nets, continually surprised behind his back. Coming off the bench, Duncan Robinson and Nikola Jovic are having fun on the two-man game. The second and third quarters are a nightmare for Brooklyn, and the gap climbs to +30 (81-51)!
Most worryingly, things didn't get much better when the starting Nets were on the line, with Kevin Durant and his comrades remaining silent for more than six minutes of actual playing time in the 3rd quarter.
The substitutes will not change the game at the end of the match (109-80) and Kevin Durant admitted that he had "nothing liked in this meeting"apart from the fact that "no one was injured"…
brooklyn

/

80
Shots
Bounces
Players
Minimum
Shots
3 points
LF
O
D
T
pd
party
Int
bp
CT
+/-
Points
Rating
K. Durant
26
8/12
1/4
5/7
0
4
4
1
1
0
3
1
-12
22
19
R.O'Neale
25
2/6
2/6
0/0
0
4
4
1
3
1
3
1
-13
6
6
N.Claxton
18
0/1
0/0
0/0
0
2
2
0
3
0
2
0
-4
0
-1
K. Edwards
17
1/7
0/4
4/4
2
1
3
1
1
0
0
1
-4
6
5
B. Simmons
25
2/3
0/0
0/0
1
9
10
4
4
1
6
0
-18
4
12
Mr Morris
15
5/7
0/1
0/0
4
2
6
0
4
0
4
0
-21
10
10
Y.Watanabe
21
1/5
1/3
0/2
0
4
4
1
2
0
2
2
-13
3
2
D.Duke Jr.
12
2/4
0/0
2/2
0
0
0
0
0
0
2
0
-3
6
2
D.Sharpe
12
3/6
0/0
0/0
3
3
6
2
1
0
1
0
-3
6
10
P.Mills
19
0/4
0/3
0/0
0
1
1
0
1
0
0
0
-20
0
-3
E.Sumner
18
1/8
0/3
2/2
0
1
1
2
4
0
0
0
-16
4
0
C.Thomas
20
4/9
1/3
4/5
0
3
3
0
1
0
2
1
-15
13
9
C.Chiozza
12
0/1
0/1
0/0
0
2
2
4
0
1
1
0
-3
0
5
29/73
5/28
17/22
10
36
46
16
25
3
26
6
80
76
Miami

/

109
Shots
Bounces
Players
Minimum
Shots
3 points
LF
O
D
T
pd
party
Int
bp
CT
+/-
Points
Rating
H.Highsmith
21
0/4
0/4
0/0
0
5
5
5
3
0
0
0
+11
0
6
J. Butler
17
1/4
0/0
0/0
1
3
4
1
2
0
1
0
+6
2
3
B.Adebayo
24
6/11
0/1
5/10
2
1
3
2
5
2
2
0
+11
17
12
K.Lowry
24
4/9
2/5
5/7
1
3
4
2
1
2
1
1
+8
15
16
Mr Strus
24
4/12
1/6
1/1
0
2
2
3
0
2
2
1
+13
10
8
J Cain
27
6/10
1/1
2/4
6
5
11
1
2
5
0
0
+18
15
26
D. Days
4
1/1
0/0
0/0
1
1
2
1
0
0
0
1
+2
2
6
N. Jovic
16
4/7
2/4
0/0
0
3
3
5
4
2
1
0
+9
10
16
O.Robinson
8
0/1
0/0
0/0
1
1
2
2
1
0
0
0
+9
0
3
D.Robinson
22
4/10
2/6
2/2
0
5
5
4
0
1
0
0
+22
12
16
Mr. Garrett
20
1/8
0/3
0/0
0
0
0
1
4
0
2
0
+19
2
-6
D.Smith
21
5/10
1/3
1/1
1
2
3
3
0
2
2
0
+14
12
13
J. Bouyea
12
5/8
2/3
0/0
1
1
2
0
1
1
0
1
+3
12
13
41/95
11/36
16/25
14
32
46
30
23
17
11
4
109
132