Mercato: train PSG one day? Zidane responds! – Soccer
In an interview with L'Equipe, Zinedine Zidane took stock of his future. The native of Marseilles does not say no to Paris Saint-Germain for the future, but he confirms his objective of becoming the coach of the France team.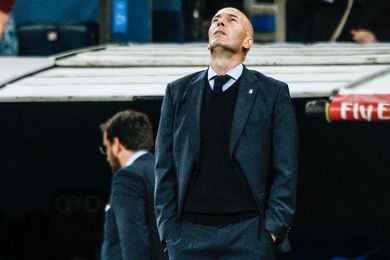 Zidane is still waiting for the Blues
Zinedine Zidane at Paris Saint-Germain, it will not be for this summer. The 50-year-old technician has long been announced in the sights of the capital club to replace Mauricio Pochettino, but president Nasser Al-Khelafi extinguished the rumor this week and it is Christophe Galtier who should sit on the Parisian bench . So, should we still believe that Zizou will arrive at PSG in the future?
Zidane at PSG? Never say never
In a long interview with L'Equipe, the former Real Madrid coach did not rule out the idea of ​​one day coming to Paris as a coach. Never say never. Especially when you are a coach today, he replied. When I was a player, I had the choice, almost all the clubs. Coach, there aren't fifty clubs I can go to. There are two or three possibilities. (…) If I go back to a club, it's to win. I say this with all modesty. That's why I can't go anywhere.
Ambition is one criterion, language is another. When people say to me: « Do you want to go to Manchester? » I understand English but I do not master it completely. I know there are trainers who go to clubs without speaking the language. But I work differently. To win, many elements come into play. It's a global context. Me, I know what I need to win. So, of course, you can't win, but I know you need at least a, a and a (he supports his words with his hand). And I want to put everything on my side to optimize the victory.
Zidane is ready to take over the Blues
Today, France, Spain and Italy therefore seem to be the only destinations envisaged by Zidane to take over a club. But his primary ambition is elsewhere. It's an open secret, ZZ dreams of becoming the coach of the France team. I want to, of course, he confirms. I will be, I hope, one day. When ? it does not depend on me. But I want to come full circle with the France team.
The position is currently occupied by Didier Deschamps, whose contract ends after the World Cup in Qatar next winter. Does Zidane imagine himself taking over? I don't know, he replies. If it has to happen, it will happen, now or not. When I say that I want to take the French team one day, I assume it. Today, a team is in place. with its goals. But if the opportunity comes next, then I'll be there. The message got through.
What do Zidane's words mean to you? Do not hesitate to react and discuss in the area add a comment …