Mercato: PSG, Barcelona … The final verdict falls for Ousmane Dembélé
Football – Mercato – PSG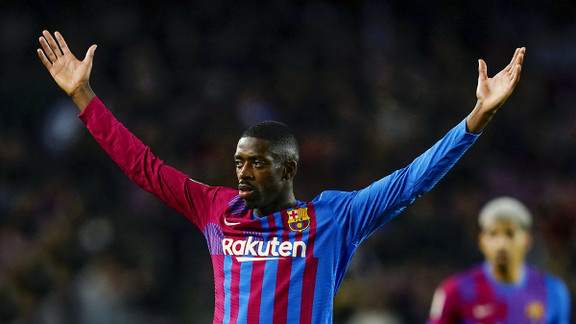 At the end of the contract on June 30 with FC Barcelona, ​​Ousmane Dembélé would arouse the interest of PSG, Liverpool and Chelsea. However, the French world champion should still initial a new lease with Barça. While his suitors would not have launched the big maneuvers to recruit him, Ousmane Dembélé would have no choice but to extend with the club led by Xavi.
While his contract with the FC Barcelona will expire this Thursday, Ousmane Dembélé will be free if he does not extend by then. Aware of the situation, the PSG would be in ambush to complete a new XXL move at 0€, after having recruited Lionel Messi, Sergio Ramos, Georginio Wijnaldum and Gianluigi Donnarumma freely and for free. In addition to the Parisian club, the Bayern, Liverpool or chelsea are also reportedly on the lookout for Ousmane Dembélé.
Barça have drawn up their final offer for Ousmane Dembélé
So, in order not to see Ousmane Dembele leave freely and for free in a new club, the FC Barcelona would have drawn his final offer to make him bend and convince him to re-enter. According to information from RAC1the club led by Xavi would have offered a new contract to his number 7. A lease with a salary that would be lower than the one submitted in December. In fact, the management of Barca would have made an offer of around €6.5m, plus €1.5m in bonuses, according to the Spanish journalist Gérard Romero.
Barca sources talking with confidence that Ousmane Dembele will stay. At no point have Chelsea agreed terms so it's really his only option unless something dramatic changes in the next 24 hours. No truth whatsoever in a late Liverpool bid. No interest at all. No PSG offer either.

— Ben Jacobs (@JacobsBen) June 27, 2022
Barça's offer revised downwards for Ousmane Dembélé
Nevertheless, Ousmane Dembele should extend with the FC Barcelona because he wouldn't really have any other choice. According to the indiscretions of Sport.esthe Barca would be confident and would believe that his number 7 will re-stack his contract because he would like to stay and would not have a better offer at the moment. Information confirmed by CBS Sports Golazo.
Without a solution abroad, Ousmane Dembélé will extend
According to Ben Jacobsjournalist of CBS Sports Golazofrom sources to FC Barcelona would show their confidence in the extension ofOusmane Dembele. To date, the Barca would be the only option for the French world champion, unless there is a huge turnaround in the next 24 hours. First of all, chelsea would never have come to terms with Ousmane Dembele. If the Blues of Thomas Tuchel would be genuinely interested in the 25-year-old striker, but they shouldn't match his salary demands; although the London offer, if it arrives, should be greater than that of the Barca for contract renewalOusmane Dembele. Next, liverpool would in no case have made a last minute offer to complete the free and free transfer ofOusmane Dembele. Finally, the PSG would not have launched its offensive either for the former resident of the Rennais Stadium and Borussia Dortmund. Thereby, Ousmane Dembele would have only one choice if he does not want to find himself without a club this summer: to extend with the FC Barcelona.