Marou Souaibou crowned Ballon d'Or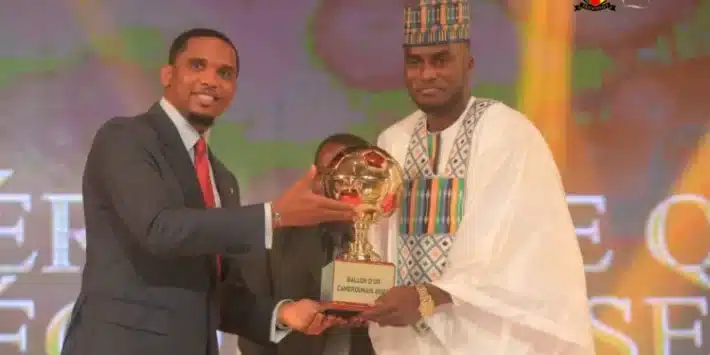 The striker of Coton Sport de Garoua, author of a busy season, has indeed been awarded the hands of the president of FECAFOOT Samuel Eto'o, the Cameroonian Golden Ball, which rewards the best player of the 2021-2022 season. The ceremony took place this Saturday, October 29, 2022 at the Palais des Congrès in Yaoundé.
The 21-year-old young striker, champion and winner of the Cameroon Cup was previously crowned best player in the Cameroon Cup final. Monique Ngock, meanwhile, wins the Women's Ballon d'Or.
The summary of the prizes awarded yesterday during the Cameroonian Ballon d'Or ceremony
Men's Golden Ball: Marou Souaibou
Best male goalkeeper: Anye Derick Fru
Best Male Hope: Patient Wassou
Best male coach: Gabriel Haman
Best Female Coach: Mike Ndoumou
Best Female Hope: Lamine Mana
Best Goalkeeper: Annette Ngo Ndom
Women's Golden Ball: Monique Ngock
Best Club President: Fernand Sadou
Special prize for professionalism: Canon Sportif de Yaoundé.
⚽️🔥🏆🥇🎖️🥈🥉
Marou Souaibou elected Cameroonian Ballon d'Or 2022.

📆 29/10/2022
📍 Yaoundé Convention Center #BallonDorCameroonian#BOC2022 pic.twitter.com/QDbXgKUqUP

– Fecafoot-Officiel (@FecafootOfficie) October 29, 2022