LeBron's cryptic message before Game 2!
Defeated with his Lakers in Game 1 against Phoenix, LeBron James is now working to approach the second round in the best possible conditions. Besides that, the Californian superstar continues to address his fans via social networks. His last outing was however puzzling.
Absent for almost a third of the season due to an ankle problem (27 games missed), Lebron james at least made it to the postseason with LA. This unfortunately started badly for the Californians, who lost from the outset against the Suns (99-90). Author of a frightening fall, the quadruple champion could not prevent the disappointment of his family.
On the eve of the second match, the King is therefore ready to do battle. As usual, for a few weeks now, he has been very active on social networks. His latest Instagram story is nevertheless quite strange, the player relaying a very cryptic message, written by another Internet user: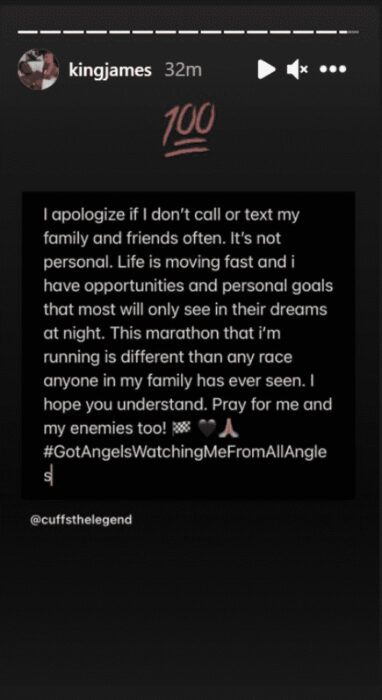 I apologize if I don't call or text my family and friends often. It is not personal. Life moves fast and I have opportunities and personal goals that most will only see in their dreams at night. This marathon that I am running is unlike any race that my family has ever seen. I hope you understand. Pray for me and my enemies too!
If he did not write his lines himself, we feel that LBJ is trying to send a message to his community of fans. But which one is it? Would this be a new introspection on his career, who is nearing the end? Is the winger trying to express his loneliness, not being able to spend more time with his loved ones? So many questions that currently remain unanswered.
These answers, we shouldn't have them for a while. Indeed, LeBron is known to gradually cut himself off from all social networks as the playoffs progress. This season should not be different, especially with the concerns that the Lakers have at the moment, it will be necessary to redouble concentration in order to seek the back-to-back.
Very prolific in terms of statements lately, LeBron James gives us this time a rather mysterious one. While internet users are racking their brains over its meaning, the Californian superstar will try to raise the bar in the series against the Suns.