LeBron James, the hunter of the greatest NBA records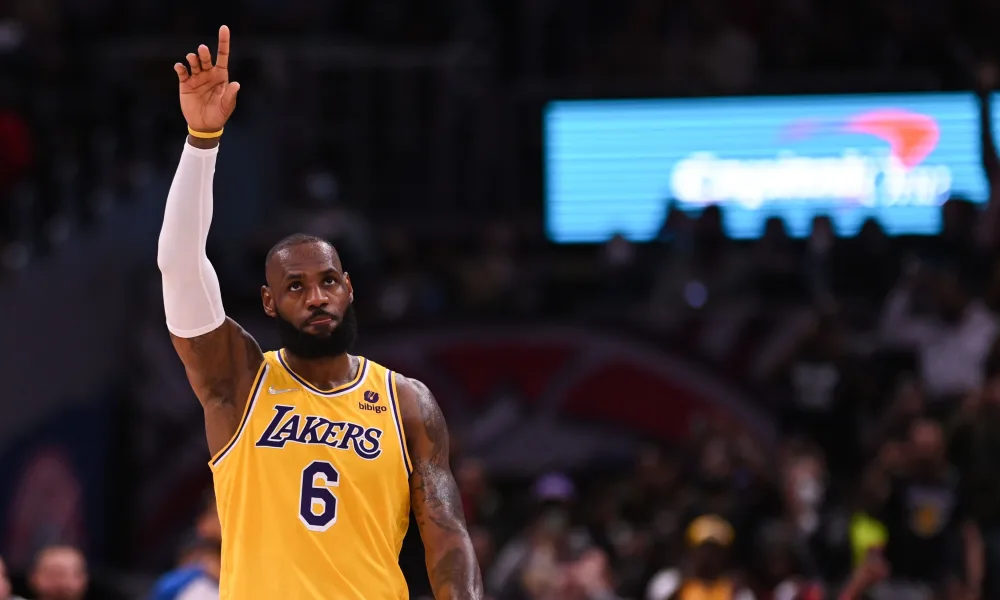 For what will already be his fifth season with the Lakers, the stainless LeBron James sets out once again on a mission, that is to say in search of a fifth ring and yet more individual accomplishments.
If, at almost 38 years old, he will certainly not start as the favorite for the title with the Californian franchise, the « King » will still be able to break new records, on the occasion of his twentieth season in the league. A total reached by only eight players before him: Vince Carter (22), Robert Parish (21), Kevin Willis (21), Kevin Garnett (21), Dirk Nowitzki (21), Kareem Abdul-Jabbar (20), Kobe Bryant (20) then Jamal Crawford (20).
Soon to be the most prolific in scoring history
Moreover, LeBron James' twentieth NBA season is likely to be particularly memorable, since he is quite simply on the way to breaking a record that has long been considered untouchable: that of the total points scored by a player, in the regular season. He, who is already in the playoffs.
With exactly 38,387 career points, Kareem Abdul-Jabbar is still ahead of his runner-up "LBJ" in the standings but, if he scores at least 1,326 points in 2022/23, he will eject "KAJ" from this throne he has occupied since… 1984. Based on 82 games, this requires an average of 16.2 points per game and, based on 56 games —the average of his four years in Los Angeles—that requires an average of 23.7 points per game.
When we know that LeBron James was still averaging 30.3 points per game last season, and that he hasn't averaged less than 25 points since his rookie year in 2003/04, we say to ourselves that to get this record is well within his reach. Provided, however, that his physique holds up, as he was only able to play 56 games in 2021/22 and 45 games in 2020/21…
shining star
Besides Kareem Abdul-Jabbar's points record, "King James" could also join the illustrious pivot of the Bucks and the Lakers in first place in two other rankings.
If he is indeed named All-Star this season, by the public or by the coaches, this will be the 19th selection for the All-Star Game, one more than Kobe Bryant but above all as much as Abdul-Jabbar. Also, if « LBJ » averages at least 10 points in 2022/23, it will be its twentieth season in « double figure », in other words as much as « KAJ » and one more than Karl Malone, Kobe Bryant, Dirk Nowitzki and Carmelo Anthony.
Still regarding the All-Star Game, LeBron James has the possibility of equaling the event's record of four MVP titles by 2023, currently shared by Kobe Bryant and Bob Pettit. In addition, if he plays his 19th star game (in 19 caps), he will also do better than the 18 games (in 19 caps) of Kareem Abdul-Jabbar.
Incredible longevity
Let's add as a bonus that the four-time NBA champion can become the only player in history to be in the Top 5 of the best scorers AND in the Top 5 of the best passers.
To overtake Magic Johnson and then Mark Jackson, he will have to deliver at least 290 assists, or 3.5 on average on the basis of 82 games and 5.2 on average on the basis of 56 games. As a reminder, the former Cavaliers and Heat winger has posted 7.4 assists per game in his career, without once falling below 5.9 assists per game, since his arrival in the league…
Moreover, an additional sign of his crazy longevity, LeBron James is only four short games at 20+ points scored from becoming the record holder in this area, instead of Karl Malone (1,134). Yet another great offensive feat, from the one who has never been labeled as a scorer, but who still has a large number of scoring records.
And who should probably establish, at 38, the new best points average for a player in his twentieth NBA season (or more), because the current record is « only » 17.6 (Kobe Bryant in 2015/ 16).
On the other hand, in terms of records for baskets scored, games played, seasons played, MVP or MVP of the Finals, LeBron James will still have to wait a year, minimum. But there is no doubt that he will be able to approach several of them, while the time of retirement is far from having come for him…
LeBron James
Percentage
Bounces
Season
Crew
GM
Minimum
Shots
3 points
LF
Off
Def
Early
pd
party
Int
bp
CT
Points
2003-04
KEY
79
40
41.7
29.0
75.4
1.3
4.2
5.5
5.9
1.9
1.7
3.5
0.7
20.9
2004-05
KEY
80
42
47.2
35.1
75.0
1.4
6.0
7.4
7.2
1.8
2.2
3.3
0.7
27.2
2005-06
KEY
79
43
48.0
33.5
73.8
1.0
6.1
7.0
6.6
2.3
1.6
3.3
0.8
31.4
2006-07
KEY
78
41
47.6
31.9
69.8
1.1
5.7
6.7
6.0
2.2
1.6
3.2
0.7
27.3
2007-08
KEY
75
40
48.4
31.5
71.2
1.8
6.1
7.9
7.2
2.2
1.8
3.4
1.1
30.0
2008-09

★

KEY
81
38
48.9
34.4
78.0
1.3
6.3
7.6
7.3
1.7
1.7
3.0
1.2
28.4
2009-10

★

KEY
76
39
50.3
33.3
76.7
0.9
6.4
7.3
8.6
1.6
1.6
3.4
1.0
29.7
2010-11
MIA
79
39
51.1
33.0
75.9
1.0
6.5
7.5
7.0
2.1
1.6
3.6
0.6
26.7
2011-12

★

MIA
62
38
53.1
36.2
77.1
1.5
6.4
7.9
6.2
1.6
1.9
3.4
0.8
27.2
2012-13

★

MIA
76
38
56.5
40.6
75.3
1.3
6.8
8.0
7.3
1.5
1.7
3.0
0.9
26.8
2013-14
MIA
77
38
56.7
37.9
75.0
1.1
5.9
6.9
6.3
1.6
1.6
3.5
0.3
27.1
2014-15
KEY
69
36
48.8
35.4
71.0
0.7
5.3
6.0
7.4
2.0
1.6
3.9
0.7
25.3
2015-16
KEY
76
36
52.0
30.9
73.1
1.5
6.0
7.4
6.8
1.9
1.4
3.3
0.6
25.3
2016-17
KEY
74
38
54.8
36.3
67.4
1.3
7.3
8.6
8.7
1.8
1.2
4.1
0.6
26.4
2017-18
KEY
82
37
54.2
36.7
73.1
1.2
7.5
8.7
9.1
1.7
1.4
4.2
0.9
27.5
2018-19
ALL
55
35
51.0
33.9
66.5
1.0
7.4
8.5
8.3
1.7
1.3
3.6
0.6
27.4
2019-20
ALL
67
35
49.3
34.8
69.3
1.0
6.9
7.8
10.2
1.8
1.2
3.9
0.5
25.3
2020-21
ALL
45
33
51.3
36.5
69.8
0.6
7.0
7.7
7.8
1.6
1.1
3.7
0.6
25.0
2021-22
ALL
56
37
52.4
35.9
75.6
1.1
7.1
8.2
6.2
2.2
1.3
3.5
1.1
30.3
Total
1366
38
50.5
34.6
73.4
1.2
6.3
7.5
7.4
1.8
1.6
3.5
0.8
27.1