LeBron James lets out a big rant, then deletes directly!
On fire since his return, LeBron James is taking advantage of the good shape of his Lakers to return to normal activity on the networks socialux. The proof, he just uttered a huge rant on Twitter, before immediately deleting.
After a catastrophic start to the season where they chained defeats, the Lakers have been doing better for a few days. Already becauseAnthony Davis is evolving to a true superstar level, and his body finally seems to be leaving him alone, but also because LeBron James is back with the desire to break everything. At 37, he intends to prove those who buried him wrong.
If we add to that the rather solid performances of Russell Westbrook Coming off the bench, the rise of the young Austin Reaves in a role à la Alex Caruso, and above all the consistency of Lonnie Walker, we obtain a team that regains confidence and could make a crazy rise in the standings. The Western conference is very tight, which obviously works in their favor.
LeBron James angry on Twitter!
Despite this positive dynamic in Los Angeles, all is not necessarily well in the minds of the Lakers. The proof, this Monday, LeBron James decided to push a huge rant on social networks, against a category of people he does not understand. The evolution of society worries the King, who no longer necessarily recognizes the values ​​of his childhood.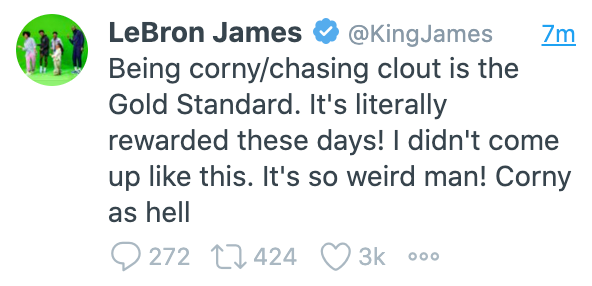 Being awkward / chasing social media visibility is a standard for success. It is literally rewarded these days! I did not grow up in this culture. It's so weird! It's ridiculous
Impossible to know who was targeted by this tirade from LeBron James, but the King was visibly upset against those who seek glory at all costs, even if it means making a fool of themselves on social networks. A debate quickly arose in the comments, names were cited, which is why the post was deleted within minutes. He then made a small clarification to his fans:
Just a thought 💭

— LeBron James (@KingJames) November 28, 2022
Just a thought 💭
LeBron James simply wanted to express the substance of his thoughts, he found himself at the heart of a huge debate on American society. Players were targeted in the comments, which is why he quickly deleted his post.