Larry Bird's statement that will not please Westbrook at all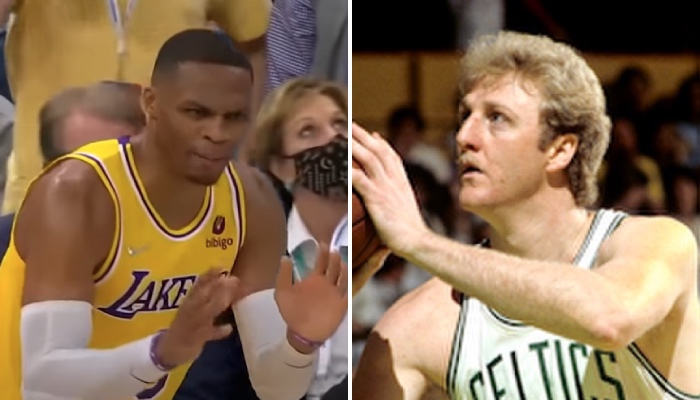 NBA (DR) / Steve Lipofsky (CC)
As comfortable in trash-talking as the balloon in hand, Larry Bird never hesitated to deliver the depths of his thoughts, whatever the repercussions. In his biography, the legend of the Celtics for example included some powerful words … that Russell Westbrook will not necessarily appreciate!
To be considered by Michael Jordan as one of the fiercest trash-talkers in history, one had to necessarily position oneself as an expert in the matter. Unsinkable in terms of verbal battles on the floors, Larry bird held in respect all of his peers thanks to this attribute. An outspokenness that he kept throughout his career, and which was not limited to the fields.
In his biography Drive, published in 1990, Larry Legend did not elude any subject, for example, and not even that of… triple-double. With 59 such games made in his career, the Celtics icon is still in 8th place in the historical ranking in the field, tied with Nikola Jokic. This statistical performance therefore held no secrets for him, as one of the most complete player of all time.
The insignificant triple-double according to Larry Bird
Yet despite his slew of encounters with at least 10 units in three statistical categories, Bird didn't necessarily see it as a feat. On the contrary, he asserted that this kind of service had little value compared to a victory obtained collectively, and that they could in reality … easily be achieved if he wished!
People are overdoing it with triple-doubles. If that's what everyone expected of me, I honestly think I could have signed triple-doubles in 41 of the 82 games each season. I think if a coach wanted me to make sure I have 10 rebounds and 10 assists in a game, I could very well have. Just don't ask me to enter 30 points the same night.
It all depends on the opponent and the physiognomy of the match. If other guys are playing well, you could do it, and it was good for the team. If not, what does it mean if you sign a triple-double and get beaten?
Competitor rather than stat-padder, Bird was therefore content to fill in the missing boxes for his franchise, and not to tick them all. An attitude different from that displayed more recently by a Russell westbrook, sometimes obsessed more by his stats than by the score. In addition, Larry castigates the narrowly acquired triple-doubles, with barely 10 units in each stat, via a nice nod to his rival and friend Magic Johnson.
And while we're on the subject, there are triple-doubles and triple-doubles. When I see Magic coming out of a game with 15 points, 13 rebounds and 17 assists – that's a triple-double.
Uncompromising when it came to blackening the stat sheets, Larry Bird, however, gave little importance to triple-doubles. An explosive speech in the current era, where every perf of the genre is praised, whatever the outcome of the match in which it is performed!