Lakers offer for Cam Reddish leaked, they are being ridiculed!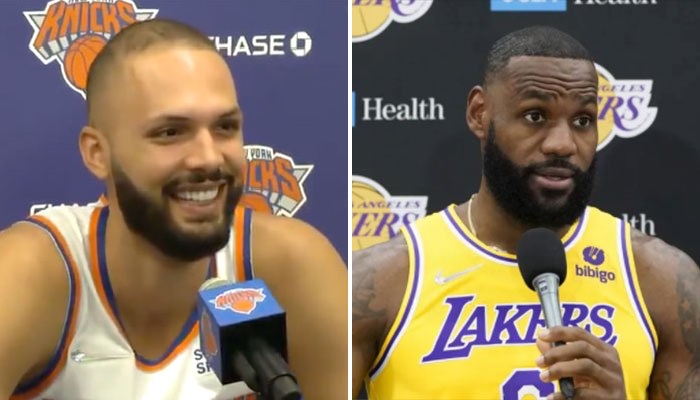 New York Knicks (DR) / Los Angeles Lakers (DR)
Traded to the Knicks, Cam Reddish joins RJ Barrett in the Big Apple. But things could have been different, since the young player was very followed. Among the teams interested? The Lakers, who submitted a relatively low offer, enough to arouse ridicule.
After three complicated seasons with the Hawks, set back off the bench, Cam Reddish will try to exploit his potential elsewhere, more specifically with the Knicks. The news fell this Thursday evening: the winger arrives in the Big Apple in the form of a rather large trade.
An exchange that clearly seems to New York's advantage, which dropped Kevin Knox, who was no longer playing, and a protected first round draft to validate this trade. A nice blow from the front office, especially since there was competition, like the Lakers.
The Lakers fail in a new file
It's a confirmation: Rob Pelinka is looking to strengthen his roster, but it's difficult to do something with few assets. He still tried his luck on Reddish, with an offer that aroused the mockery of Internet users. Indeed, it's no surprise that Atlanta declined.
The Lakers reportedly offered two 2nd round picks to Atlanta for Cam Reddish, per @TheAthletic pic.twitter.com/WPmeYVLgQW

— NBA Central (@TheNBACentral) January 13, 2022
The Lakers offered two second-round draft picks for Atlanta against Cam Reddish, according to The Athletic.
Two second draft rounds, for a 22-year-old player with more than 11 points on average and with potential to exploit? If the Angelinos had succeeded in convincing the Hawks, we could have used the term « robbery », but none of that happened. Obviously, some Internet users are having fun with this offer:
Rob pelinka is drunk

— 𝕄𝕦𝕟𝕔𝕙🧤 (@MunchTVx) January 13, 2022
Rob Pelinka is drunk
and they thought that was enough?😭😭

— 𝒶𝒾𝒹𝑒𝓃⭐️CADE ROTY🏆 (@aiden__23) January 13, 2022
And they thought that was enough? 😭😭
The Lakers offer for Cam Reddish? Far from expectations for the Hawks, who instead bet on the Knicks, rightly. The winger has great potential to exploit, which arouses envy. New York emerges victorious, and hopes to have made a good deal. Answer in a few years.