Kristaps Porzingis in great shape for his return to the selection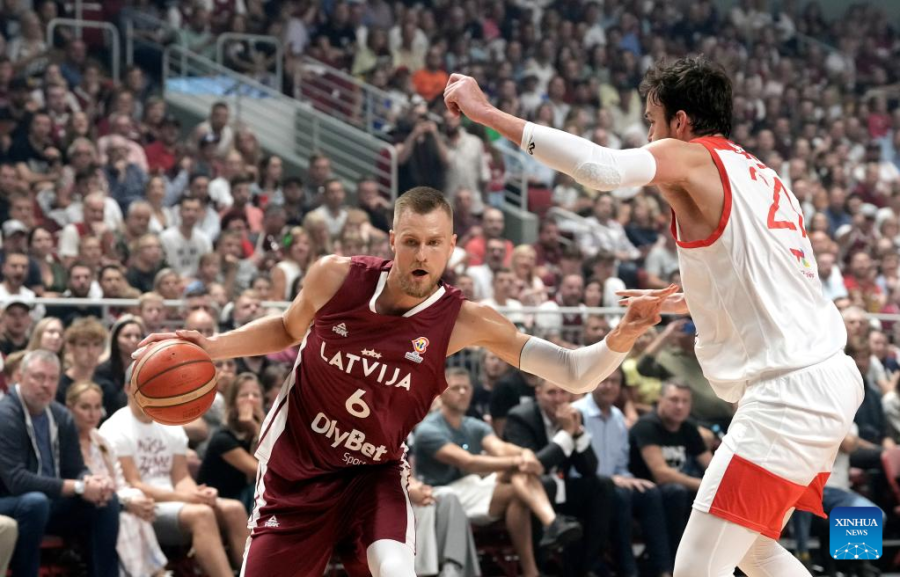 It's already been five years since Kristaps Porzingis last wore the Latvia jersey. It was during Eurobasket 2017, at the dawn of his third season in the NBA. Then 22 years old, the slender pivot had signed a very solid campaign with averages of 23.6 points, 5.9 rebounds and 1.9 blocks per game.
Under his leadership, Latvia had passed its group stage and then reached the quarter-finals of the tournament, losing to Slovenia, future champions and which had in its ranks a certain Luka Doncic, still a Real Madrid player at the era.
A careful return home
Thursday evening was therefore the return of the prodigal son to Riga, on the occasion of the first match of Latvia in this international window of August. Not qualified for the Eurobasket in September, the Latvian selection thus challenged Turkey in the context of qualifying for the 2023 World Cup. to a Turkish selection in difficulty, since it is penultimate in the pool.
And unsurprisingly, the hierarchy was respected because Latvia made short work of Ergin Ataman's men, winning by 26 points (111-85). Despite a good start, Turkey were quickly overwhelmed by the polished game of the Latvians, who quickly took off thanks to an insolent address behind the arc (20/35). At the start of the second quarter, there was already a 17-point gap…
Best player on the ground, Kristaps Porzingis was obviously the main architect of this easy victory for his team: he compiled 22 points (6/13 on shots), 14 rebounds, 3 assists and 6 blocks. After several painful months in the NBA, between recurring physical glitches and a generally missed experience in Dallas, the pivot, who appeared very fit, found his best basketball, in the continuity of an interesting end to the season in Washington.
As in Eurobasket 2017, and as with the Knicks in his 2017/18 season in the following months, his career best to date, Kristaps Porzingis was used as the center point of the attack. By alternating positions near the circle where his height advantage offered him easy baskets, and shots behind the arc on « pick-and-pop », the Latvian did great damage in the Turkish defense. Without forgetting its usual large volume in the protection of the circle.
» I am always very honored and proud to represent my country. he exclaimed, all smiles, after the meeting.
Next deadline for Porzingis and Latvia: this Sunday, in Newcastle to face Great Britain. Before finding « The Unicorn » next year, at the 2023 World Cup, after a return to the front of the stage in a personal capacity in the NBA this season?