Kevon Looney is the perfect role model for James Wiseman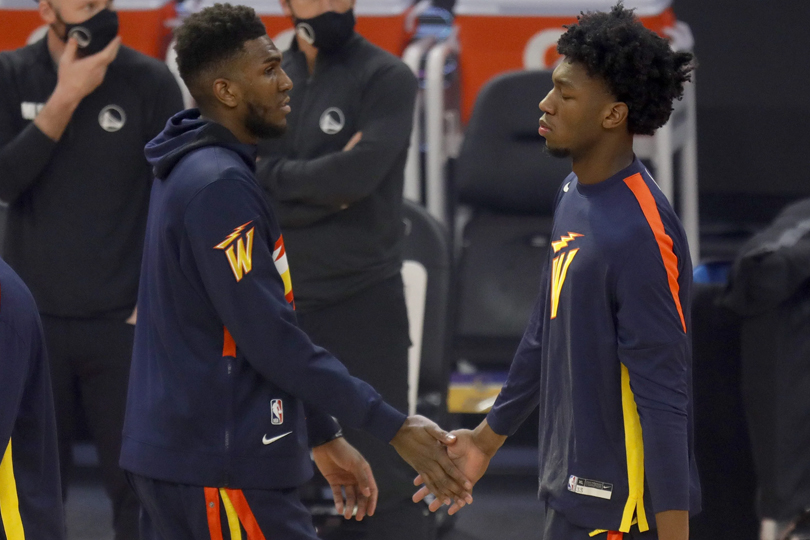 On the side all season after having meniscus surgery, James Wiseman didn't necessarily waste his time. First, he did part of his recovery with Klay Thompson, and he learned that there were always ups and downs during rehabilitation. Mentally, the presence of Thompson was very beneficial to hang on.
Then, in terms of play and even attitude, the young interior of the Warriors was greatly inspired by Kevon Looney. A year ago, Looney finished a 20-game season, and many wondered if he still had a place at Golden State. This year, Looney has played every game, and he has been rewarded with a three-year contract.
» I observe him as a person, and he is a very humble person Wiseman points out. » In addition, he is a very calm person, especially for his age. Kevon is what, 25, 26? For Kevon, to have this wisdom at this age, I completely agree. I ask a lot of questions. I am very curious. I saw his process and what he had to go through, and I asked him questions, especially during the playoffs, when he was playing at a very high level, like the whole season. Seeing that motivated me a lot. It gave me a lot of motivation and inspired me to keep working every day, striving to be the best I can be. »
« There couldn't be a better mentor for James than Looney »
It is true that Looney, who is only 25 years old, seems much older, whether in the sobriety of his game or his attitude on the ground. There's a Robert Parish side to the way he behaves, and Steve Kerr is thrilled that Wiseman can emulate that.
» James has spent a good part of this year observing Loon, watching videos of him, asking him questions," confirmed Kerr a month ago. "They are very different players but play in the same position. What makes Loon so good is the nuance in his game. He understands how to land the right screen at the right time for Steph and Klay, and he knows when to open up towards the circle and he knows when to dive towards the circle. He knows how to do the opposite pass when there are two-ups… This kind of thing doesn't happen by chance. He worked. During his first two years, Loon never acted. He was hurt too, just like James was. There couldn't be a better mentor for James than Loon. »
"I tell myself that I can be in this system and play at the same level as Kevon Looney"
Wiseman is aware of this and he also remembers the complicity between Looney and the "Big Three" of the franchise. To get a place in the rotation, Wiseman will have to create automatisms with Curry and Thompson in attack, but also Green in defense.
» Simply his game intelligence and his passion for basketball Wiseman replies when NBC asks him what he takes from Looney. « JI would say above all his game intelligence. He is able to make the system work, to help Steph find his shots, and to set him apart. Same with Clay. And then there's his work alongside Draymond Green. I see that and my eyes are wide open because I tell myself that I can be in this system and play at the same level as Kevon Looney. It gives me a lot of motivation. »
All without being envious…" I listen and observe concludes Wiseman. » I have no jealousy or bad intentions. I like to learn and try to be the best I can be. »