Kevin Love empties his bag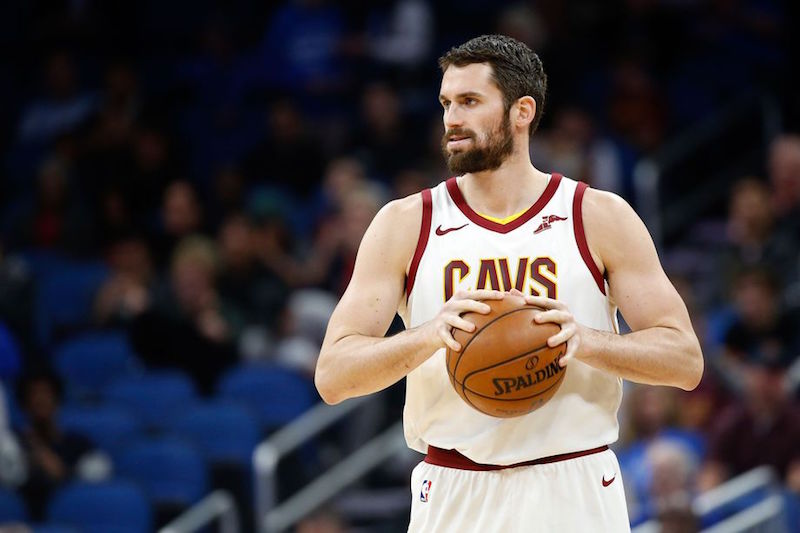 Runner-up to Tyler Herro in the Sixth Man of the Year votes, Kevin Love would probably have deserved the « comeback player of the year » trophy if he still existed. While many thought he was going to be cut or that he no longer had the level to play in the NBA, the former All-Star found himself in this role of 6th man of the Cavaliers alongside a slew of young talents.
On Instagram, the former teammate of LeBron James has decided to settle accounts and recall some truths.
» After the most frustrating injury of my career during the 20/21 season and my withdrawal from Team USA over the summer because I didn't feel fully healed and fit, a lot of people said I was finished. he writes. » Some even went so far as to write that "Love should be considering retirement soon… This even came from people I thought I respected and who, in front of me and behind me, were hypocrites. I never let these comments shake my belief".
Kevin Love explains that he questioned himself, but also that he took this new challenge head on.
"I worked like crazy to start the season in good health, with the objective of being available and the desire to help a young team take the next step. To be the veteran that I never had at the start of my career. I wanted to help build a culture of winning that permeates regardless of the composition of the team..
For this, he agreed to be a real replacement. The leaders had recruited Evan Mobley and Lauri Markkanen but also extended Jarrett Allen. No need to dream of a tenured position.
« The stats don't lie, and I'll give a few… »
» Sacrifices bring more than they cost he continues. » For this team to make a leap forward, I had to sacrifice myself and come off the bench for the first time in 13 years. I didn't struggle, I was hungry to have a positive impact and be productive like I always have. I am grateful to JB (Bickerstaff) for his transparency and trust. You allowed me to be the best version of myself. Between us, it will always be bigger than basketball. »
Then he recalls some numbers. » The stats don't lie, and I'll give a few… I finished top of the double-double leaderboard for players coming off the bench. I broke a franchise record for 3-pointers scored by a substitute. I am the team's number 1 3-pointer with 187 baskets. I'm the NBA's co-leader in forced passes. And as my objective was to be as available as possible, I am the one who has played the most in the team, and with the exception of the missed matches because of the Covid, I have played all the matches.. »
To those who would find him too pretentious to post such a message when he is "only" second in the votes, he concludes: " It means something to me to regain respect in a league and a sport that I have dedicated my whole life to. So, I repeat: 'Never be defined by what others say you are'. Most of the time, people don't see things from the field. Many of the seats in a room are taken by those who have never been on the court, and they cast shadows over you by staying under cover. So keep showing yourself. Stay hungry. And say fuck what they think. »
Kevin Love
Percentage
Bounces
Season
Team
GM
Minimum
Shots
3 points
LF
Off
Def
Early
pd
party
Int
bp
CT
Points
2008-09
MIN
81
25
45.9
10.5
78.9
3.4
5.7
9.1
1.0
2.5
0.4
1.5
0.6
11.1
2009-10
MIN
60
29
45.0
33.0
81.5
3.8
7.2
11.0
2.3
2.3
0.7
2.0
0.4
14.0
2010-11
MIN
73
36
47.0
41.7
85.0
4.5
10.7
15.2
2.5
2.0
0.6
2.1
0.4
20.2
2011-12
MIN
55
39
44.8
37.2
82.4
4.1
9.2
13.4
2.0
2.8
0.9
2.3
0.5
26.0
2012-13
MIN
18
34
35.2
21.7
70.4
3.6
10.4
14.0
2.3
1.9
0.7
2.2
0.5
18.3
2013-14
MIN
77
36
45.7
37.6
82.1
2.9
9.6
12.5
4.4
1.8
0.8
2.6
0.5
26.1
2014-15
KEY
75
34
43.4
36.7
80.4
1.9
7.9
9.8
2.2
1.9
0.7
1.6
0.5
16.4
2015-16
KEY
77
32
41.9
36.0
82.2
1.9
8.0
9.9
2.4
2.1
0.8
1.8
0.5
16.0
2016-17
KEY
60
31
42.7
37.3
87.1
2.5
8.6
11.1
1.9
2.1
0.9
2.0
0.4
19.0
2017-18
KEY
59
28
45.8
41.5
88.0
1.7
7.5
9.3
1.8
2.0
0.7
1.5
0.4
17.6
2018-19
KEY
22
27
38.5
36.1
90.4
1.5
9.4
10.9
2.2
2.5
0.3
1.9
0.2
17.0
2019-20
KEY
56
32
45.0
37.4
85.4
1.0
8.8
9.8
3.2
1.6
0.6
2.5
0.3
17.6
2020-21
KEY
25
25
40.9
36.5
82.4
0.7
6.8
7.4
2.5
1.0
0.6
1.5
0.1
12.2
2021-22
KEY
74
23
43.0
39.2
83.8
1.2
6.1
7.2
2.2
1.4
0.4
1.3
0.2
13.6
Total
812
31
44.1
37.3
82.9
2.6
8.1
10.7
2.4
2.0
0.7
1.9
0.4
17.6