Kendall Jenner heckled in LA after the elimination of the Lakers!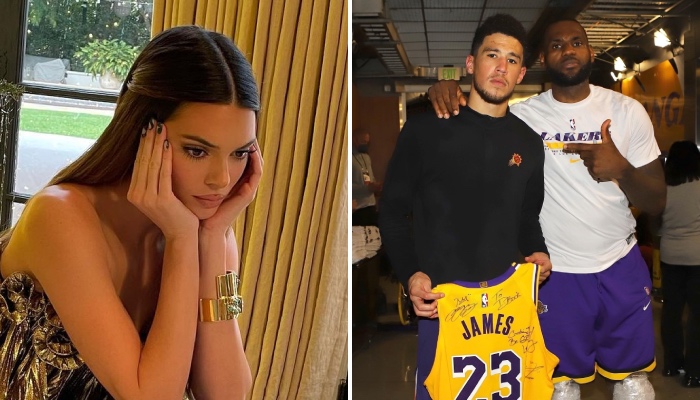 @kendalljenner / Jim Poorten
Present in the spans of the Staples Center for Game 6 between Lakers and Suns, Kendall Jenner attended the front row for the qualification of her boyfriend, Devin Booker, for the second round. She did experience a restless homecoming though… because of Angelino fans.
Is the famous Kardashian curse being averted? Devin Booker makes sure in any case to instigate doubt among those who still consider it relevant. Staggering in Game 6 between the Lakers and Suns, the back of Phoenix largely contributed to the elimination of the defending champions, generating strong reactions on the networks.
As during Game 5, he was able to count during the meeting on the support of a very special fan, a rare spectator from the Staples Center to support his team. Already present in Phoenix to encourage D-Book and its partners two days earlier, Kendall Jenner was once again closer to the action for the series' closing meeting.
Following the final buzzer, she was therefore able to return to her vehicle with a smile on her face, satisfied for her companion. Nonetheless, his face quickly closed, when LA fans spotted him in the parking lot. The latter thus found it smart to abuse her, through vindictive messages to the top-model.
Kendall Jenner leaving Staples Center after watching the Suns vs Lakers game and supporting her boyfriend Devin Booker (03/06/21) pic.twitter.com/ydi2nFOI5x

– Kendall Jenner Media (@KeJennerMedia) June 4, 2021
« Go back to Phoenix », « Get out of here » « You suck, like your boyfriend »: so many cries addressed to Booker's sweetheart, to which the latter tried not to pay attention. Considering the crowd present, it nevertheless took him long seconds to get out of his parking space, and leave the premises for good.
Jenner can however be satisfied with no longer dealing with the Lakers Nation, and its more cheeky members, over the next few weeks. It remains to be seen whether she will decide to follow her boyfriend to Denver during the conference semifinals, and whether she will find similar Nuggets supporters there.
Very happy for Devin Booker, Kendall Jenner was however quickly disillusioned by crossing the road of fans of the Lakers reassembled after the exit of their team. It's not easy to live such a high profile relationship with the main executioner of LeBron & co.