Kemba Walker's departure changed everything in Boston for Danny Ainge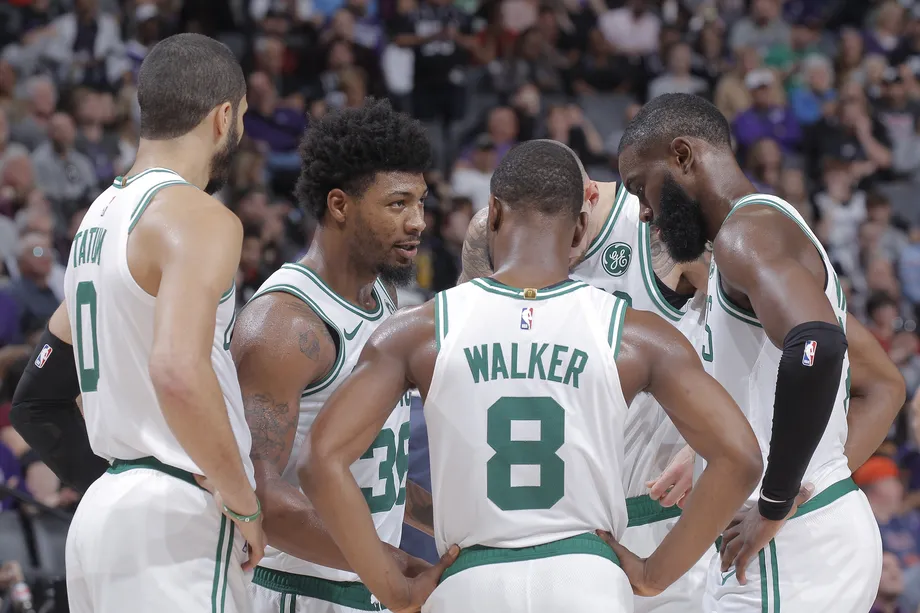 History will remember that the Celtics returned to the Finals the year Brad Stevens took over as president. To everyone's surprise, Danny Ainge left his post last summer, and it was the Celtics coach who replaced him.
Since then, Danny Ainge has joined the organization chart of Jazz, and he is very proud of his successor. In particular his strategic choices, initially with the transfer of Kemba Walker to OKC, then the recruitment, during the season, of Derrick White.
"I think the transfer of Kemba allowed Marcus (Smart), Jaylen (Brown), Jayson (Tatum) and Robert Williams to really flourish in their natural position. All with Horford taking on more responsibility under the panels for Robert, while putting Jaylen, Jayson and Marcus in positions where they can have big advantages. It's just a better fit and I think it's really crystal clear.  »
« It was probably not a good idea to end the games with Marcus and Schroder »
As his son, Austin, is still on the staff of the Celtics, Danny Ainge maintains ties with his heart franchise, and he acknowledges that he still communicates with Brad Stevens.
"I'm really impressed with what Brad has done in his freshman year. I think he did a great job. » continues Danny Ainge. "At the start of the season, I think he had doubts about the wealth of the bench, and getting Josh Richardson and even (Dennis) Schroder were good acquisitions. (…) The arrival of Al to be able to play basketball with the big guys and the addition of a solid veteran around the four base players had a big impact on this season. I know Al wanted to come back to Boston, so that was good too. And then there are the changes during the season, to see that there were possibilities for improvement, that was also important. It's not that Schroder wasn't playing well, he was playing well, but it probably wasn't a good idea to end games with Marcus and Schroder. And, you know, Schroder came in with the idea that he was going to have a really big role. So I think Brad recognized the challenge that was for the coach, and that trade freed up some playing time for other guys – and (Payton) Pritchard has been playing really well since the Schroder trade, so that's was good too. »
For Danny Ainge, the tenure of Marcus Smart as playmaker was also decisive.
"I think it improves your defense so much… You don't really have any weaknesses in your defense. We had a lot of small players with Kemba and Isaiah Thomas. Kyrie (Irving) was a pretty good size for a point guard, but he was shorter than Marcus. Sometimes there is some defensive responsibility with these super small players. Marcus is not in the same category in attack but he brings so many different elements in his ability to make passes, his positioning and his ability to take rebounds. But more than anything, there is this versatility that allows him to defend on positions 1 to 5. It has really increased the defensive quality of their team. »
Shots
Bounces
Players
GM
Minimum
Shots
3 points
LF
Off
Def
Early
pd
bp
Int
CT
party
Points
Jayson Tatum
76
35.9
45.3
35.3
85.3
1.1
6.9
8.0
4.4
2.9
1.0
0.6
2.3
26.9
Jaylen Brown
66
33.6
47.3
35.8
75.8
0.8
5.3
6.1
3.5
2.7
1.1
0.3
2.5
23.6
Dennis Schroder
49
29.2
44.0
34.9
84.8
0.6
2.8
3.3
4.2
2.1
0.8
0.1
2.4
14.4
Marcus Smart
71
32.3
41.8
33.1
79.3
0.6
3.2
3.8
5.9
2.2
1.7
0.3
2.3
12.1
Derrick White
26
27.4
40.9
30.6
85.3
0.5
2.9
3.4
3.5
1.2
0.6
0.6
2.2
11.0
Al Horford
69
29.1
46.7
33.6
84.2
1.6
6.1
7.7
3.4
0.9
0.7
1.3
1.9
10.2
Robert Williams
61
29.6
73.6
0.0
72.2
3.9
5.7
9.6
2.0
1.0
0.9
2.2
2.2
10.0
Josh Richardson
44
24.7
44.3
39.7
85.9
0.6
2.3
2.8
1.5
0.9
0.8
0.5
1.9
9.7
Daniel Theis
21
18.7
59.8
35.7
68.8
1.3
3.4
4.7
1.0
0.7
0.4
0.7
2.3
7.9
Grant Williams
77
24.4
47.5
41.1
90.5
0.8
2.7
3.6
1.0
0.8
0.5
0.7
2.4
7.8
Payton Pritchard
71
14.1
42.9
41.2
100.0
0.5
1.4
1.9
2.0
0.6
0.4
0.1
0.9
6.2
Romeo Langford
44
16.6
42.9
34.9
58.8
0.7
1.7
2.4
0.4
0.4
0.5
0.4
1.0
4.7
Jabari Parker
12
9.4
47.4
50.0
100.0
0.4
1.9
2.3
0.5
0.7
0.3
0.1
1.1
4.4
Aaron Nesmith
52
11.0
39.6
27.0
80.8
0.3
1.4
1.7
0.4
0.6
0.4
0.1
1.3
3.8
Enes Freedom
35
11.8
52.6
40.0
85.7
1.7
2.8
4.6
0.2
0.6
0.1
0.4
1.2
3.7
matt ryan
1
5.3
20.0
20.0
0.0
0.0
0.0
0.0
0.0
0.0
1.0
0.0
0.0
3.0
Sam Hauser
26
6.1
46.0
43.2
0.0
0.2
0.9
1.1
0.4
0.1
0.0
0.1
0.3
2.5
Luke Kornet
12
7.1
57.1
0.0
66.7
0.8
1.3
2.1
0.7
0.0
0.3
0.2
0.6
2.2
Joe Johnson
1
2.0
100.0
0.0
0.0
0.0
0.0
0.0
0.0
0.0
0.0
0.0
0.0
2.0
justin jackson
1
2.0
0.0
0.0
100.0
0.0
0.0
0.0
0.0
0.0
0.0
0.0
0.0
2.0
Malik Fitts
8
3.5
60.0
50.0
0.0
0.3
0.6
0.9
0.6
0.0
0.0
0.0
0.1
1.9
Brodric Thomas
12
5.0
44.4
22.2
60.0
0.2
0.7
0.8
0.9
0.5
0.1
0.1
0.6
1.8
Nik Stauskas
6
2.5
33.3
33.3
50.0
0.0
0.0
0.0
0.2
0.2
0.0
0.0
0.0
1.2
Juancho Hernangomez
18
5.3
18.5
16.7
66.7
0.5
0.9
1.4
0.2
0.3
0.2
0.1
0.4
1.1
Bruno Fernando
20
2.9
50.0
100.0
80.0
0.4
0.4
0.8
0.2
0.3
0.0
0.2
0.3
1.0
Juwan Morgan
1
3.6
0.0
0.0
0.0
0.0
0.0
0.0
0.0
0.0
0.0
0.0
0.0
0.0
Kelan Martin
3
1.9
0.0
0.0
0.0
0.3
0.3
0.7
0.0
0.0
0.0
0.0
0.0
0.0
cj miles
1
2.0
0.0
0.0
0.0
0.0
0.0
0.0
0.0
0.0
0.0
0.0
1.0
0.0