Kareem's cash opinion on Kobe Bryant's pitiful record!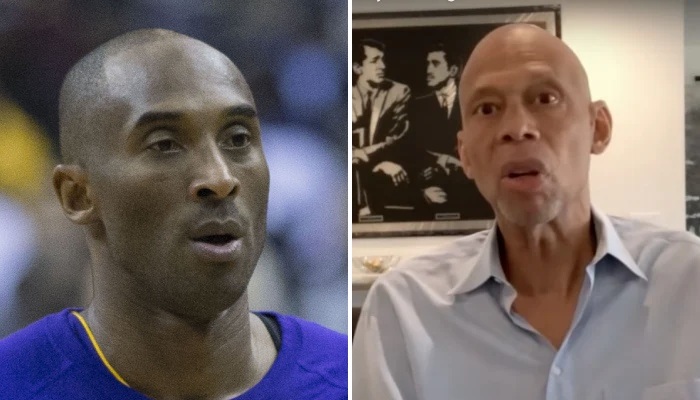 Keith Allison (CC) / CNN (DR)
Kobe Bryant would have celebrated his 44th birthday recently, if he had not tragically died in January 2020. On the occasion of his birthday, Kareem Abdul-Jabbar therefore wanted to pay tribute to the Mamba by addressing one of his records , which is not very glorious. According to the Hall of Famer, however, it should be perceived differently.
If he was a real hit on the field with more than 33,000 career points, Kobe Bryant has never been known to be an efficiency freak. The Lakers guard was a specialist in snack shots, not hesitating to take risks rather than pass to a teammate. So it's not surprising that his percentages in 20 years of activity are fairly average: 44.7% overall success, including 32.9% behind the arc.
With its volume of shots (19.5 per game, including a peak of 27 attempts on average in 2005-06), this is equivalent to a staggering number of missed shots. In fact, he is even the all-time No. 1 in this category and he is not about to be dislodged. But according to Kareem Abdul Jabbar, this is far from being a bad thing, quite the contrary. Wishing to honor the late legend on his birthday, the all-time top scorer wrote the following on his blog:
Abdul-Jabbar's magnificent tribute to Kobe
Many other tributes will refer to his impressive list of basketball awards, prizes and statistics. You can go to Wikipedia if you are interested. Or at a sports bar. There is only one Kobe stat that fascinates me. Kobe was the NBA's two-time leading scorer, and in 2006 he scored 81 points in a single game, putting him just behind Wilt Chamberlain's 100-point game. But these are not the statistics that interest me.
Kobe Bryant has missed the most field shots in NBA history. He missed 14,481 shots. For me, this statistic is the foundation of his greatness as an athlete – and one of the reasons why our affection for the man transcends our admiration for the athlete. Let me explain: Some people – and not just athletes – are driven in life by the fear of losing. They strive, struggle and push because they don't want to fail.
This fear of failure is often rooted in anxiety about the image they will project to others. They see themselves only as they are reflected in the eyes of others. However, the greatest are not motivated by winning but by exceeding their own expectations. The goal is to strive to reach their full potential – and sometimes exceed what they themselves had imagined. Winning isn't the goal, it's a pleasant by-product.
Kobe Bryant holds the record for most missed shots in NBA history. For some, that's a bad thing. To me, that means he wasn't intimidated by missing, losing, failing. He didn't hesitate, asking himself: "And if I miss? What will the coaches think? The team? The fans ? He acted like the ultimate competitor he always was: he took his shot.
Far from criticizing Kobe Bryant for his many missed shots, Kareem Abdul-Jabbar wishes on the contrary to congratulate him for his selflessness. Proof that statistics can sometimes have more than just one meaning.