In Nantes, Crédit Agricole Atlantique Vendée offers a new headquarters at 45 million euros
With its 1,000-space car park, its three-hundred-seat auditorium, its startup accelerator, its school of transitions, its showroom to allow customers to personalize their future accommodation, its catering area, its training center, its many meeting, its mayor… and fourteen entities of the group that have come to settle on the Campus by Ca, it is « a real city » that the Regional Bank Atlantique Vendée has brought to light, to the east of Nantes, on the historic site of its headquarters.
"The decision to transform the site was taken in 2013 to maintain our proximity and adapt to the uses of tomorrow", recalls Luc Jeanneau, Chairman of Crédit Agricole Atlantique Vendée. In total, the renovation and construction site will have lasted ten years and required an investment of 100 million euros (excluding equipment), including 45 million euros for the sole construction of the Campus by CA intended to harmonize a building complex 45,000 m², set in landscaped grounds of 6.5 hectares.
« This ecosystem is a unique creation in the Crédit Agricole network, a tool made available to all partners, customers and development players in Loire-Atlantique and Vendée and a return investment in the coffers of companies with participated in the construction, 90% of which were from these two departments. It is a place of life which, through new working methods, should help us meet the many challenges to support societal, digital and ecological transitions… »assures Nicole Gourmelon, Managing Director of the Regional Bank of Crédit Agricole Atlantique Vendée, all dressed in green to celebrate the completion of the Campus by CA.
Events to bond
Originally intended to bring together the group's fifteen entities scattered throughout the Nantes conurbation, the Campus by CA now brings together fourteen subsidiaries (Indosuez, CA immobilier, Calef, Cacib, Unexo, Locam, Unifergie, Square Habitat, etc. ) allowing the regional mutual to offer expertise in one location ranging from wealth management to obtaining a mortgage through an investment fund, the rental of equipment or obtaining financing for a wind or biomass project.
« A set of rather Parisian expertise to which companies in the area will now have access, many of which will retain their decision-making center in Loire-Atlantique and Vendée », observes Nicole Gourmelon. Six hundred people thus came to swell the ranks of a workforce made up of 1,300 people, administered by a mayor, Cécile Colin, a pure product of the green bank.
Starting out as a professional adviser, promoted to agency director and then in charge of professional marketing, she is now in charge of running this new place. "My role is to bring people together, otherwise no one would meet", she says. By dint of mystery cafés, hackathons, forums focused on energy transition, digital agriculture, green finance, the tourism of tomorrow… seventy events have been organized since last September where two thousand people pressed. And already, Lyon players have come to discover this way of rethinking the green bank.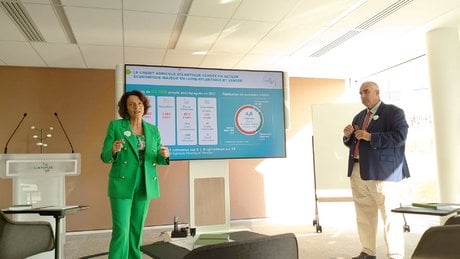 Nicole Gourmelon, Managing Director, Juc Jeanneau, Chairman of Crédit Agricole Atlantique Vendée, of which 50% of the 902,000 customers are members.
Connect to business realities
Because beyond the Crédit Agricole entities, the site permanently brings together twenty-five startups hosted by the Village by CA to promote their acceleration and connection with SMEs and ETIs in the region, but also, and it's newer, the school of Transitions. Conceptualized by the Regional Bank, the formula brings together sixty-two work-study students from the « Positive Impact Chair » of the Audiencia Business School business and management school, the « innovation strategy » master's degree from the Nantes-Atlantique School of Design and the Microsoft-Simplon School of Artificial Intelligence, on coding and AI. « For them it's the way to connect to the realities of the company »observes the mayor of Campus by CA.
"These three types of skills, design, artificial intelligence and CSR are, for us, the skills that shape the uses of tomorrow"adds Nicole Gourmelon, who is fine-tuning her employer brand with the ambition of becoming the preferred employer of job candidates. "Since 2019, the transformations undertaken by the regional mutual have enabled the creation of one hundred jobs which have generated one hundred and fifty to two hundred hires"assures the general manager of the regional fund, where 167 permanent hires were formalized in 2021.
A campus by CA Vendée in 2023
With 905,205 customers, 50% of whom have become members, Crédit Agricole Atlantique Vendée claims to hold a 25% to 30% market share today in the Vendée and Loire-Atlantique regions, ahead of the other mutual banks (Crédit Mutuel, Banque Populaire Grand Ouest, Caisse d'Epargne…) "We finance one house out of four, one business out of three and eight farmers out of ten and this position obliges us to be in the territory. This is why we created this ecosystem and get out of the sole role of banker", indicates Yves Schwartz, deputy managing director of the regional bank, which financed nearly 55,000 projects in 2021 by realizing 4.8 billion loans, up by +13%. 3,091 million euros (+8%) were allocated for housing, 1,430 million euros for equipment (+26%) and 309 million euros (+16%) for the consumer sector.
Since 2015, Crédit Agricole Atlantique Vendée has invested 200 million euros to expand its territorial network, and wins some 45,000 customers per year. In addition to the Campus by CA, it has renovated and refurbished its network of 170 branches and even opened a 171st branch in Les Sables d'Olonne in 2021. In Vendée, again, the cooperative group is preparing to duplicate the Campus by CA concept in la Roche-sur-yon, With an investment of 25 million euros which should be operational by 2023.
fbq('init', '1025010277520259'); fbq('track', 'PageView'); fbq('track', 'ViewContent'); fbq('track', 'CompleteRegistration');