"In Herning the sport has been outstanding", Edward Levy
Just returned from the CSIO 5* in Dublin, during which he signed a double clear round in the Longines Nations Cup and obtained a seventh place in the Longines Grand Prix with Uno de Cerisy, as well as a victory at 1.50m on Confidence d'Ass, Edward Levy seems to have reached a milestone in 2022. A few months after his first victory in the CSI 5* Grand Prix, in Grimaud with Rebeca LS, the Normand is calmly considering the future, his eyes riveted on a possible final world of the Longines Nations Cups in Barcelona, ​​the season indoor and, if the planets align, the Europeans in Milan and the Paris 2024 Olympic Games. The twenty-seven-year-old rider did not miss a beat of the world championships in Herning, notably saluting the three individual medalists.
---
---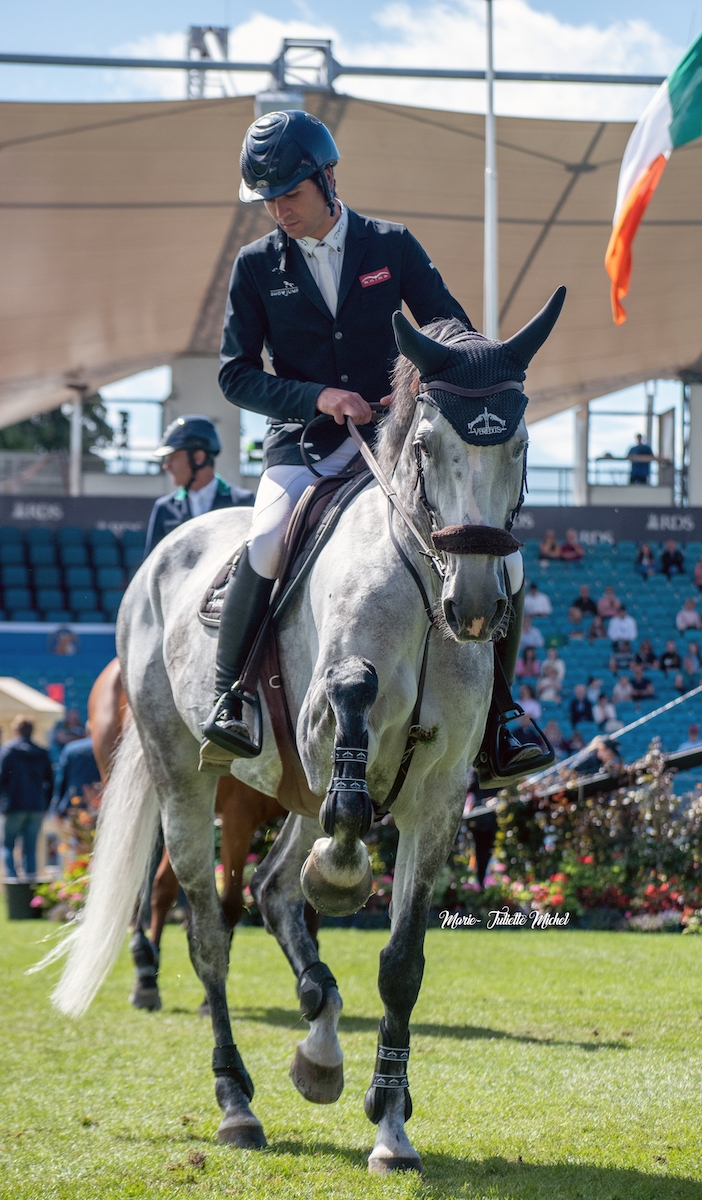 The first part of this interview has been published here.
In Dublin, Confidence d'Ass, ten years old, obtained the greatest victory of his career. Earlier in the season, she jumped her first CSI 3* Grand Prix at Compiègne Classic, conceding eight points, but jumping with style. How is it changing for you and what are your goals?
Confidence belongs to my friends Aurélien and Sophie Seigneur, which makes it a great story. She is an exceptional warrior. It's incredible to have a mare with such a mind, combining respect and courage. Very often respectful horses show some anxiety, but not her. When she gets to tracks like Dublin, with massive obstacles, she rolls up her sleeves and shows even more desire to go. It is truly exceptional. There we won the Sunday 1.50m event in front of all the Irish, when we thought winning there was impossible (laughs, editor's note)! She has already jumped a few classes at 1.55m and will be able to break in at this level. She is "THE" competition mare par excellence. It is difficult to put a limit to this kind of horses. When she arrived, we thought she would perform at 1.40m, and she started to score at 1.45m, then 1.50m. From now on, she wins at 1.50m in very beautiful competitions. It is she who will tell us how far she can go, but it is a privilege to be able to count on such a warrior.
Are you planning to compete in the Longines World Cup with Rebeca LS?
I will try to go to Oslo and Lyon with the ambition to start the season well indoor. If I score enough points from the start and I find myself able to qualify for the final, I will get to it. Conversely, if, in the middle of winter, I realize that the task is going to be complicated, I won't be stubborn. With all my horses, I like to juggle between peaks of form and moments of relaxation. The idea with Rebeca would be to have her at the top at the end of the year to score points at the start of the circuit and then to be able to let her breathe at the start of 2023 and bring her back into power either for the final, if it is possible, or for the Saut Hermès and the CSI 5* of 's-Hertogenbosch.
In general, I never change the program of my horses according to the results. I always want to keep my line of conduct and stay calm, including after good or bad performances. Rebeca had an incredible month when we won a CSI 5* Grand Prix at the Hubside Jumping in Grimaud, then the CSI 3* in Cabourg Classic, before finishing fifth in the very difficult Longines Global Champions Tour in Monte-Carlo. . After that, I gave him four weeks off. Even though she was in great shape, I wanted to give her time to release some pressure and recover. This is how I manage the season for my horses. After recovering quietly at the Normandy Horse Show, in Saint-Lô, she jumped fantastically at the Longines Deauville Classic (ranking fifth in a qualifier, before finishing seventeenth in the Grand Prix, conceding two faults in the jump-off, editor's note). There, I feel that she is now ready to re-attack very good events.
Initially entered, Sirius Black ultimately did not take part in the Longines Deauville Classic. How is he?
Very good. He is participating this weekend in the CSI 5* of the Stephex Masters in Brussels with Rebeca. He was supposed to go to Deauville to skip the intermediate events but I didn't find him in very good shape. He had no fever but may have had heat stroke. When relaxing, I felt it a little flat when it is normally always cool. My physiotherapist, Élodie Ibsaiene, felt him a little numb so I didn't skip the test. Since then, everything has been back to normal. After Brussels, I plan to take her to Grimaud, then to a few competitions indoor.
---
---
"I don't have a definitive opinion about irons"
Did you follow the Herning World Championships? And, if so, what did you think of it?
I obviously followed them a lot. Throughout the week, the sport was outstanding. Three horses have ruled the world: King Edward, Quel Homme de Hus and Beauville (with the Swede Henrik von Eckermann, the Belgian Jérôme Guéry and the Dutchman Maikel van der Vleuten, editor's note). The latter is a little more discreet and is perhaps a little less spectacular than the other two, but he still has two individual bronze medals, Olympic and world, in two seasons. The efficiency of this couple is incredible. As for Jérôme and Quel Homme, they more than deserved their silver medal. They have achieved so many clear rounds for so many years in all the Grands Prix and Nations Cups… Jérôme is a very good friend, a very nice and humble man. He deserves to be where he is.
On Sunday, the second run proved to be extremely difficult (unlike the first, which hardly caused any mistakes, editor's note). It is easy to judge the difficulty of a course behind our screen but we could see that it posed great difficulties for couples. Following these events makes it possible to realize the horses needed to be able to succeed in a championship, in terms of means and resources. The couple who were supposed to win succeeded, like Ben Maher in Tokyo (crowned Olympic champion with his exceptional Explosion W, package for the Worlds due to poor form, editor's note)which is perhaps the most difficult in our sport.
We also saw some exceptional horses arrive, including Faltic HB, Ben Maher's exceptional partner. I knew him, having seen him jump all year, but he was certainly less known to the general public, because he was somewhat in the shadow of Explosion.
On the French side, we saw great things the first two days, then until the end for Simon Delestre and Cayman Jolly Jumper. However, like last year in Tokyo, the scenario for the team final, with this medal which seemed within reach until the end, was terrible…
Yes, it was really difficult to finish within one bar of a medal. It doesn't matter… A few days ago, I read an interview with Kevin saying something very true: "When you go to compete in championships, you have to prepare for all the scenarios, for the greatest joy as well as the greatest frustration of the year."
We can also remember some very nice things: Caracole de la Roque, Julien Épaillard's mare, managed some great championships, winning the Chasse and continuing with a clear round. They committed two faults in the team final, on a more than difficult course. Even if Julien preferred to stop there, they succeeded in their Worlds. The other positive point is obviously the evolution of the couple formed by Simon Delestre and Cayman Jolly Jumper. They were at the level of this appointment. It's lucky to have them. I believe that Simon now knows him perfectly that he has managed to find the right codes with him. The horse finds more and more comfort on the track and starts its journeys more and more calmly. They have improved enormously in six months. It's amazing.
The Swedes continue to outrageously dominate your sport, largely with bare horses. Have you thought about it for yours as well?
Of course, I have already thought about it. I even took some young horses to the stables to give them back a little lightness and comfort in their gaits, but also to get my own idea. You have to be curious and observant. You see a lot of extremely successful horses with this system. I don't have a definitive opinion on this. I will even say something trivial, but I think each horse has its own way of working. I'm sure there are horses that are happier without shoes and others with them. The rest is relative to the sensations of the rider. Some unshoe all their horses, others only a few, and still others have tried, before returning to horseshoes… And criticizing these choices seems very stupid to me.
The greatest learning from this movement is that it translates a desire to return to a form of simplicity and naturalness. We see more and more horses living outside, in herds, etc. I find it positive to show that we can keep animals as close as possible to their natural state, even if they practice a sport at a high level. More than knowing if a horse is happy or not with shoes, you have to remember that and show that you are able to combine competition and respect for living conditions.
---
---
---