In full fantasy, the real size difference between Bronny and Bryce revealed!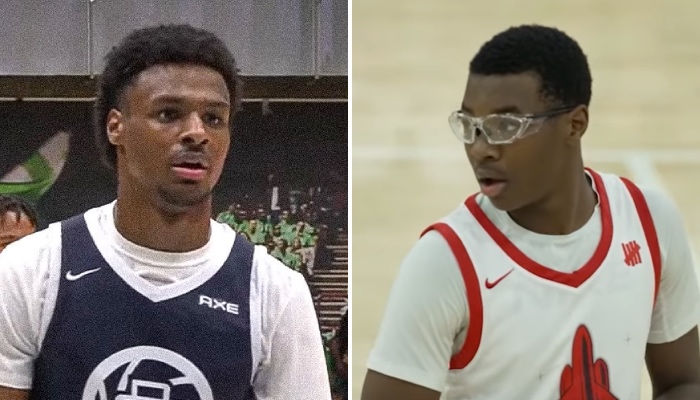 ESPN (DR) / Bleacher Report (DR)
For several weeks now, Bryce James' growth spurt has fascinated observers, who have come to believe that he now towers above his older brother, Bronny. However, recent photos allow us to see more clearly!
For the time being, they are more talked about for their affiliation with the Lakers superstar, rather than for their real level on the floor. Bronny and Bryce take full advantage of the aura of LeBron James, and largely attract attention thanks to their relationship with the King. But don't think they don't have any talent or attribute that would appeal to NBA scouts.
Expected in the league by 2024, Bronny has seen his rating climb since the start of the summer, which is reflected in Draft projections concerning him. For his part, Bryce has been slightly more discreet on the pitch in recent weeks, but impresses… with his immense size at only 15 years old. The latter nevertheless remains surrounded by serious doubts, which have just been largely lifted.
Bryce James already as big as Bronny
Back to the basic morphology a few months ago, Bryce has risen to the rank of freak for his position thanks to a recent growth spurt. According to some reports, the latter would even allow him to peak well above his older brother now ! A version that took the lead in the wing following LeBron's latest Instagram post, which restores the truth on the subject:
While he may be happy with his height for his age, Bryce is nowhere near as starkly towering over Bronny as rumors have it. At best, he is only one or two centimeters taller than his brother, which already has something to satisfy him. Another recent LBJ viral post allows us to confirm this hypothesis, and to dispel all fantasies on this point.
It will still be interesting to keep an eye on the physical development of the two prospects in the coming months, which could inevitably have an impact on their future at the higher levels. The official NCAA measurements will allow, for example, to get a more precise idea of ​​Bronny's size. As for Bryce, fans might read anything and everything for a few more years!
Announced much taller than Bronny by some US media, Bryce James would ultimately be the same size as his eldest. An omen that remains encouraging for him, who still has four years left to push before applying for a place in the NBA!