In front of KD, Isiah Thomas tackles Michael Jordan by the throat!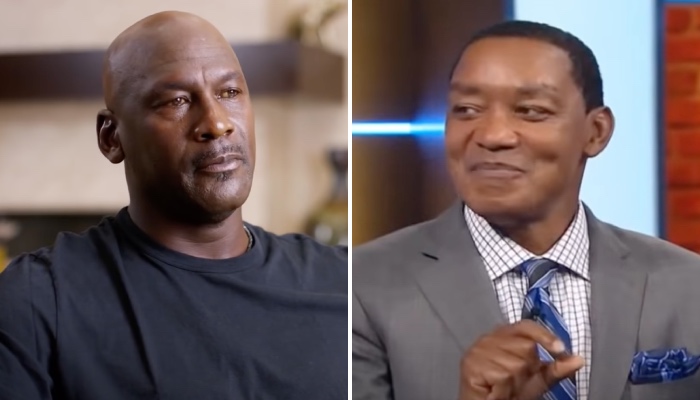 Netflix (DR) / NBA LakeShow (DR)
Isiah Thomas was a guest on Kevin Durant's latest podcast, and as always, he went unfiltered. The Pistons legend also took the opportunity to pay a huge compliment to his host, and Michael Jordan was not spared in the process.
Michael Jordan does not only have friends in the NBA microcosm, the fault of a very particular character. For example, he does not necessarily get along with Scottie Pippen, with whom he nevertheless won his 6 championship titles. The latter is also particularly virulent with No. 23 in his latest book. But for 30 years, no one has had a more acute rivalry with MJ than Isiah Thomas, the fault of the clashes between Bulls and Pistons.
Kevin Durant would have won 6 titles instead of Michael Jordan
And this rivalry is still very relevant today, even if water has flowed under the bridges. During his appearance in the podcast of Kevin Durant, the Hall of Famer took the opportunity to pay a huge compliment to his host, and drop an XXL tackle on Michael Jordan. Obviously, he would be a system player! Here is what should not arrange the relations between them.
If we put a player like Kevin Durant in the triangle system of the Bulls, and he ends up playing with his back to the basket like Michael Jordan… If we put a player like Kevin Durant in the triangle system in which we all draw the systems for him to fire at mid-range… You know what I mean? We could not make you take two or three, you would win 6 titles also in this system. It's the same for LeBron.
For Isiah Thomas, Michael Jordan was an excellent player, but who greatly benefited from a favorable system. The Pistons legend is convinced that Kevin Durant would also be able to chain the titles with a workforce as strong and complete as that of the Bulls of the 90s′, and in the triangle game proposed by Phil Jackson. It is true that KD is a mid-range machine and he would enjoy taking so many shots in his comfort zone.
The question is whether the point guard is giving Kevin Durant a sincere opinion, or if he's just keeping up this 30-year-old rivalry. This question will remain unanswered anyway, since it is impossible to know how KD would have performed at the time. In any case, we will have to start by winning with the Nets in a much more open NBA to compare with His Airness.
Kevin Durant and LeBron James are two exceptional talents, they could indeed have shone in the Bulls system. But would they have been able to pull off two 3-peats? It's a different pair of sleeves!