Hwang Ui-Jo 6th Ligue 1 scorer, Yacine Adli 6th assist, and Alberth Elis has the 10th best goals/shots ratio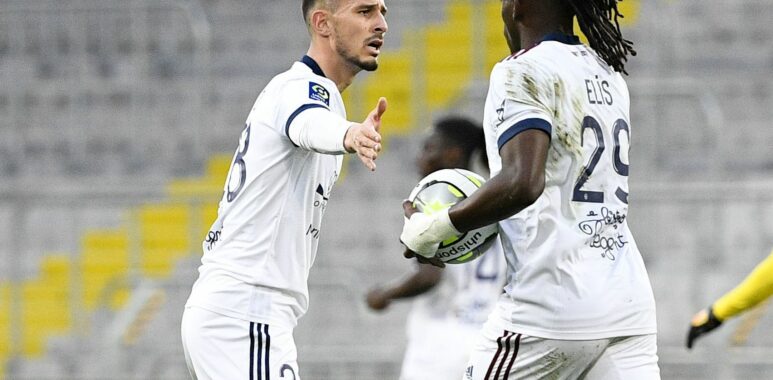 The defense of the Girondins de Bordeaux is the worst in Ligue 1 with 61 goals conceded in 24 days, but also the worst in Europe. If the defense is catastrophic, the Bordeaux attack is prolific. Thus, in the scorer rankingwe find two of the best Girondin players this season: Hwang Ui-Jo and Alberth Elis.
1. Ben Yedder (Monaco), 14 goals.
2. J. David (Lille), Mbappé (+1) (Paris-SG), 12 goals.
4. Laborde (Montpellier then Rennes), Terrier (Rennes), 11 goals.
6. Hwang (+1) (Bordeaux), Gouiri (Nice), Ajorque (Strasbourg), 10 goals.
9. Elis (+1) (Bordeaux), M. Bayo (Clermont), Ekitike (Reims), Gameiro (+1) (Strasbourg), 9 goals.
13. Honorat (+2) (Brest), Mo. Dembélé (+1) (Lyon), Payet (Marseille), Mavididi (Montpellier), Kolo Muani (Nantes), Delort (Montpellier then Nice), Khazri (Saint-Étienne), H. Diallo (Strasbourg), 8 goals.
In terms of passing, there are also two Bordeaux players in the Top 10: Yacine Adli and Rémi Oudin:
1. Clauss (Lens), Mbappé (Paris-SG), 9 assists.
3. Payet (Marseille), 8 assists.
4. Gouiri (Nice), Messi (+1) (Paris-SG), 7 assists.
6. Y.Adli (Bordeaux), Savanier (Montpellier), Simon (Nantes), Majer (Rennes), 6 assists.
10. Oudin (Bordeaux), Caio Henrique, Volland (Monaco), Bourigeaud (Rennes), Laborde (Montpellier then Rennes), I. Sissoko, Thomasson (Strasbourg), 5 assists.
Still in the offensive field, here the ranking of players with the best goals/shots attempted ratio in Ligue 1 Uber Eats (at least 2 goals). Alberth Elis is the 10th player with a goal every 2.78 shots.
1. Adil Rami (ESTAC): 1 goal / 1.33 shots
2. Martin Satriano (SB29), Saïdou Sow (ASSE) and Nicolas Cozza (MHSC): 1.5 shots
5. Jason Denayer (OL): 1.67 shot
6. Thomas Mangani (SCO): 2.17 shots
7. Wissam Ben Yedder (ASM) and Verratti (PSG): 2.5 shots
9. Sambou Soumano (FCL): 2.67 shots
10. Alberth Elis (FCGB): 2.78 shots