His reputation changed, Andrew Wiggins still aims very high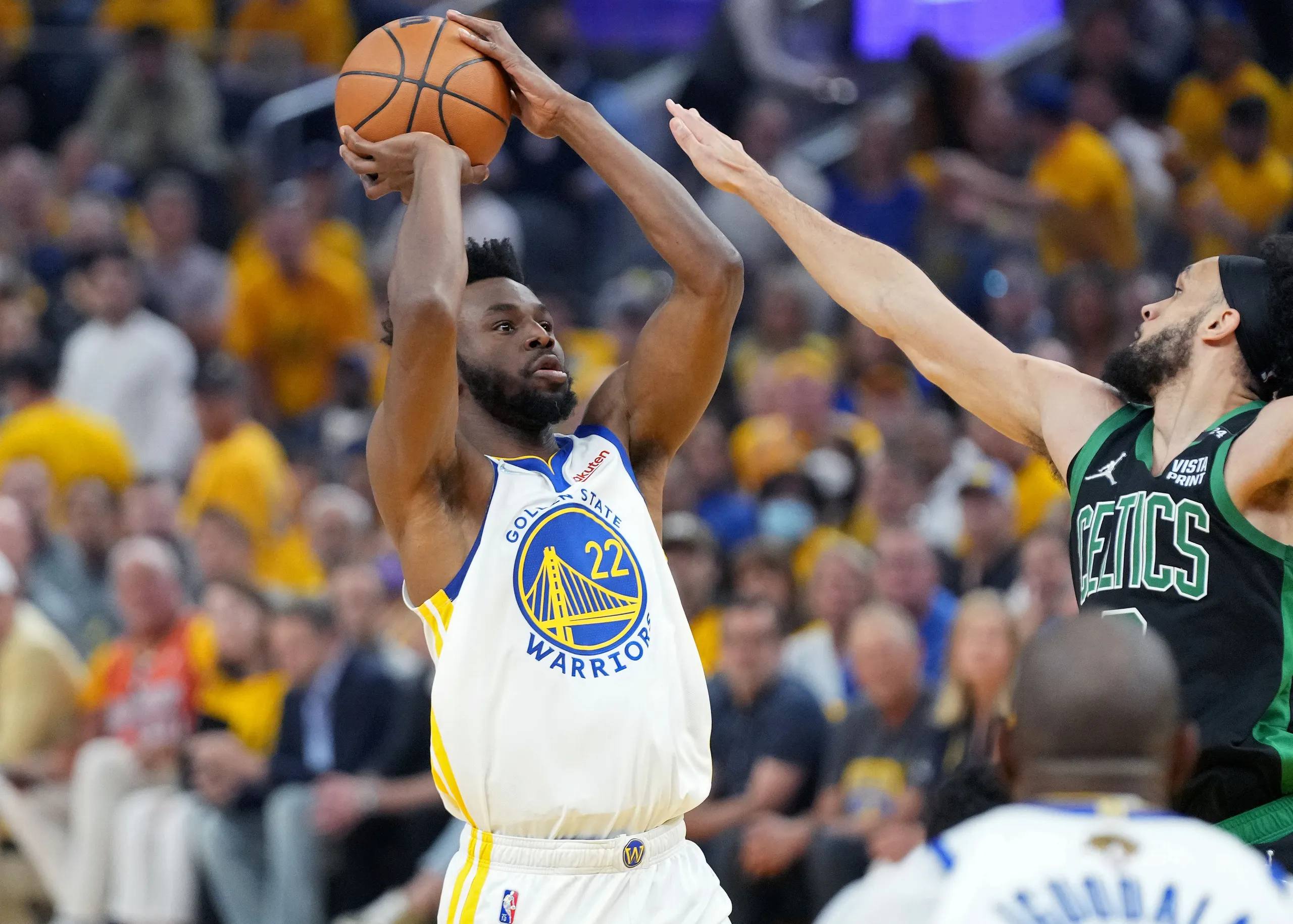 During his first seasons at Minnesota and again during his first months at Golden State, Andrew Wiggins suffered from an overall negative reputation. That of a player who is certainly extremely talented but overall disappointing, and above all paid too much for his performance.
The former first choice of the Draft, in 2014, believes that this label was mainly that of journalists and not of the actors who evolved with him.
« I never believed in that »he told NBC Sports. "I have the impression that the players who played with me, who rubbed shoulders with me, never paid attention to that. But as soon as the media puts that on you, the others follow. I could defend myself, but that doesn't interest me. I play hard and let people do the talking. »
Nevertheless, with his solid performances last season, his successful playoffs and Finals, plus this ring won against Boston, the former Wolves has transformed his reputation. He established himself as a valuable, even essential player for the Warriors and everyone could see it.
"I see the difference, it's clear, 100%. People are more positive, support me more. I have the feeling that the perception around me has changed. People said I wasn't defending, that I wasn't playing hard enough. It feels good to show certain things and perform in front of everyone. »
Andrew Wiggins does not forget the importance of the Warriors in this change in perception with the general public.
"It works hand in hand: a player who works hard and a good franchise, it helps to succeed. » And he is still aiming for the heights, individually and collectively for the 2022/2023 financial year. "I would like to be All-Star again, win another title and be part of an All-Defensive Team. »
Andrew Wiggins
Percentage
Bounces
Season
Crew
GM
Minimum
Shots
3 points
LF
Off
Def
Early
pd
party
Int
bp
CT
Points
2014-15
MIN
82
36
43.7
31.0
76.0
1.6
2.9
4.6
2.1
2.3
1.1
2.2
0.6
16.9
2015-16
MIN
81
35
45.9
30.0
76.1
1.3
2.3
3.6
2.0
2.0
1.0
2.3
0.6
20.7
2016-17
MIN
82
37
45.2
35.6
76.0
1.2
2.8
4.0
2.3
2.2
1.0
2.3
0.4
23.6
2017-18
MIN
82
36
43.8
33.1
64.3
1.0
3.4
4.4
2.0
2.0
1.1
1.7
0.6
17.7
2018-19
MIN
73
35
41.2
33.9
69.9
1.1
3.7
4.8
2.5
2.1
1.0
1.9
0.7
18.1
2019-20 *
All Teams
54
34
44.7
33.2
70.9
1.2
3.9
5.1
3.7
2.4
0.8
2.4
1.0
21.8
2019-20 *
MIN
42
35
44.4
33.1
72.0
1.1
4.1
5.2
3.7
2.4
0.7
2.6
0.9
22.4
2019-20 *
GOS
12
34
45.7
33.9
67.2
1.5
3.1
4.6
3.6
2.2
1.3
2.1
1.4
19.4
2020-21
GOS
71
33
47.7
38.0
71.4
1.2
3.7
4.9
2.4
2.2
0.9
1.8
1.0
18.6
2021-22
GOS
73
32
46.6
39.3
63.4
1.2
3.3
4.5
2.2
2.2
1.0
1.5
0.7
17.2
2022-23
GOS
1
30
57.1
57.1
0.0
1.0
5.0
6.0
4.0
5.0
1.0
1.0
1.0
20.0
Total
599
35
44.8
35.1
72.3
1.2
3.2
4.4
2.3
2.2
1.0
2.0
0.7
19.3