« He's the equivalent of Cristiano Ronaldo in the league »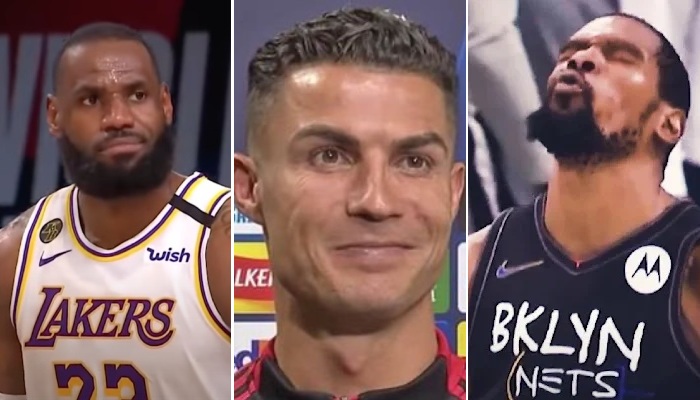 NBA (DR) / Sky Sports (DR)
On the occasion of the FIFA World Cup in Qatar, comparisons between the stars of the round ball and those of the NBA are made more and more frequent. The latest is none other than Cristiano Ronaldo, and one name in particular has been linked with the Portuguese legend.
World Cup obliges, basketball fans follow football a little more than usual. The opportunity also to try to bring these two worlds closer, in particular by seeking to compare the athletes with each other. Recently it is Kylian Mbappé who was awarded an equivalent within the NBA. The French striker has since been joined by Cristiano Ronaldo, who also takes part in the competition with Portugal:
Name Cristiano Ronaldo's NBA equivalent pic.twitter.com/cGkFc8Jnea

— NBA Memes (@NBAMemes) December 8, 2022
Name the NBA equivalent of Cristiano Ronaldo
Kevin Durant and LeBron compared to Cristiano Ronaldo
This is a very thorny subject and leaves few options, because CR7 is after all one of the very best footballers in history. The names mentioned were therefore particularly prestigious and if LeBron James was entitled to a few mentions, it is Kevin Durant which came up most often in the discussion. A rather well-chosen choice, given that we are talking about two huge scorers whose personality has often been debated in the past.
KD, can get it done on a Superteam like Real Madrid/Warriors, but can't win it own his own in the World Cup.

—Len Combs (@lencombs) December 8, 2022
KD, he knows how to get the title with a superteam like Real Madrid or the Warriors, but he can't win the World Cup alone.
In this generation, kd

— 👑 (@Vspongy4KT) December 8, 2022
From this generation, it's KD
It's LeBron, currently washed up but at their peaks they were the 2nd best players of all time.

—??? (@Nunyabiz223) December 8, 2022
It's LeBron, both are currently flushed but during their primes they were the 2nd best players of all time.
For NBA fans, Kevin Durant is the closest thing to a Cristiano Ronaldo in the world of basketball. Special mention also to LeBron James, although in both cases, the established parallel is not necessarily the most flattering.