« He's the closest to Jordan, not Kobe or LeBron »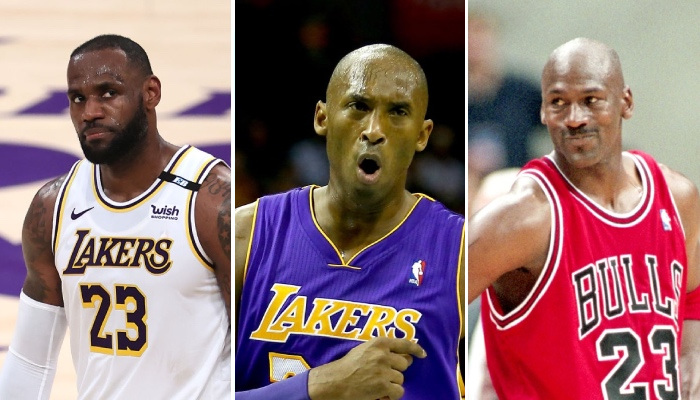 Sean M. Haffey / Streeter Lecka / Ron Schwane
Whether it is for their game, their track record or simply the debate around the GOAT, Kobe Bryant and LeBron James are regularly the players most compared to Michael Jordan. A famous analyst, however, decided to reverse this trend. According to him, another star in the league would come closest to His Majesty!
Yes Kawhi leonard is now the undisputed boss of his franchise in LA, it is on the Toronto side that he has definitely taken off. In a single season in Canada, he managed to slam a very big individual campaign (26 points and 7 rebounds on average), while finishing champion and MVP of the Finals. Not bad for a player coming out of a truncated season at Spurs (9 games played).
Recently, his ex-teammate Kyle Lowry has praised him extensively, especially for his ability to remain the same in his game, despite external criticism. The remark, however, tickled Skip Bayless, a great admirer of The Klaw. During his show Undisputed, so he made a real plea in his honor, including a big statement:
Kyle Lowry admits Kawhi was very ball dominant in Toronto:

« I don't know why Lowry would start out by saying Kawhi rubbed people the wrong way by this, they won the championship! 2019 Finals: 29-10-4. You better give Kawhi the ball and let that big dog EAT. » – @RealSkipBayless pic.twitter.com/hxeo4eMv6X

– UNDISPUTED (@undisputed) September 6, 2021
I don't know why Lowry would start by saying that Kawhi pissed off people the wrong way, they won the title! His 2019 Finals: 29 points, 10 rebounds and 4 assists per game. You better give Kawhi the ball and let him eat it. Kawhi is the closest thing to Jordan we've had since Jordan. As a jump-shooter he's even better than Kobe at this level. And James was never the type of guy to say 'give me that goddamn ball'.
Kawhi closer to His Airness than the Mamba or the King? This is not going to please the fanbase of the two men! Even more so on the side of Bryant, who is considered an almost carbon copy of the old Bull. Nevertheless, the defensive level of the Clipper is actually not unlike that of MJ … even if Kobe was also productive on this side (12 All-Defensive Teams).
That being said, it is on the scoring side that it is spoiled for Bayless's arguments. Although very productive in this area (25 points average last year), Leonard is far from what his elders have been able to achieve. When we know that Jordan could be a real glutton, comparing the two immediately becomes more complicated … Adding a few rings to his record could at least advance the debate in his direction.
For Skip Bayless, Kawhi Leonard is therefore the player closest to the six-time champion. The winger will have to justify this status next year, because we will wait for him at the turn after two years without a title in Los Angeles!