Guerschon Yabusele, "Hold My Bear"
Eurobasket – Best French player in the competition, the Real Madrid strong winger is compared to Charles Barkley by Vincent Collet. He is above all a type of strong winger on the verge of extinction.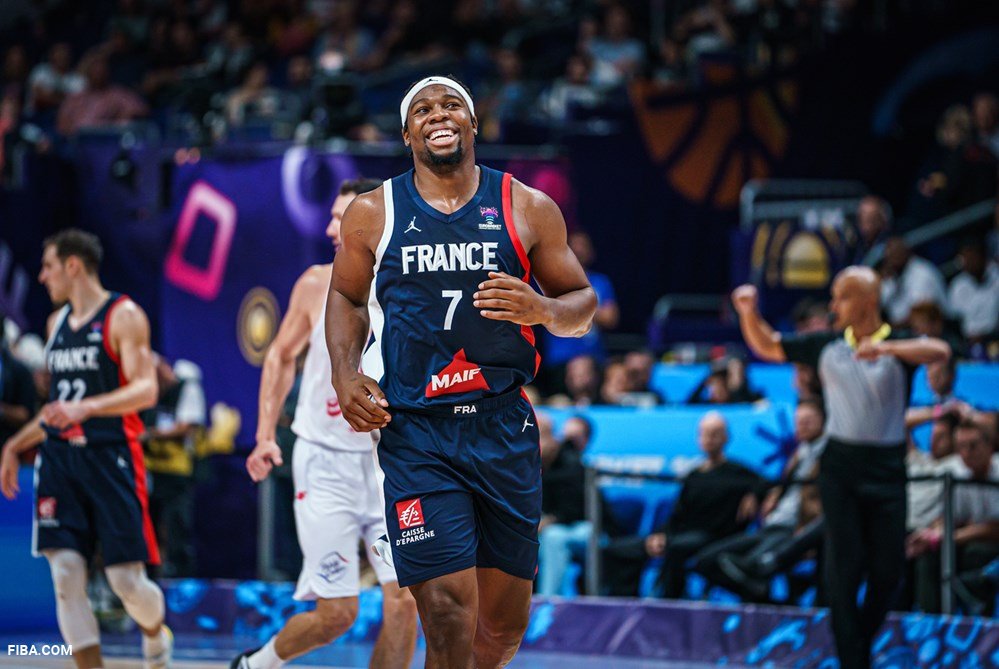 » Guerschon is the European Charles Barkley". This is what Vincent Collet told Canal + after the victory against Poland, and the new good performance of his interior, author of 22 points in 23 minutes. This comparison amuses me because it is precisely what I said to Dimitri (Kucharczyk) during the semi-final. At the start, I explain to him that playing with a real strong winger changes a lot of things in the basketball of the Blues.
Dimitri replies that there was recently Florent Piétrus and Boris Diaw. It's true that the two were essential elements, like Jim Bilba or Thierry Gadou before them. But for me, Guerschon Yabusele is in a category, and that's where I took up the image of a Charles Barkley. Be careful, I don't think the Real Madrid player is the European Barkley. On the other hand, by his qualities as an attacker and his physique, he has, in my opinion, a unique profile in French basketball.
He is, like Barkley, a small strong-winger, strong and toned. He is the perfect complement to Rudy Gobert because he weighs in attack. More than a Flo Piétrus who was, like a Bilba, first a defender, and more than a Diaw who, for me, was first a creator. Yabusele's strength is that he is effective near the circle as well as from a distance, on placed play as on counter-attack. This is where the technical comparison is possible with a Barkley, and it is true that it is a rare profile in Europe.
"I tell him from the beginning that I don't want to see him just behind the 3-point line, so he can use all the qualities he has, and there are many of them. explained Collet on Friday. "He has to move, post, drive, and of course sometimes get behind the line".
What Collet does not want is that Yabusele behaves like the current fleeing strong wingers. For ten years, we only see that. They're 2m05-2m10, and they shoot half a dozen 3-point shots, and they penetrate less and less. Who still goes to the circle, shoulder forward?
In fact, Yabusele is a « small » power forward, an endangered species. Even in the NBA, they are increasingly rare. Draymond Green falls into this category. His former teammate Eric Paschall too. But the two are not attackers, capable of posting an opponent or regularly sanctioning 3-pointers. In the end, the only real heir to a Barkley in the NBA is Zion Williamson. An exceptional physique, exceptional hands and a rare tone. A « flying bear », the nickname of our national Yabusele.