Greece avoids the Czech trap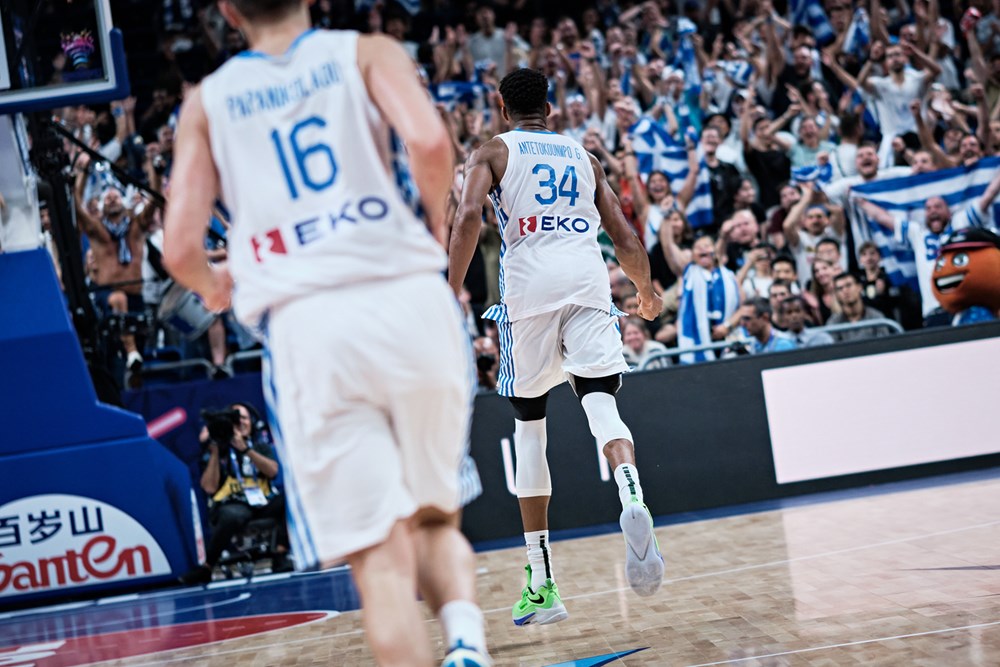 After the Italian earthquake, we did not go far from the Czech earthquake in Berlin. Because Tomas Satoransky and his comrades have long held off the Greece of Giannis Antetokounmpo.
After an extremely sluggish start, the Czech Republic thus quickly recovers in the encounter with a Tomas Satoransky who does not have the explosiveness to attack the circle, but who distributes the game wonderfully.
Defensively, Ronen Ginzburg's players return to basics against the « Greek Freak », by opposing a wall to prevent him from approaching the circle, in particular by using the area quite a bit. What cut the legs of the Greeks, clumsy from afar and therefore late (41-45) at halftime.
Giannis Antetokounmpo forced to shoot from halfway or 3-pointers, Greece couldn't make up for their delay and the gap remained unchanged (63-67) at the end of the third quarter.
Greece tighten the screws in defense and seem to be on their way to making the difference, but the chronic external clumsiness, like these three missed 3-point shots on the same attack, keeps their opponent in ambush. Finally, with the help of Kostas Sloukas, Giannis Antetokounmpo finds some openings, and the gap finally swells. But the Czechs do not abdicate, and they remain with two possessions (83-78) approaching the last two minutes.
It's time for the 3-pointers of the double MVP to finally return, after six first misses. What put the Czech Republic definitively on the carpet? Not yet, the infernal duo Satoransky – Vesely not having said their last word yet. It will still be insufficient and it is therefore the Greek favorite who climbs to the quarter-finals.
Yet considerably slowed down, Giannis Antetokounmpo finished with 27 points (8/17 shooting including 2/8 from afar), 10 rebounds and 5 assists. He has an appointment in the quarter against Germany on Tuesday at 8:30 p.m.
Greece

Shots
Bounces
Players
Minimum
2pts
3 points
LF
Off
Def
Early
pd
party
Int
bp
CT
Points
Tyler Dorsey
18:46
0/0
1/5
3/3
0
0
0
0
0
0
1
0
6
Michail Lountzis
Giannoulis Larentzakis
11:47
1/2
2/5
0/0
0
0
0
2
3
2
0
0
8
Dimitrios Agravanis
10:48
0/1
0/0
0/0
1
2
3
1
1
0
0
0
0
Nick Calathes
28:34
2/3
3/5
1/1
2
3
5
6
4
3
3
0
14
Kostas Sloukas
23:08
1/3
1/2
5/5
0
0
0
1
0
1
1
0
10
Georgios Papagiannis
18:37
4/7
0/0
0/0
3
2
5
0
0
0
0
0
8
Kostas Papanikolaou
27:52
1/1
1/5
3/4
4
3
7
1
3
0
2
0
8
Ioannis Papapetrou
21:57
2/2
2/8
3/4
1
2
3
0
1
1
0
1
13
Giannis Antetokounmpo
33:44
6/9
2/8
9/12
0
10
10
5
1
0
1
1
27
Kostas Antetokounmpo
Thanasis Antetokounmpo
04:47
0/0
0/1
0/0
0
1
1
0
3
0
0
1
0
Czech Republic

Shots
Bounces
Players
Minimum
2pts
3 points
LF
Off
Def
Early
pd
party
Int
bp
CT
Points
Patrick Auda
15:43
5/7
0/0
2/3
0
2
2
2
5
0
1
0
12
Vojtech Hruban
27:50
3/6
3/6
2/3
0
2
2
3
1
0
1
0
17
Tomas Satoransky
32:25
0/3
1/2
0/0
0
8
8
17
3
2
4
0
3
Ondrej Balvin
19:47
6/10
0/0
0/0
3
4
7
1
2
0
2
0
12
Martin Peterka
03:12
0/0
0/0
0/0
0
0
0
0
0
0
0
0
0
Jaromir Bohacik
28:57
1/2
3/7
0/0
1
2
3
2
3
0
1
0
11
Ondrej Sehnal
07:35
0/0
1/4
0/0
1
0
1
2
1
0
0
0
3
Jan Vesely
32:31
10/13
0/0
1/1
1
2
3
1
5
0
0
0
21
David Jelinek
Vit Krejci
05:08
0/0
1/1
0/0
0
0
0
0
0
1
0
0
3
Martin Kriz
08:26
0/1
0/0
0/0
1
0
1
0
0
0
1
1
0
Tomas Kyzlink
18:26
1/3
1/1
1/2
0
3
3
4
2
0
1
0
6