Goran Dragic marvels at his own longevity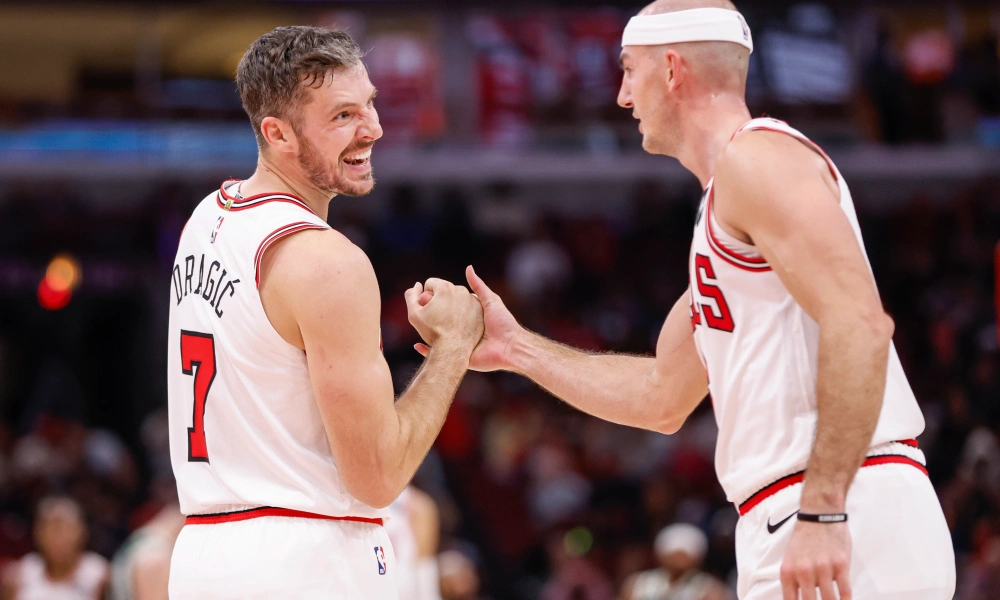 After a summer when he returned to the national team, five years after his last matches with Slovenia, to play the Eurobasket, Goran Dragic will begin a new season in the NBA, this time with the Bulls. Without ever changing his habits.
"I always come two hours before the match, I shoot, I do treatments, I prepare my body"he tells The Athletic. "Then I go to the locker room, listen to music and try to relax. It's pretty basic, but it's what I've been doing for 14 years. »
The 36-year-old point guard, elected MIP in 2014 and All-Star four years later, will begin his fifteenth season in the league, having already played a few seasons in Europe before that. A total that he did not imagine reaching in 2008, during his first steps in Phoenix.
"That means everything to me. I never thought I would be in the league for 15 years. At first it was not easy for me. I needed time to adapt to this style, to this culture. But I always worked hard, to be better the following season. That's why I'm still here. »
For how much longer ? Will this 2022/2023 season be his last or will Goran Dragic go further?
» I do not know « , he smiled. "I am close to the end of my career. I have been a professional since I was 15 years old. My body has a lot of years on it. Besides, after every NBA season, for twelve or thirteen years, I played for the national team. I never make a cut. Nevertheless, I still love basketball and that's the most important thing. »
Goran Dragic
Percentage
Bounces
Season
Crew
GM
Minimum
Shots
3 points
LF
Off
Def
Early
pd
party
Int
bp
CT
Points
2008-09
PHX
55
13
39.3
37.0
76.9
0.6
1.3
1.9
2.0
1.6
0.5
1.3
0.1
4.5
2009-10
PHX
80
18
45.2
39.4
73.6
0.5
1.7
2.1
3.0
1.6
0.6
1.6
0.1
7.9
2010-11*
All Teams
70
18
43.5
36.1
62.4
0.5
1.5
2.0
2.9
1.8
0.7
1.7
0.1
7.5
2010-11*
PHX
48
18
42.1
27.7
60.8
0.5
1.3
1.8
3.1
1.9
0.8
2.0
0.1
7.4
2010-11*
HOO
22
17
47.2
51.9
66.7
0.6
2.0
2.6
2.5
1.6
0.6
1.0
0.2
7.7
2011-12
HOO
66
27
46.2
33.7
80.5
0.8
1.7
2.6
5.3
2.5
1.3
2.4
0.2
11.7
2012-13
PHX
77
34
44.3
31.9
74.8
0.8
2.3
3.1
7.4
2.8
1.6
2.8
0.3
14.7
2013-14
PHX
76
35
50.5
40.8
76.0
0.9
2.3
3.2
5.9
2.7
1.4
2.8
0.3
20.3
2014-15*
All Teams
78
34
50.1
34.7
77.4
1.0
2.5
3.5
4.5
2.5
1.0
2.2
0.2
16.4
2014-15*
PHX
52
33
50.1
35.5
74.6
1.0
2.6
3.6
4.1
2.3
1.0
2.2
0.2
16.2
2014-15*
MIA
26
35
50.2
32.9
80.8
1.2
2.3
3.4
5.4
2.9
1.1
2.3
0.2
16.6
2015-16
MIA
72
33
47.7
31.2
72.7
0.8
3.1
3.9
5.8
2.6
1.0
2.6
0.2
14.1
2016-17
MIA
73
34
47.5
40.5
79.0
0.9
3.0
3.8
5.8
2.7
1.2
2.9
0.2
20.3
2017-18
MIA
75
32
45.0
37.0
80.1
0.7
3.4
4.1
4.8
2.4
0.8
2.2
0.2
17.3
2018-19
MIA
36
28
41.3
34.8
78.2
0.6
2.5
3.1
4.8
2.3
0.8
2.0
0.1
13.7
2019-20
MIA
59
28
44.1
36.7
77.6
0.5
2.7
3.2
5.1
2.1
0.7
2.4
0.2
16.2
2020-21
MIA
50
27
43.2
37.3
82.8
0.5
2.9
3.4
4.4
2.3
0.7
2.4
0.2
13.4
2021-22 *
All Teams
21
24
37.7
25.4
81.8
0.6
2.5
3.1
4.1
2.1
0.9
1.6
0.2
7.5
2021-22 *
BRK
16
26
37.6
24.5
73.9
0.7
2.5
3.2
4.8
2.3
0.9
2.1
0.2
7.3
2021-22 *
TOR
5
18
38.2
28.6
100.0
0.4
2.4
2.8
1.8
1.6
1.0
0.2
0.2
8.0
Total
888
28
46.0
36.2
76.7
0.7
2.4
3.1
4.8
2.3
1.0
2.3
0.2
13.7