Germany consoles itself (a little) with the bronze medal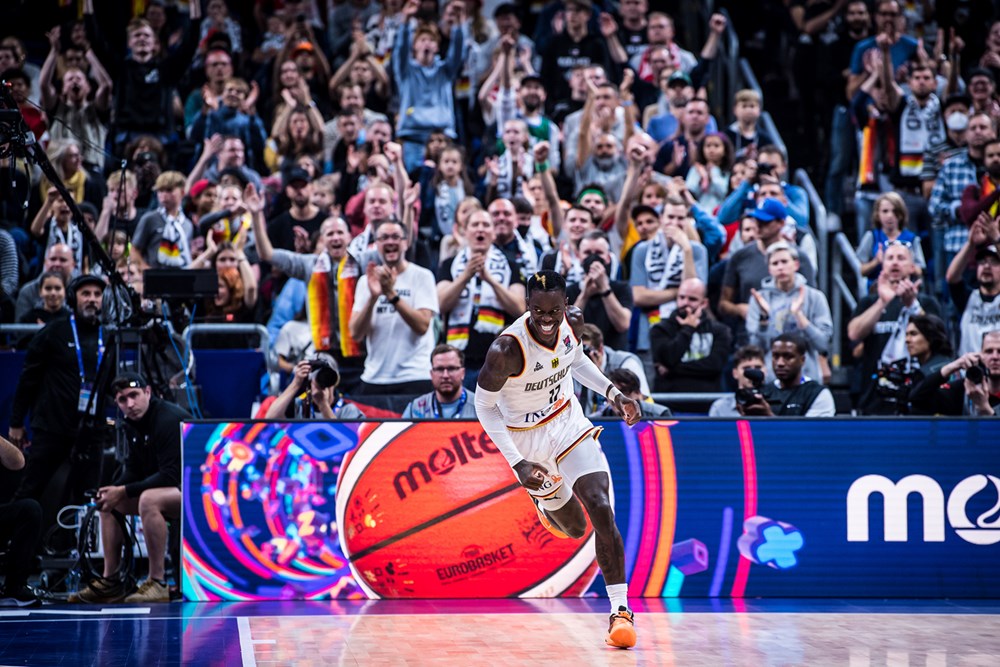 As often in the « small finals » of FIBA ​​tournaments, the two teams are struggling to start their match. Lost balls follow one another, missed dunks too, and the players on both sides seem tired.
Mateusz Ponitka takes two quick fouls and if Aleksander Balcerowski distributes the counterattacks, it is only Michal Sokolowski's cuts that fuel the Poland mark. The good news for them is that Dennis Schröder and Germany are not very hard-hitting, and the gap is minimal (19-14) after one quarter.
The Mannschaft rotates but completely loses its rhythm, and Michal Sokolowski brings his team closer by still trapping the opposing defense with his movements. With a few baskets from Dennis Schröder, and a big impact from Johannes Voigtmann, Germany still made up a gap (36-23) at the break.
Poland seem on their knees, like Mateusz Ponitka trapped by mistakes, but this team has heart, and an outside basket from Jakub Garbacz offers an adrenaline boost to his selection.
AJ Slaughter imitates him in stride and the two men chain new successes at the end of the third quarter to pick up two small possessions (54-49).
The Slaughter – Garbacz tandem also continues to give the German public cold sweats, and they equalize at 59 everywhere with 7:35 remaining in the match. Gordon Herbert had to ask for a time-out to calm down his players, especially Dennis Schröder who seemed totally out of his match and continued negative actions.
It is finally at 3-points, thanks to its duo of Johannes (Voigtmann and Thiemann), that the Mannschaft will find some air. Poland sees its opponent fly away again and does not manage, this time, to pick up, while Dennis Schröder punishes the Polish defense which left him too much space from afar. With 15 new outside shots, Germany ends its tournament with 118 successful 3-point shots. A record on a Euro for a team.
Above all, she won (82-69) in this « little final » and finally won bronze in her EuroBasket.
Germany

Shots
Bounces
Players
Minimum
2pts
3 points
LF
Off
Def
Early
pd
party
Int
bp
CT
Points
Maodo Lo
15:37
0/2
1/5
2/2
0
2
2
0
2
0
0
0
5
Niels Giffey
05:38
1/1
0/0
0/0
0
0
0
0
1
0
0
0
2
Nick Weiler – babb
18:24
0/0
1/4
0/0
2
2
4
0
3
0
1
1
3
Johannes Voigtmann
28:45
0/2
4/5
2/2
1
8
9
6
2
2
1
2
14
Franz Wagner
32:27
2/3
1/2
1/2
0
4
4
4
2
0
1
0
8
Daniel Theis
21:29
2/5
1/2
2/3
1
5
6
1
1
1
0
0
9
Dennis Schroder
32:50
3/3
4/7
8/9
0
1
1
6
3
2
8
0
26
Jonas Wohlfarth Bottermann
07:38
0/1
0/0
0/0
1
0
1
0
2
0
1
0
0
Justus Hollatz
00:13
0/0
0/0
0/0
0
0
0
0
0
0
0
0
0
Johannes Thiemann
20:04
1/1
1/5
1/1
0
5
5
4
0
0
1
1
6
Andreas Obst
16:42
0/0
2/7
3/3
0
1
1
2
0
0
0
0
9
Christian Sengfelder
00:13
0/0
0/0
0/0
0
0
0
0
0
0
0
0
0
poland

Shots
Bounces
Players
Minimum
2pts
3 points
LF
Off
Def
Early
pd
party
Int
bp
CT
Points
Jaroslaw Zyskowski
16:45
1/2
0/4
2/2
0
0
0
2
2
1
0
0
4
Aleksander Balcerowski
22:13
2/5
0/2
0/2
2
4
6
3
1
1
2
3
4
Michal Sokolowski
33:44
5/6
2/7
2/4
0
6
6
3
1
2
1
0
18
Aaron Cell
23:11
0/2
1/2
0/0
1
3
4
2
2
0
0
0
3
Aj Slaughter
30:29
2/5
2/7
0/1
0
0
0
10
3
0
2
0
10
Mateusz Ponitka
23:13
2/5
1/2
2/2
1
1
2
1
5
2
3
0
9
Lukasz Kolenda
06:58
0/0
0/1
0/0
0
2
2
0
2
0
0
0
0
Aleksander Dziewa
15:28
3/3
0/1
2/2
1
0
1
0
3
1
0
0
8
Dominik Olejniczak
Michal Michalak
08:17
0/1
0/1
1/3
0
2
2
0
0
0
0
0
1
Jakub Garbacz
19:42
0/0
4/4
0/0
0
2
2
0
2
0
0
0
12
Jakub Schenk