Garmin tackles the autonomy of the Apple Watch Ultra, but what do the numbers say?
After years of leadership in sports watches (at least, outside of urban sports), did Garmin really need to come and tackle Apple after the release of the Apple Watch Ultra?
In a tweetthe American manufacturer declares The autonomy is calculated in months. Not in hours.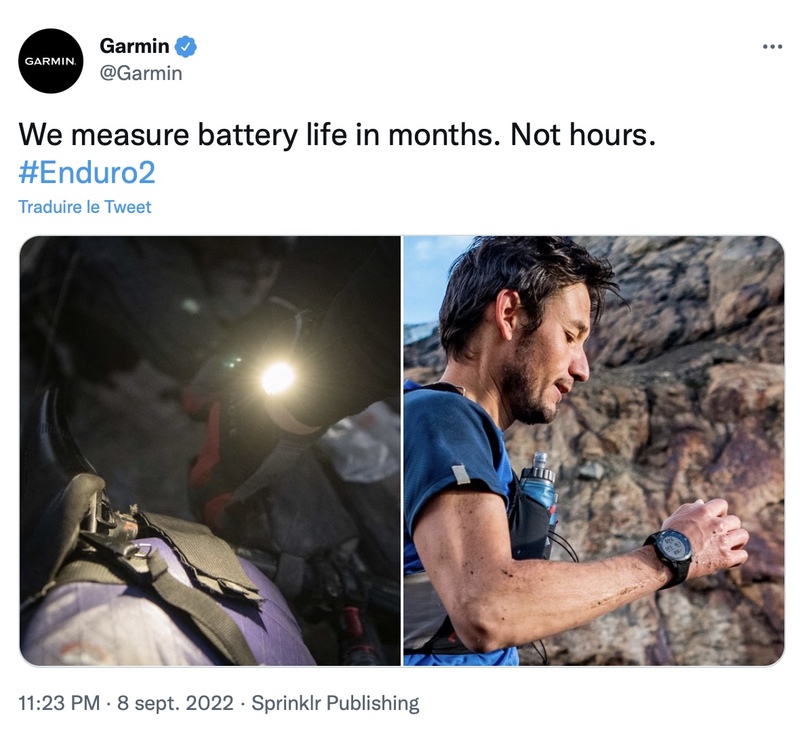 Kid actually talks about… hours of battery life
However, on the Enduro 2 page (benchmark, 1.4″ sunscreen and a 51mm case), it is indeed a question… of hours (150, of course) :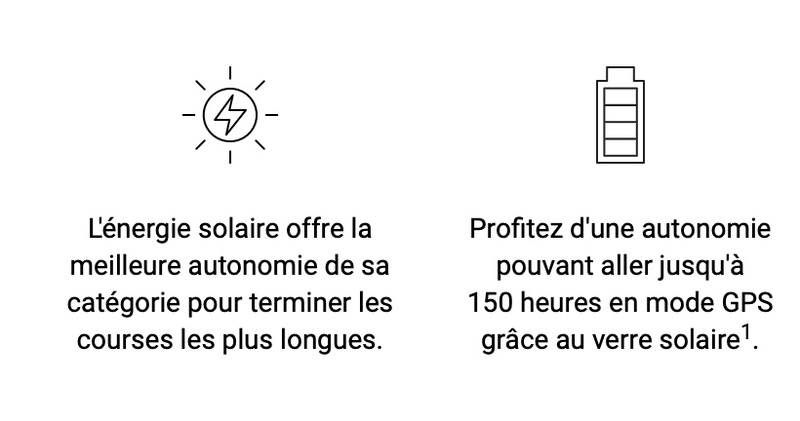 However, the footnote specifies When used continuously in direct sunlight at 50,000 lux., a sunny day. Further down the page, Garmin then indicates:
Enjoy a battery life of up to 34 days in connected watch mode, with 12 additional days with solar captureto continuously view your state of health and physical condition, and enjoy autonomy of up to up to 150 hours in GPS mode thanks to solar glass to track your performance during your workouts and races.

Garmin's small torch does not exist on the Apple Watch
But again, the footnote says that the additional 12 days are for daily use, 3 hours a day outdoors, in direct sunlight (50,000 lux).
Now, if we dig a little in the site, Garmin details all of its calculations:
• Connected watch: up to 34 days/46 days with solar charging*
• Power saving watch mode: up to 111 days/550 days with solar capture*
• GPS: up to 110 hours/150 hours with solar capture**
• All satellite systems: up to 78 hours/96 hours with solar capture*
• All satellite and multi-band systems: up to 68 hours/81 hours with solar capture**
• All satellite systems and music: up to 20 hours
• Maximum battery GPS mode: up to 264 hours/714 hours with solar capture**
• Expedition GPS mode: up to 77 days/172 days with solar capture*
*Solar capture, with daily use, 3 hours a day outdoors, in direct sunlight (50,000 lux)
**Solar capture, with use in direct sunlight at 50,000 lux
The minimum autonomy (with music and all the satellites), therefore caps at 20H and 68H without music – with solar capture.
And on the side of Apple, then?
With the Apple Watch Ultra, Apple says up to 36 hours of battery life and up to 60 h by activating the energy saving mode. It's both a lot (3x10H if you turn it off at night) and little, compared to Garmin's 150H or 34 days.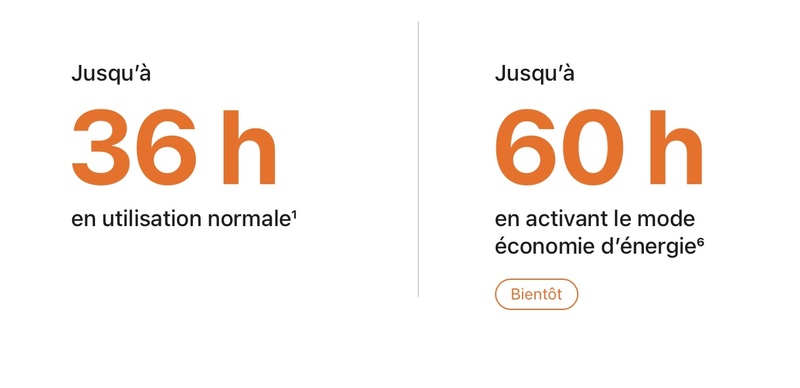 But again, you have to look at the small lines :
One-day battery life is based on the following usage: 180 time checks, 180 notifications, 90 minutes of app usage, and a 60-minute workout with music playing from Apple Watch using Bluetooth, over a duration of 36 hours. Apple Watch Ultra (GPS + Cellular) 36 hours of use includes a total of 8 hours of 4G LTE connection and 28 hours of Bluetooth connection to an iPhone. Testing conducted by Apple in August 2022 using prototype Apple Watch Ultra (GPS + Cellular) paired with an iPhone. All devices were equipped with pre-release software. Battery life varies by use, configuration, cellular network, signal strength and many other factors. Results may vary.
Finally, if we compare two complete uses (music + GPS + 4G), the Apple Watch Ultra lasts 36H against 22H at Garmin! Given the chip technology used by Cupertino, Garmin should perhaps play the card of humility, because the next versions could hold some surprises…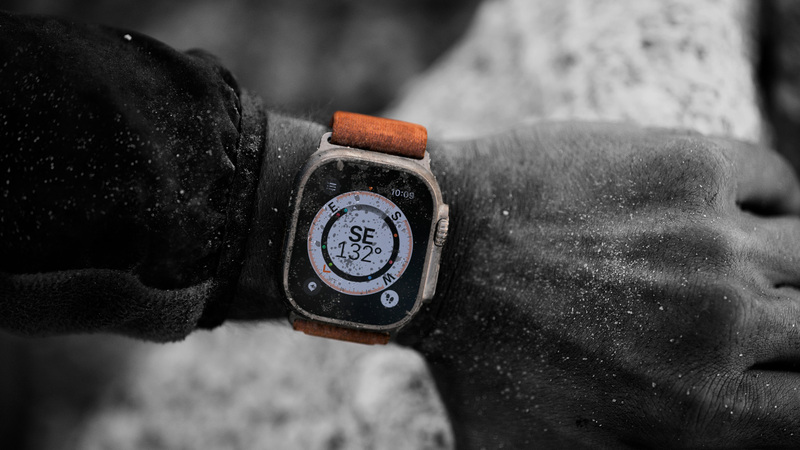 In contrast, with more economical use (no music, limited GPS, solar), Garmin regains the advantage, and can therefore effectively exceed a month of use, which Apple is still incapable of. On very long treks of several days, the Apple Watch will require the use of small batteries in the evening, which is not really practical. It will also take see if the autonomy also holds over a full day of diving (with 3 or 4 outings for example).
Solar and MIP screens: Garmin more economical
It is interesting to note that the Garmins have a small solar panel, but also transflective MIP screens, a combination of internal lighting located behind the slab of the screen and reflective by capturing the ambient light located in front of the slab. In other words, they are less luminous in the dark, but take advantage of ambient light to improve their visibility. Unlike the OLED screens used by Apple, which climb here to 2000 nits, but need to be powered constantly and even more in direct sunlight – a shame for a sports watch after all!

Last point, Apple Watch Ultra remains a real Apple Watch, with car crash detection, O2, ECG, sleep tracking, cycle, and all iPhone connectivity with associated apps. Clearly, Apple has chosen to take over all of its features, which penalizes it a little in terms of autonomy and sensors. It is therefore likely that this model can never last a month like at Garminor even a big week, without thoroughly reviewing its internal architecture.