Frank Vogel still on an ejection seat | NBA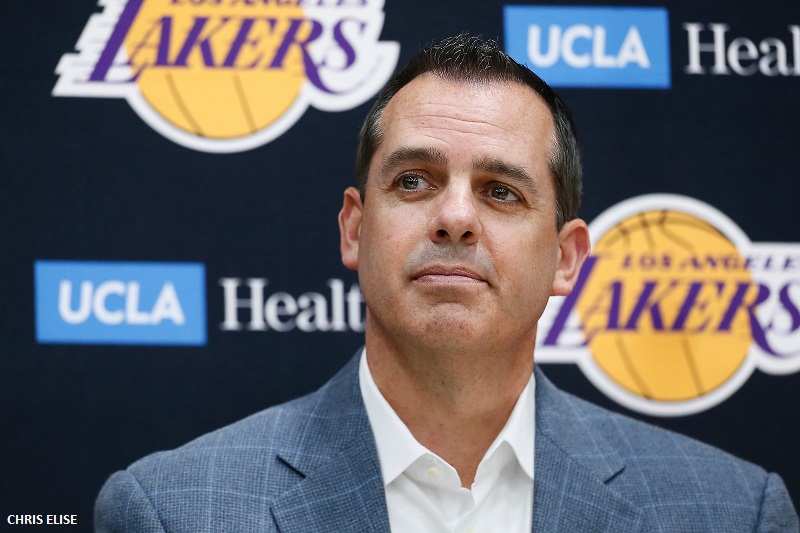 The snatch victory against the Jazz may have given Frank Vogel some respite, but The Athletic assures that the Lakers coach is still on an ejection seat in Los Angeles.
Even if Anthony Davis is still not there, the last defeats have hurt, while the team of LeBron James (22 wins – 22 losses) struggles to stay above the balance, and is still stuck outside of the Top 6 in the Western Conference, even if the gap with 5th place, held by Dallas, is quite small.
Obviously, the humiliation in Denver went badly with owner Jeanie Buss, and a new spanking of the kind against Utah could have caused the immediate departure of the coach, champion in 2020 in the "bubble".
The fate of Frank Vogel would thus be assessed at each match by his management, which makes his fate very uncertain.
It remains to be seen what the leaders plan in the event of the coach's dismissal, however, as replacement solutions during the season are always difficult to find and the coach's current right-hand man, David Fizdale, is not really an option. who can reassure the supporters…
Shots
Bounces
Players
GM
Minimum
Shots
3 points
LF
Off
Def
Early
pd
bp
Int
CT
party
Points
lebron james
31
36.7
51.9
36.2
76.7
1.1
6.4
7.5
6.5
3.2
1.6
1.2
2.3
28.9
Anthony Davis
27
35.4
52.1
17.9
72.7
2.7
7.1
9.9
2.9
2.2
1.2
2.0
2.3
23.3
Russell Westbrook
43
35.3
43.8
29.1
66.2
1.4
6.7
8.1
8.0
4.3
1.1
0.3
3.1
18.7
carmelo anthony
41
27.0
42.7
38.9
80.2
0.8
3.3
4.1
1.0
0.8
0.8
0.8
2.3
13.2
Malik Monk
38
26.0
47.3
40.6
85.1
0.5
2.5
3.0
2.3
1.3
0.7
0.5
1.6
12.1
Talen Horton-tucker
27
27.4
40.5
24.1
81.0
0.7
3.1
3.9
2.6
1.6
1.0
0.4
2.8
10.6
isaiah thomas
4
25.2
30.8
22.7
72.7
0.2
1.8
2.0
1.5
1.2
0.0
0.5
3.0
9.2
Sekou Doumbouya
2
8.2
62.5
50.0
75.0
1.0
2.0
3.0
0.0
1.0
1.5
1.0
0.5
7.0
Avery Bradley
35
23.7
42.3
38.5
100.0
0.5
2.0
2.5
0.9
0.5
0.9
0.2
1.8
6.7
Austin Reaves
24
20.9
51.5
37.9
86.2
0.4
2.0
2.4
1.0
0.6
0.3
0.1
1.6
6.4
Wayne Ellington
30
20.1
39.9
38.3
80.0
0.2
1.4
1.6
0.7
0.5
0.5
0.1
1.0
6.4
Stanley Johnson
9
20.4
45.9
27.3
90.0
0.3
2.0
2.3
1.1
0.4
0.9
0.3
3.4
5.4
Dwight Howard
33
14.9
62.9
66.7
60.6
1.8
3.6
5.4
0.6
0.8
0.7
0.6
1.9
5.4
Deandre Jordan
29
13.0
67.4
0.0
58.8
1.6
4.0
5.5
0.4
0.7
0.3
0.9
1.7
4.3
Kent Bazemore
25
16.7
33.0
35.1
76.9
0.3
1.7
2.0
0.9
0.4
0.8
0.2
2.1
4.0
Trevor Ariza
9
18.1
52.2
50.0
50.0
0.4
2.9
3.3
1.4
0.2
0.4
0.1
0.6
3.9
Rajon Rondo
18
16.1
32.4
26.7
50.0
0.6
2.2
2.7
3.7
1.9
0.7
0.3
1.4
3.1
mason jones
2
4.4
25.0
0.0
50.0
0.5
0.5
1.0
0.0
0.5
0.5
0.0
0.5
2.5
jemerrio jones
2
7.4
66.7
0.0
0.0
1.0
0.5
1.5
0.0
0.0
0.5
0.0
1.0
2.0
Darren Collison
3
12.4
28.6
0.0
0.0
0.0
1.3
1.3
0.7
0.3
0.3
0.0
1.7
1.3
Chaundee Brown
2
10.3
14.3
0.0
0.0
0.0
1.0
1.0
0.0
0.5
0.0
0.0
0.0
1.0
Jay Huff
4
5.1
0.0
0.0
0.0
0.2
0.8
1.0
0.2
0.2
0.2
0.2
0.2
0.0