Formula 1 | Vettel hopes F1 is 'ready for' a gay driver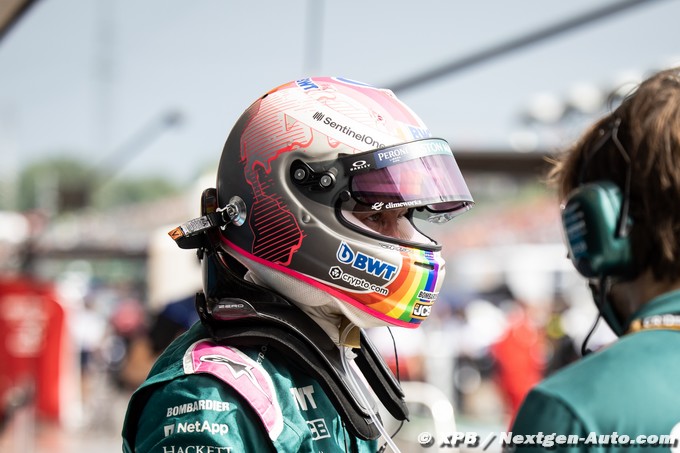 Sebastian Vettel hopes a driver will soon be able to publicly come out as gay without fear of backlash. Homosexuality and bisexuality are unfortunately very badly perceived in sport and by different audiences.
Fortunately, positive situations are encouraging. Thus, the English footballer Jake Daniels came out last month on social networks, and received an avalanche of positive reactions and support, emanating as much from the teams as from the other players and sportsmen.
Mike Beuttler, who raced between 1971 and 1973 in F1, is the only driver whose homosexuality is known to have driven in the world championship. But at the time, he wasn't openly gay. Vettel believes a driver's coming out could help advance the LGBTQ+ cause in motorsport.
« I think a gay driver would help speed up the elimination of prejudice and push our sport in a better direction » said the Aston Martin F1 driver. « I think and hope our sport will be ready for one. »
A situation comparable to that of football
Vettel also compares the situation of F1 to that of football, where very few players have the leisure to assume their homosexuality. Josh Cavallo had done it in Australian rules football and revealed he feared returning to the field after coming out. Vettel deplores the change in image that this implies for an athlete.
« I guess the situation is similar to a sport like football. The old image of a 'hero' looking player or driver has to meet a number of criteria. But the judging criteria are simply wrong. »
« How do these stereotypes relate in any way to performance? Who gets to decide? It takes a lot of courage to show your true colors rather than hide behind a facade based on what people expect. »
F1 has a role to play according to Vettel
Vettel has shown his support for the LGBTQ+ community many times, like Lewis Hamilton, and now he hopes F1 will do so on an institutional level: "The situation is improving, we now see some engineers and mechanics who feel able to be more open.
« But we can still do more to improve diversity and inclusion in motorsport, not only in terms of sexuality, but also by supporting and encouraging women, people of color, people with disabilities, etc. »
« Formula 1 has started a movement called 'We Race As One' which is a good thing, but we all need to make a concerted effort to ensure that this movement results in positive change, so that we act instead to just talk about it. »